Weather station helps Iowa pork producer reduce energy costs
Weather station helps Iowa pork producer reduce energy costs
Barn automatically switches between power and natural ventilation stages, depending not only on temperature but also on outside weather conditions.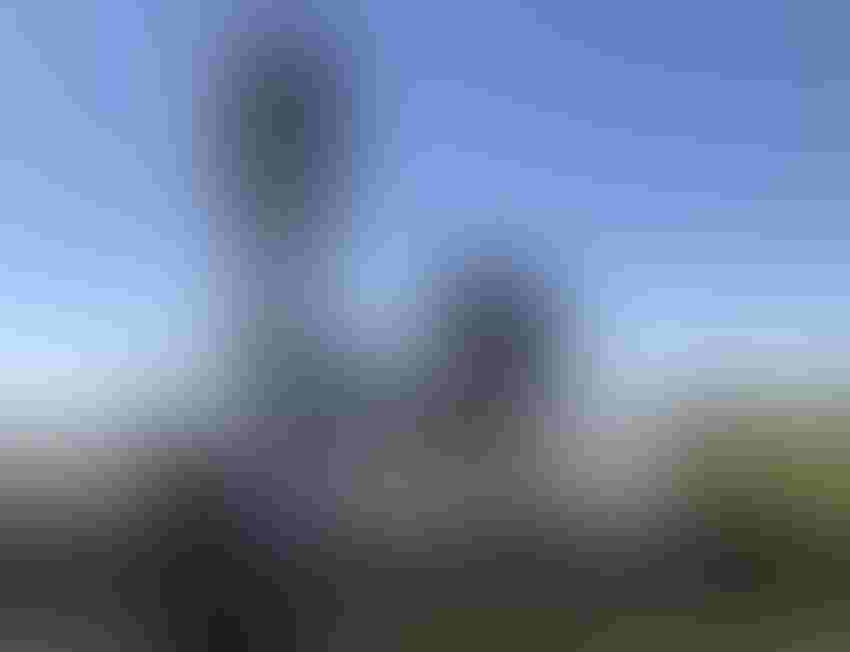 Pork producer Nick Lehman has installed the latest technologies in his wean-to-finish operation, Lehman Pork, in Dana, Iowa. But one he relies on for proper ventilation isn't actually inside either of his two barns – rather, it's a device that sits on top of one of the roofs.
That technology is a weather station, which Lehman said provides better ventilation control, helping to protect pig health while also reducing energy costs for the operation, which has a capacity of 4,880 pigs. 
In a typical barn, ventilation controllers operate based on temperature. As the barn interior temperature rises, fans and ceiling inlets are activated to help cool the pigs. A weather station automatically switches between power and natural ventilation stages, depending not only temperature but also on outside weather conditions, such as wind speed and humidity.
"Our two barns sit east and west," said Lehman, who runs the operation with his father, Randy. "We noticed a lot of days we had a north or sound wind that was higher than what our fans could produce.  So, it seemed inefficient to pay for electricity to make air inside when it was being made naturally outside."
Lehman utilizes a weather station and EDGE 2 controller from AP, which are linked to multiple temperature probes inside and outside the barns. His ventilation system is based on power-, natural- and tunnel ventilation stages. 
In the initial power stage, a few fans are activated, bringing air in through ceiling inlets and exhausting it through pit or sidewall fans. Additional fans are turned on, as needed, in successive power stages.
The barns then automatically switch to a natural stage, as the temperature warms, to allow more air to enter the barns. The final progression is tunnel ventilation, which pulls in air at one end of the barns and exhausts it at the other end, creating a wind tunnel effect to help cool the pigs.
"The weather station does a great job of keeping the barns a comfortable place for our animals," Lehman said. "If we have a 10 mile-per-hour wind out of the north, we can skip the tunnel stage and instead of using fans, let Mother Nature clean the air and save on electricity by not having to run fans as long during the day.
"On the flip side, if it's really a still day, our 70-foot-wide buildings can get really warm in the middle. If there isn't any air to move through the barns, we can skip the natural stage and go right to tunnel mode to get the pigs better air."
Lehman noted that the weather station allows producers to set their own parameters for ventilation control. In fact, Lehman Pork worked closely with AP several years ago in testing weather station technology, using his own operation to help develop different parameter scenarios.
"You can set the parameters based on your own site," he said. "If you have trees around you, it's going to be drastically different than being in open field with full access to moving air."
Along with temperature, wind speed and direction, Lehman's weather station measures humidity, barometric pressure and precipitation. "When there's a rainstorm and 20 mile-per-hour wind, the weather station shuts our curtains so we can protect the pigs and their feed from getting wet."
Another feature, he said, is wind compensation. During high winds, curtains are automatically closed to prevent pigs from becoming chilled.
Lehman noted that weather station technology is most beneficial during warm, summer months, but also useful for fall days with warm temperatures and low wind speed. "With the weather station, I don't have to worry about whether I have the optimal ventilation settings because it is continually monitoring outside conditions."
Source: AP, which is solely responsible for the information provided, and wholly owns the information. Informa Business Media and all its subsidiaries are not responsible for any of the content contained in this information asset.
Subscribe to Our Newsletters
National Hog Farmer is the source for hog production, management and market news
You May Also Like
---