World Pork Expo: The Center of the Pork Industry Universe, June 4-6
World Pork Expo: The Center of the Pork Industry Universe, June 4-6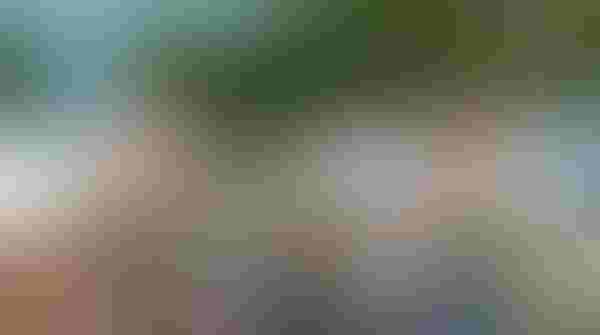 It's all things pork when the 2014 World Pork Expo sets up shop on the Iowa State Fairgrounds in Des Moines, June 4-6. Whether you are interested in the latest technology, looking for market and production management updates, or want to compare notes with fellow pork producers, Expo is worth the trip.
Brought to you by the National Pork Producers Council (NPPC), the annual event draws nearly 20,000 pork professionals, including guests from approximately 40 countries.
"World Pork Expo is a showcase of our industry," says Howard Hill, DVM, NPPC president and an Iowa pork producer. "It's a place where pork producers can share ideas and information. They can see everything from data processing to new feeders — anything you can imagine a producer might use on his farm. It's a great opportunity to get a crash course in what's new."
There's still time to secure the discounted admission fee of $5 per adult (ages 12 and up), which provides entry for the entire Expo. Simply go to the worldpork.org website by May 31 to sign up. The on-site entrance fee will be $15 per adult.
The website has the most up-to-date schedule of events and information on room availability at official World Pork Expo hotels, but here's a sample of what you can expect to see at this year's World Pork Expo.
The trade show is always a star attraction, with more than 375 commercial exhibits, and at least 310,000 square feet of indoor and outdoor exhibit space. Expo attendees will find the newest pork production technologies, products and services.
Trade show hours run 8 a.m. to 5 p.m. on Wednesday, June 4 and Thursday, June 5; and 8 a.m. to 1 p.m. Friday, June 6.
Added to the exhibit space in 2013, the Agriculture Building will again feature the Genetics Alley, where some of the leading U.S. genetics suppliers and technology companies have displays. The building also is the home of the International Visitors Center, giving foreign guests a place to relax and connect.
In a first this year, every Expo attendee will receive a World Pork Expo Pork Universe Passport. Attendees can get their passports stamped at various locations throughout the Expo grounds, and then turn them in at NPPC's booth in the Agriculture Building to see whether they're eligible for prizes. The booth also will be the only place to pick up a commemorative 2014 World Pork Expo lapel pin.
Educational seminars, presented on June 4-5, provide updates on current issues, research and management information that producers can take back home. All seminars are free.
Pork Academy, sponsored by the pork checkoff, runs from 9:15 a.m. to 3:30 p.m. Wednesday and Thursday in Room C of the Varied Industries Building. A total of 10 seminars will be presented, ranging from tips on safe pig handling, to using a reproductive decision tree, to the economics of world markets and more. One topic sure to draw a crowd will be porcine epidemic diarrhea virus (PEDV). Two sessions will provide the latest updates and are slated for Thursday morning.
Four business seminars will round out the lineup on Wednesday and Thursday. Purina Animal Nutrition, Zinpro Corp. and DSM will present "Feeding for 30: A Focus on Sow Longevity" at 3 p.m. Wednesday. On Thursday morning, SPF will sponsor two presentations discussing effective, cost-efficient manure management strategies for profitable pork production. At 3 p.m. Thursday, Purina Animal Nutrition will address the people side of pork production, presenting research and training tools to get pigs off to a strong start. More details about these and other business seminars are available at worldpork.org.
Live hogs will begin arriving in the swine barn on June 2. Leading the event is the World Pork Expo Junior National, hosted by the National Junior Swine Association (NJSA) and Team Purebred. Beginning with just 150 hogs in 2003, the Junior National now ranks among the premier youth swine shows in the United States. To accommodate the large class sizes, the shows will begin earlier in the week, starting with showmanship on Tuesday afternoon. Beyond the show ring, the Junior National includes Pork Quality Assurance Plus certification, judging contests and the first-ever Stock Show U Clinic for Swine.
Swine breeders from across the nation compete in the open shows on Friday, June 6. Last year, more than 200 exhibitors and nearly 600 hogs were shown in the eight major purebred and crossbred categories. Breeding stock sales follow on Saturday, June 7, from 8 a.m. until completion, which is typically around noon.
Herd health and biosecurity are always top priorities for the National Swine Registry (NSR), which manages the World Pork Expo hog shows. For all NSR and NJSA shows, any animal attending must have a health certificate issued by a certified veterinarian who has inspected the animal prior to the show. Before any animal is unloaded on the Expo grounds, a veterinarian will check the animal for any signs of illness. This veterinarian will be present during the entire event to monitor the health of all animals throughout their stay at the fairgrounds.
More information for the shows and sales is available on the NSR website at nationalswine.com.
Expo takes a festive turn on Thursday with MusicFest, from 4:30 p.m. to 8 p.m. All along Grand Avenue, attendees can enjoy free roasted pork and refreshments, all of which is included in the Expo admission price. First on the MusicFest stage will be country music newcomer Jake McVey, who grew up working on his parents' Iowa farm. Four-time Grammy nominee Restless Heart will step into the spotlight at 6 p.m.
Also on Thursday, World Pork Expo, Hog Slat and Vinny's BBQ will collaborate on an attempt to set another record for the world's largest pork burger (previously set at the 2012 World Pork Expo). Drop by the Hog Slat tent at about 5 p.m. to watch the assembly of this mammoth burger and try a sample for yourself. A significant portion of the burger will be donated to an area food bank.  
Of course there's always plenty of mouthwatering pork at Expo. Each day from 11 a.m. to 1 p.m., attendees can head to the Big Grill to enjoy a free pork lunch.
Another fun activity for golf enthusiasts is the World Pork Expo Open Golf Tournament on Wednesday, June 4, which is made possible by underwriting sponsors ADM Alliance Nutrition and Chr. Hansen A/S. The tournament begins at 8 a.m. at the Otter Creek Golf Course in Ankeny, Iowa, with a shotgun start. It is open to all interested parties, but there is a 144-golfer limit. Registration is available at worldpork.org.
Be sure to stop by the NPPC tent on the Grand Concourse, or visit NPPC's booths in the Agriculture Building and southeast foyer of the Varied Industries Building. NPPC leadership and staff will be available throughout Expo, so take this opportunity to ask questions and gain perspective on legislation, regulations and public policy directions that impact your business.
"World Pork Expo is a great place for us all to get updated on developments important to pork production, and to get on the same page," says Ron Prestage, NPPC president-elect and a South Carolina pork producer. "If you miss Expo, you will miss a great opportunity to connect with your fellow pork producers."
One way to stay up to date on World Pork Expo before and during the event is to connect with World Pork Expo on Facebook, or follow World Pork Expo on Twitter at #NPPCWPX.     
Mobile App Keeps You Connected
Use your smartphone to stay updated on World Pork Expo developments and help prepare for this year's show in Des Moines, June 4-6. Presented by National Hog Farmer, the 2014 World Pork Expo app is now available for free download. Simply scan the QR code here, or go to the Apple Store, Android Market or Blackberry App World and search for "World Pork."
Once loaded onto your phone, the app provides up-to-date schedules, an interactive exhibitor map and listings, seminars and event locations — it even incorporates social media. It's easy to use and lets you receive alerts and manage your schedule to maximize your World Pork Expo experience.
Each year's Expo app is unique, so download the 2014 app to ensure you have the latest details.
Subscribe to Our Newsletters
National Hog Farmer is the source for hog production, management and market news
You May Also Like
---