World Pork Expo: A showcase of the pork industry
World Pork Expo: A showcase of the pork industry
Education, innovation and networking are all on the agenda for World Pork Expo, June 7-9.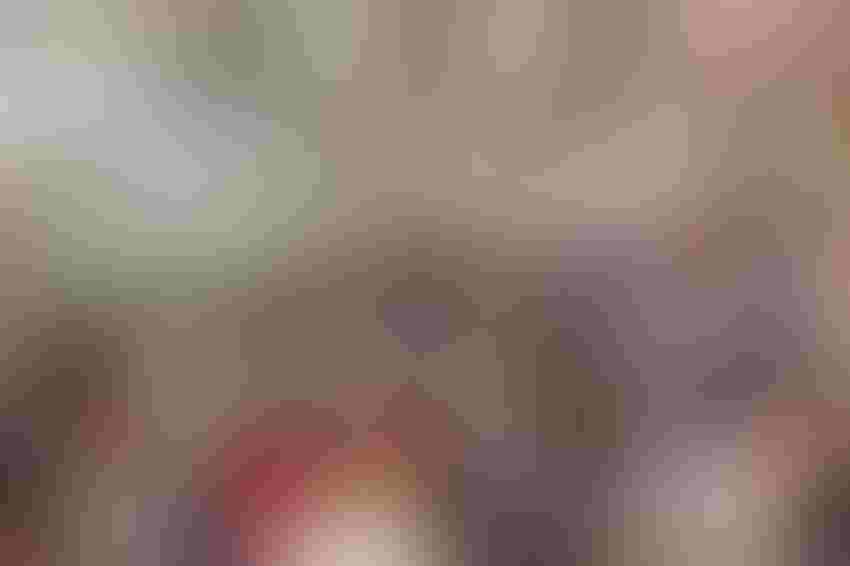 Source: World Pork Expo
For anyone involved in pork production, World Pork Expo is the place to be June 7-9, at the Iowa State Fairgrounds in Des Moines. Presented by the National Pork Producers Council, Expo features the world's largest pork-specific trade show, along with educational seminars, youth and open swine shows, market outlook sessions, music, an abundance of grilled pork and more.
"Expo is truly an international show, with visitors and exhibitors from throughout the world," says Ken Maschhoff, NPPC president and Illinois pork producer. "It presents an excellent opportunity to expand your global reach and build an understanding of why pork is the No. 1 consumed protein worldwide. It's sure to provide a new perspective on what you do back home."
Organizers are expecting approximately 20,000 producers and pork professionals, including more than 1,000 international guests, to visit this year's Expo. The first stop for many is the trade show. Nearly 450 companies from North America, Asia and Europe will display the latest products, services and technologies for pork businesses. This year's expanded trade show will span more than 320,000 square feet of indoor and outdoor exhibit space. Trade show hours will run from 8 a.m.-5 p.m. June 7-8, and from 8 a.m.-1 p.m. June 9. Because of construction, Gate 15 will be closed, and attendees will be re-directed to Gate 16 on the north side of the fairgrounds.
"As they walk through the trade show, producers will find the newest products, services and technology offerings in one location, and that's a huge benefit," says Doug Fricke, director of trade show marketing for NPPC. "Be sure to plan extra time this year as exhibits will be on display in the Ag Building, inside and along the north, east and south perimeters of the Varied Industries Building, as well as in the expanded outdoor space."
The number of hospitality tents also has grown, with 53 tents lining Grand Avenue and spilling over to the Ruan Plaza. "The hospitality tents have become a place for companies and producers to enhance their networking opportunities," Fricke says. "You'll find a range of activities, including meal functions, meetings, new product announcements and socializing."
Swine shows attract exhibitors of all ages
Recognized as among the nation's premier youth swine shows, the World Pork Expo Junior National kicks off on June 5, with educational events, certification programs, judging contests and live-hog shows running throughout the week. Hosted by the National Junior Swine Association and Team Purebred, all activities will take place in the Swine Barn.
This year's junior show has again set a record for the number of registrants, with 1,350 youth from 32 states entered to participate. Organizers report that approximately 150 are first-time participants in the Expo Junior National.
The open show, presented by the National Swine Registry, will take place June 9, with 1,186 hogs entered by more than 600 exhibitors. A breeding stock sale will begin at 9 a.m. June 10, and run through approximately noon.
Educational opportunities accompany WPX fun and food
Educational and business seminars will fill the agenda on June 7 and June 8. More than 15 free seminars are included in the entrance fee to Expo. This year's business seminars will cover topics ranging from piglet care to nutrition management and from better understanding consumers to mastering data collection and more.
PORK Academy, presented by the Pork Checkoff, will outline the most up-to-date production information and ideas. Topics will include pork quality research, sow housing tools, third-party audits, business continuity and the Secure Pork Supply Plan, among others. At each of the seminars, attendees will be able to interact with world-class pork experts.
Pork Checkoff also provides weather, crop and hog market outlook sessions on both June 7 and June 8 in its hospitality tent at 12:30 p.m.
MusicFest, on June 8, is a time to relax, enjoy free musical performances and mingle with fellow pork professionals. This year's entertainment will include Iowa native Jake McVey with his guitar-rich country music and high-energy stage show. He will be joined by special guest Big Vinny from Trailer Choir. Headlining the evening is Farewell Angelina, an all-female country group, featuring powerful vocals and a wide range of instruments. The festivities take place on Grand Avenue at the Iowa State Fairgrounds and run from 4:30-8 p.m.
Tasty pork is always in abundance, and visitors can enjoy free grilled pork lunches from 11 a.m.-1 p.m. during each of Expo's three days. The Big Grill can be found within the triangle near the Ag Building. Manned by Iowa's Tama County pork producers, the Big Grill served up more than 10,000 pork lunches last year.
There's still time to plan a trip to Expo
"If you are in pork production and have never been to World Pork Expo, you are missing out," Maschhoff says. "That includes owners, managers, veterinarians and, most importantly, employees. Spending time at Expo can pay back to the business in a variety of ways. It's truly an amazing show."
The entrance fee is $20 per adult and $3 for children ages 6 to 11; there is no charge for children 5 years of age and younger. This admission price includes entry into Expo all three days. A special rate of $10 is available for adults arriving on Friday. The official website also offers tips to make trip planning easy, including updates on event schedules and room availability at official World Pork Expo hotels. For the most up-to-date details about this year's World Pork Expo, be sure to connect with Expo on Twitter and Facebook by following our pages, tagging us in your posts, and using the hashtag #WPX17.
Another way to stay up-to-date is to download the World Pork Expo app, which is available on Google Play or in the Apple store. It will be continually updated, making it a handy, interactive place to identify exhibitors, find your way around the fairgrounds, check program details and more. Remember, if you downloaded the app last year, you will still need to get the 2017 version.
Subscribe to Our Newsletters
National Hog Farmer is the source for hog production, management and market news
You May Also Like
---