Why producers think it's time to raise Pork Checkoff rate
Why producers think it's time to raise Pork Checkoff rate
Defending pig farming is expensive. Iowa pork producers debate if now is the time to expand the Pork Checkoff and SIP rate.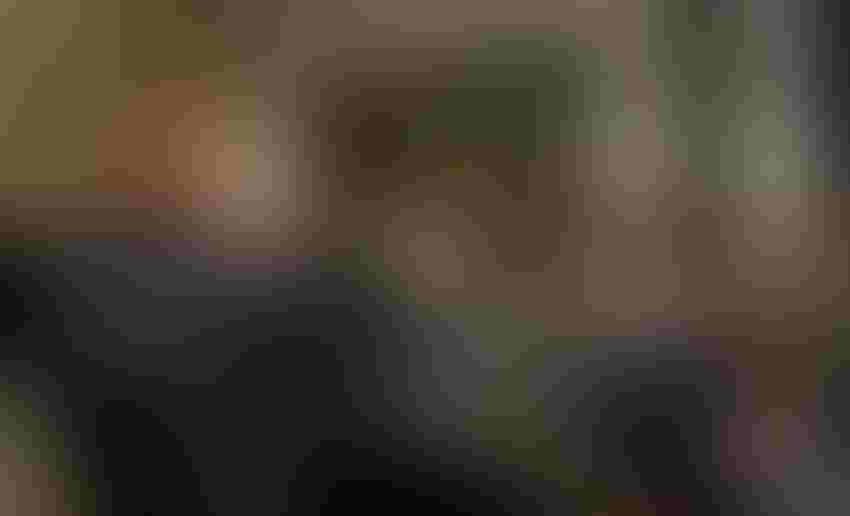 Charles Wirtz, Iowa Pork Producers, presenting resolution at the IPPA annual meeting.
National Hog Farmer, Cheryl Day
Every year, the list of issues gets longer, the regulatory battles get larger and the anti-meat movement voices get louder. The cost of promoting pork and protecting the U.S. pork industry rises. Looking at the time, money and effort that the National Pork Producers Council and National Pork Board spend just on trade issues and foreign promotions alone is the inclination of what the price is to keep U.S. pork competitive.
Is it time to take a serious look at funding of U.S. pork industry's organizations? Something producers from the state that raises nearly one-third of the nation's pigs are deliberating.
Iowa pork producer Charles Wirtz brings forward a bold resolution to increase the Pork Checkoff to $0.50 per $100 valuations or raise it 10 cents per $100 above the current checkoff rate. If passed the resolution moves to National Pork Board delegate for considerations by U.S. pork producers.
Wirtz says, "We need to get serious about fighting these battles. We should be building a war chest for the war we are about to face."
Every year delegates from the top pork-producing states raise the question: is the Pork Checkoff rate enough, but no formal action is taken. Proactively, Wirtz presents the resolution to Iowa Pork Producers delegate body to take a positive action forward, asking them to increase the Pork Checkoff rate.
John Weber, Iowa pork producer and NPPC past president, says during the floor debate over the proposed resolution, "Time is running out and now is time to discuss how we as producers are going to fund our business, our organizations. We are going to have some serious budget issues in five to seven years."
However, he can't support the resolution as it is written and presented to the body during the IPPA's annual meeting held Jan. 23, because it leaves one important organization out of the picture — National Pork Producers Council.
Many delegates share Weber's concern that an increase in the Pork Checkoff rate could jeopardize future funding of the NPPC's strategic investment program. SIP is a valuable program that funds the work of NPPC, the pork industry's legislative arm, to defend opportunities for U.S. pork producers. Pork producers participate in SIP by voluntarily investing a percentage of the sales of each market hog sold.
As discussed by Weber, many attempts to erode the freedom to farm can only be defended by the NPPC, not the National Pork Board.
"We spent yesterday during our Iowa board meeting roughly two-thirds of the time talking about issues that your checkoff can't spend one cent on," he notes. "We have to know in three to five years from now how are we going to fund people to address these issues."
While Weber can't give his thumbs-up to a proposed resolution today, he recommends a healthy discussion on the future funding of both organizations. Weber, along with others sharing his concern, is not against a Pork Checkoff increase; they are asking for time to research and discuss expanding the checkoff and SIP rates.
Gene Noem, IPPA board member, commends Wirtz for bringing the issue to the table but also echoes Weber's request for more time. "It is time to have a discussion. In an Iowa membership survey, one-third of membership was in support of expansion in rates of both SIP and Checkoff and two-thirds against. I am little concerned that we will try to go forward right now with only one-third of our membership in support of the expansion."
He suggests going back to the membership to have an open discussion about increasing these rates.
After open debate on the resolution, Dale Moody motioned the Pork Checkoff resolution to be referred to the membership committee to work on gathering grassroots feedback on expanding both SIP and Checkoff rates. A motion was overly approved by the IPPA delegate body.
While the resolution to increase Pork Checkoff rate is held, for now, the dialogue on how U.S. pork producers can sustainably fund the National Pork Board and National Pork Producers Council is open in Iowa and beyond. Only time will tell, how America's pig farmers will react — sit in silence or engage in conversation.
Subscribe to Our Newsletters
National Hog Farmer is the source for hog production, management and market news
You May Also Like
---