Variety Meat: The Hidden Pork Value
Variety Meat: The Hidden Pork Value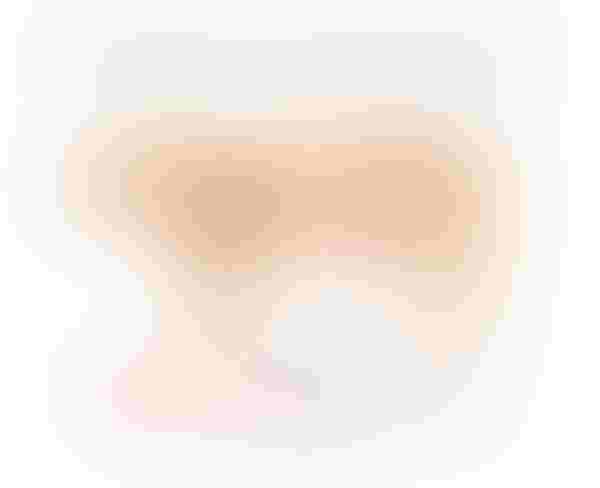 Offal, organ meat, edible viscera, fancy meats — no matter what you call variety meat cuts, they are critically important to the U.S. pork industry. While these cuts aren't likely to be found on American dinner plates, they are hot commodities in the international marketplace and they add significant value for U.S. producers.
Importers in Mexico, Asia and Russia are among the most avid bidders for U.S. pork livers, hearts, kidneys, tongues, stomachs, snouts, ears, feet and tails (Figure 1). In years past, these products often would be rendered into protein meal or commodity greases, their value measured in cents on the dollar for lack of a buyer in the United States.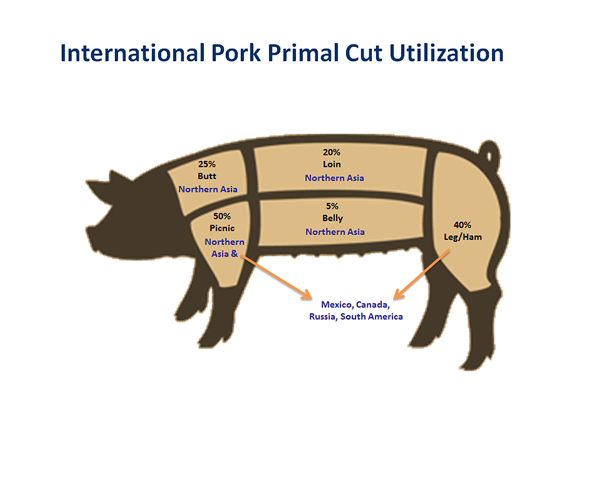 American exporters are well-aware of the global interest in variety meat cuts.  As their global customers become more familiar with the quality and value of U.S. pork variety meat — with the help of education programs offered through the U.S. Meat Export Federation (USMEF) — those international buyers are seeking out more items that fit into their local cuisine.
Here are two examples of the premiums that international buyers pay for these increasingly popular items:
Pork bungs — No domestic edible value. Rendered value: $0.10/lb. Value in prime markets (Japan, South Korea): $1.50/lb. Net gain: $1.40/lb.
Pork ears — No domestic edible value, but domestic pet treat value of $0.70/lb. Value in China: $2.30/lb. Net gain: $1.60/lb.
Last year, pork variety meat products accounted for 13.7% of the total value of U.S. pork exports ($866.8 million of the record-total $6.3 billion) and 19.9% of exports by volume: 450,650 metric tons (993.5 million pounds) of the 2,262,109 metric-ton (5 billion pounds) total.
Overall, U.S. pork exports returned $55.87 in per-head value for each animal processed in 2012. Those exports accounted for 27% of all U.S. pork production for the year. But the numbers don't paint a clear picture of how the pig carcass is divided among customers.
Americans love their bacon, so barely 1 lb. in 20 lb. of pork belly gets exported. Similarly, 20% of loins, 25% of butts, and about 50% of hams and picnics get sold internationally (Figure 2).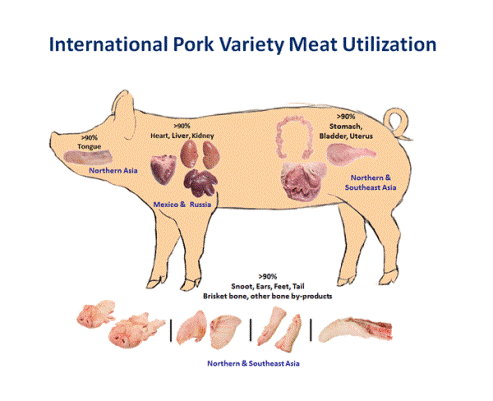 The picture changes when it comes to variety meat. More than 90% of tongues, hearts, kidneys, livers, stomachs, bladders, uterus, snouts, ears, feet and tails are shipped around the world. Thus, virtually every animal processed in the United States has some part of it sold and consumed in the global marketplace.
"Variety meat exports are essential to our industry and the drop credit," says Darin Parker, general manager of PMI Foods, a global food distribution company.
"There are a lot of markets, from Mexico, Peru, Japan and South Korea to Taiwan, Hong Kong, China and the Philippines, that each want specific variety meat items. That puts money back into the business as a whole, which brings dollars back to the farmer."
The key, Parker says, is supply and demand.
"The thing you have to realize is that it's a matter of volume," he continues.
"For many items — snouts, stomachs and hearts, for example — there's only one per animal. It is important that we have unfettered access to as many export markets as possible so we can maximize the value of these cuts."
The growth of pork exports into new markets has taken products that have virtually no value in the United States and creates both a demand and profit potential, he reminds. "Where else can you upgrade an item that was virtually worthless — like pork bungs — and increase it more than 10 times in value?" he asks.
Similarly, the price of pork stomachs on the international market currently is $1.24/lb., and quoted $0.09 cheaper in the United States. The reality is that more than 95% of stomachs are shipped outside the United States. If all pork stomachs remained in this country, it is estimated that the price would fall to $0.40/lb. or lower.
"The growth in U.S. pork exports provides significant benefits for the entire pork industry," notes David Peterson, assistant vice president of international sales for Seaboard Foods.
"But since there's less demand for, and experience with, variety meat in this country, the importance of the U.S. Meat Export Federation's international efforts to promote variety meat equally with muscle cuts has been very beneficial for exporters, processors and producers up and down the value chain," he says.
"With the greater volume of variety meat and muscle cuts being shipped internationally, this allows like cuts to grow in value in the domestic market as the supply is diminished," Peterson explains. "This increased value can make the difference between operating in the black vs. in the red," he adds.
The growth in U.S. pork exports over the past decade has been dramatic, rising 199% in volume and 300% in value between 2003 and 2012 — from 757,406 metric tons valued at $1.58 billion in 2003, to 2,262,109 metric tons valued at $6.32 billion last year.
Pork variety meat has seen a similar growth curve, with even bigger jumps in value: from 179,254 metric tons valued at $188.8 million in 2003, to 450,650 metric tons valued at $866.8 million last year — increases of 151.4 % in volume and 359% in value. 
Subscribe to Our Newsletters
National Hog Farmer is the source for hog production, management and market news
You May Also Like
---