Taking a walk through the pork fundamental patch
Taking a walk through the pork fundamental patch
As pork industry expands production into record-high territory sustaining strong exports is essential to prevent sharp declines in hog prices.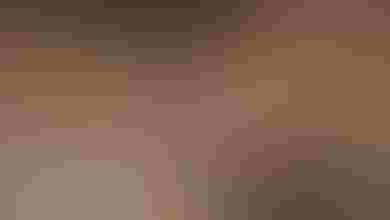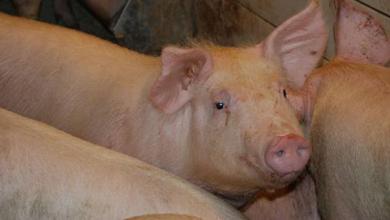 Over the last month, there's been a lot of volatility, lots of confusion and quite a bit of misstated or misquoted facts surrounding the hog market. Let's take a walk through the fundamentals and try to sort this mess out.
First off, production will be record large this year. This is without dispute and certainly should be expected by most everyone in the trade and in the pork business. Currently, the USDA total pork projection stands at 26.805 billion pounds, or up 4.7% from last year. This is a record large production because last year was record large as was the year prior to that.
Pork exports; are they good or bad, declining or improving? This seems to be the focus of much confusion and concern over the last thirty days. Stepping back, total U.S. pork exports last year, at 5.632 billion pounds, were record large and up 7.5% from exports in 2016. Yet in the face of robust exports in 2017, U.S. pork exports to China/Hong Kong during 2017 were down 18.6%. Total Chinese pork imports have been declining due to their success at increasing domestic pork production and a slight easing of demand in China. Current Chinese pork and hog prices have reached four-year lows. Thus, excellent growth in U.S. pork exports occurred last year in the face of declining exports to China. Last year exports to Mexico increased by 12%, held mostly steady to Japan, decreased slightly to Canada, surged upward to S. Korea by 29%, higher to Australia by 10.7%, sharply higher to Colombia by 60%, up by 21% to the Dominican Republic, up 13% to the Philippines and up 6% to Honduras.
Growth in South American countries was most impressive last year and these trends appear to remain intact so far this year. In January total pork exports were up 6.2% from January of 2017. February saw pork exports rise by 9.1%. Exports were actually soft to our two largest customers. February pork exports to Mexico were down 2.2% with exports to Japan off by 1.5%. Exports for the month were sharply higher to S. Korea (up 48%) with exports rising in all but one of the seven other major pork destinations. Granted, February exports to China/Hong Kong were up 20% in February. However, my point is that U.S. pork exports are growing significantly in other countries. In fact, China is not our growth market any longer, South American countries and S. Korea are. Total pork exports for this year are projected to be 5.900 billion pounds, up 4.7% from last year. Exports are holding steady at nearly 24% of total production, or the same percentage of production exported as was the case last year.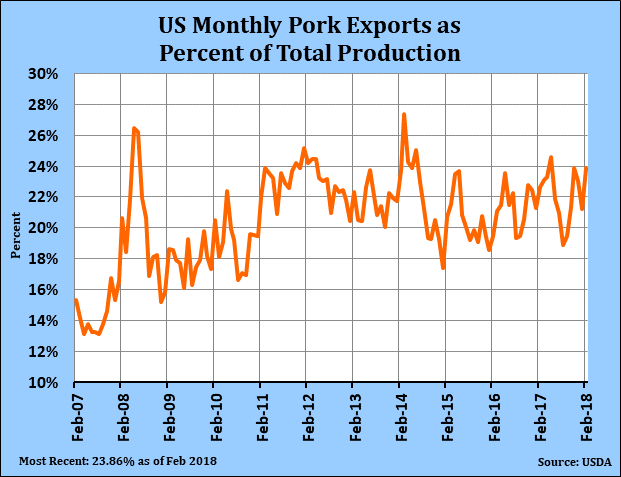 As we expand production into record-high territory sustaining strong exports is essential to prevent sharp declines in hog prices. Two fundamental factors remain in place to allow this trend to be sustainable. First, the value of the U.S. dollar is holding steady at a relatively low value, a value lower than all of last year. Second, wholesale pork prices are cheap and in tandem with the low dollar are extremely attractively priced to our export customers.
The news that China was slapping the U.S. with a 25% tariff on pork caused a major selloff in futures. As I've tried to demonstrate in the above discussion, the fear was likely way overdone. Five years ago we thought China would be our most import-export market by far. It has just not turned out that way. Given the trade disputes currently underway, this turns out to be a blessing for U.S. pork producers. We have expanded our export customer base to many different countries effectively spreading our risk. Anytime you're solely dependent upon one major export customer, such as the case with the soybean market, you're the risk of loss in the event of export disruption is much greater.
Domestically, a robust economy including full employment supported by globally strong economic growth should allow historically low pork prices to compete successfully for the market share of the consumer meat dollar. The perception is that users are not booked ahead so when the seasonal demand kicks into high gear, users will become very active in securing product needs. Despite the fact of record pork production for the past two years, supply and demand appear to be well balanced going into the strong seasonal demand season. There are no burdensome pork stocks to whittle away. Domestic demand should turn strong from now until sometime toward the end of July.
The futures market is highly confident of a strong seasonal demand situation this summer in the pork complex. June hog futures were trading 23 to 24 cents above the April contract when it went off the board. Cash hog prices bottomed in the second week of April and they have rallied 27% in a two-week period. Seasonally, producers should be aware of seasonal topping tendencies in summer hog futures from as early as the middle of May. This year, however, we're thinking the seasonal highs will most likely develop between the middle of June to the middle of July. With expansion still underway, at some point too much pork, too much meat will become a bearish factor. Losses will ensue and contraction will occur. Hedging during this summer's seasonal peak may prove to be awfully important.
Subscribe to Our Newsletters
National Hog Farmer is the source for hog production, management and market news
You May Also Like
---