Q & A: Derrick Sleezer, reflects on his year as National Pork Board president
Q & A: Derrick Sleezer, reflects on his year as National Pork Board president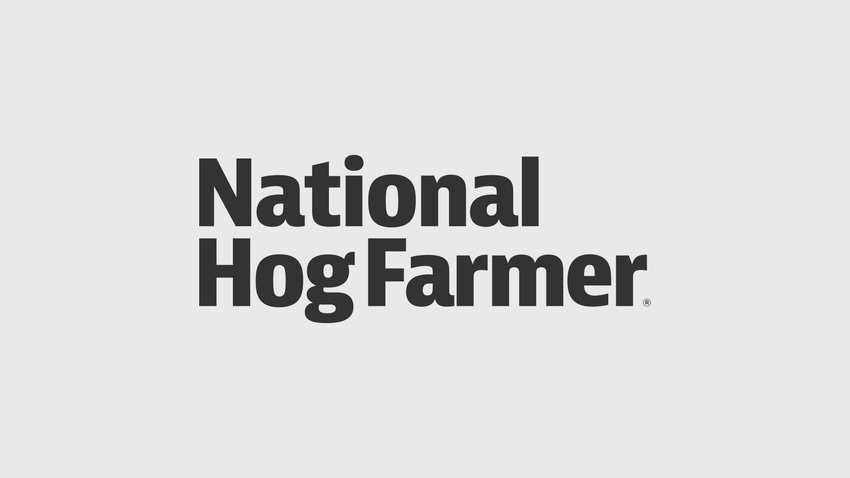 One July 1, Derrick Sleezer, Iowa pork producer, will retire his gavel as the National Pork Board president. The National Hog Farmer staff visits with Sleezer about his year serving as president and discusses all the activities offered at this year's World Pork Expo.
NHF: What was the most memorable event during your year as National Pork Board President?
Sleezer: The one thing that stands out the most was the chief executive officer search process. It was very rewarding process. We had a lot of great candidates that step forward and ask to be considered. The search firm and committee were great to work with and did a thorough job in weeding through all the potential candidates.  From there, the NPB actively engaged with the final two candidates and made a hard decision to select one individual, William Even, as the NPB CEO.
NHF: What attributes will Even bring to the table?
Sleezer: With his background, Bill gained a lot experience in running the department of agriculture in South Dakota along with handling different organizational pieces at the same time while still working within a budget. It gave him a good understanding on how a checkoff organization is run.
NHF:  Is there anything else the U.S. hog producers should know about the new ceo?
Sleezer: Make sure you stop by and introduce yourself to Even at the World Pork Expo.  He loves to interact and talk with pork producers and people. He is looking forward to representing the pork producer.
NHF:  What was one challenge you face as the NPB president?
Sleezer:  The challenge the board faced is continual declining revenue. As an industry, we are growing but as we grow we put more products in the marketplace which lowers the price. This also tightens resources. As a board, we had to make tough choices in what is important and how to prioritize funding for programs. Everyone has their own perspective. So as leader and board it was important to balance all those pieces when the resources get tight.
NHF: Why did you want to take a leadership role in NPB?
Sleezer: I think it is important when you have opportunity to step up and say 'I can bring a balance conversation to any challenge'.  It is important when you have an opportunity to speak up and be engaged that is what leadership is to me. The fact that raising pork is so dear to my heart and the family is involved that you can do anything possible to create environment that allows them to have success for years to come.
We have such a diverse industry.  It is not about having a singular idea but being able to work with the group to collaborate on idea making. Let us discuss it through and see where the journey will end.
NHF: Who served as your mentor?
Sleezer:  I had a couple of great mentors that I looked up – Conley Nelson and Karen Richter. Both did a great job of discussing and challenging. Basically being able to ask questions to all sides and make sure it is vetted. There are a lot of different sides to every single issue and the more information we can bring to a decision then the better decision is made.  Nelson and Richter did a good job on showing how that worked. 
NHF:  What does the future hold for the U.S. pig farmer?
Sleezer:  It is still exciting time with multiple plants coming on line. It puts a lot of work in front of us but tackling challenges and work is nothing the NPB staff members, board of directors and pork producers are ever afraid of.  We continue to work to open new markets worldwide and increase demand domestically.
NHF:  What are the educational opportunities available for the pork producers at the 2016 World Pork Expo?
Sleezer:  The NPB will sponsor the PORK Academy Seminars on June 8 and June 9 during the Expo. Pork producers attending are encouraged to participate in the educational opportunities.  Two big issues will be antibiotics and the updated Pork Quality Assurance Plus program.  The Change on Antibiotic Usage seminar will prepare pork producers for the regulatory change in use of antibiotics in food animals. There will also be a good discussion on the revised PQA Plus program. The program was updated to be in line with the Common Swine Industry Audit.
NHF: On July 1, the new board will go into effect. What tough issues will the new board of directors tackle in the upcoming year?
Sleezer:  Antibiotics will still maintain the forefront. We need to make sure to continue in telling our story about how we are continual getting better.  Price point will also be a challenge.  In addition, working to continue to move product, pork quality and create a better eating experience for the consumers are discussion points for the board.
NHF: How can a pork producer be assured that the checkoff dollars are being used wisely?
Sleezer:  As a board, we take that fiduciary responsibility at the utmost level. We challenge programs. We challenge tactics. We want to make sure that we are delivering items that producers need and help them be successful in the future. How do we do promotions that are the most effective?  Continuing looking if are we being successfully in all those endeavors. In the strategic plan, we put in measurable to make sure we are making progress towards our goals. Some goals might be overly optimistic with the way the budget look. Let's challenge it and let's push it further.
NHF:  Parting words from the retiring NPB president
Sleezer: It has been such honor and privilege to represents the great pork producers of America. It has been a pure joy to interact with producers, listen to them and be challenged by them.  Also, it has been rewarding to be able to have discussion and work towards finding the best outcome. Asking the questioning, researching and brainstorming to find the things that we know are important every day. It is always a journey.  
Subscribe to Our Newsletters
National Hog Farmer is the source for hog production, management and market news
You May Also Like
---