Pork tariff rate cuts a positive trend, but will heighten competition
Pork tariff rate cuts a positive trend, but will heighten competition
In countries that do not have an FTA with the United States, high tariffs often have a dampening effect on trade and limit options for consumers.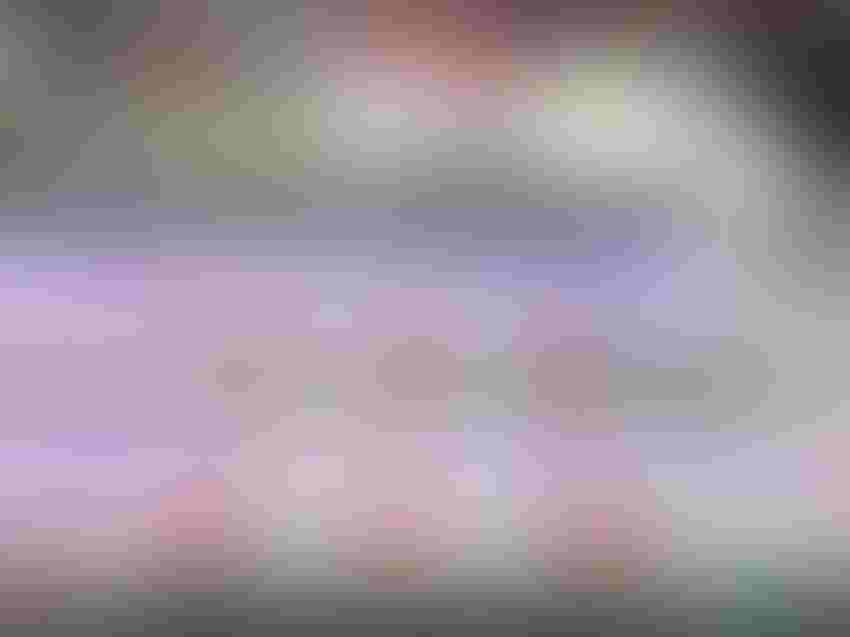 Chilled U.S. pork on display at a supermarket in South Korea, where a duty-free quota was recently opened on imported pork from all eligible suppliers.
USMEF
In recent months several countries have reduced or suspended tariffs on imported pork in an effort to diversify suppliers and stabilize prices. Some of these policy moves were related to interruptions in domestic pork production, especially due to African swine fever. But in other cases, tariffs reductions were implemented on a range of imported food items to combat inflation and ease the burden on consumers.
"Inflation is a top-of-mind issue across the globe, and in many countries it is even more intense than in the United States," says U.S. Meat Export Federation President and CEO Dan Halstrom. "Red meat exports have held up extremely well in this environment, but rising prices on energy and other essentials have placed a lot of pressure on consumers. Tariffs add significantly to this burden, so any relief – even if only temporary – is a step in the right direction."
Beginning in 2018, Mexico periodically opened duty-free tariff rate quotas for imported pork, poultry and beef in an effort to attract additional suppliers. But in mid-May, Mexican officials took the policy a step further by suspending import duties for one full year on pork, poultry and beef muscle cuts from all eligible suppliers. Because pork from the United States, Canada and Chile already enters Mexico at zero duty, the European Union is the pork supplier most likely to benefit from the tariff suspension. European pork has gained some traction in the Mexican market in recent years – though most of the volume consists of processed pork products and pork variety meat, which are still subject to a 20% duty. It remains to be seen if the tariff suspension will attract more European muscle cuts into Mexico. (Brazil does not have access to export pork to Mexico, but its poultry exports have benefited from the duty-free TRQs and are capitalizing on the current elimination of Mexico's import duties.)   
"While the United States remains the dominant pork supplier in Mexico, USMEF has never taken this position for granted," Halstrom says. "Whether for retail, foodservice or raw material for further processing, Mexico is a tremendously robust market for pork, and this certainly is not lost on our competition." 
U.S. pork also has duty-free access to South Korea, which recently opened a 50,000 metric ton, duty-free TRQ for imported pork. Effective July 20, the TRQ will expand to 70,000 mt, with the additional capacity dedicated to chilled and frozen bellies.
Pork imports from the United States, the European Union and Chile already enter Korea at zero duty under free trade agreements, so the TRQ will mainly impact Canadian, Mexican and Brazilian pork. Canada also has an FTA with Korea, but imports from Canada are currently subject to a tariff of 8.6% for chilled pork and 9.6% for frozen. Canada is the United States' main competitor in Korea's chilled pork market, so the TRQ will temporarily eliminate the U.S. tariff advantage. Pork imports from Mexico and Brazil are subject to Korea's full 25% tariff for frozen pork and 22.5% for chilled, with imports from Brazil accepted only from the state of Santa Catarina. While both countries currently capture only a small share of the Korean market, the duty-free TRQ could make Mexican and Brazilian pork attractive to some buyers.    
ASF has been present in South Korea since 2019, but has had very little impact on domestic pork supplies. Domestic production, which accounts for about 70% of the pork consumed in Korea, was record-large last year, and 2022 hog slaughter in the first half was up 1.4%. Korea's domestic hog carcass price averaged up 19% from last year in June and was 9% higher in early July, averaging U.S.$2.30/lb. The Korean won weakened to below 1,300 to the U.S. dollar in the first week of July, a level not seen since 2009. The won is about 14% weaker versus the dollar than at this time last year, making imported U.S. pork relatively more expensive.  
Contrasting with the production situation in Korea, ASF inflicted a widespread impact on pork production in Southeast Asia, especially in the Philippines and Vietnam. To bolster available pork supplies, then-Philippine President Rodrigo Duterte ordered a reduction of import duties early last year, with final implementation in mid-May 2021. The Philippines' normal duty rates on imported pork are among the highest in the world – 30% within an annual TRQ, and 40% for out-of-quota imports. Under the 2021 order, these rates were eventually reduced to 15% and 25%, respectively, effective for one year. 
Just before leaving office, Duterte extended the lower tariff rates through the end of 2022. Newly elected President Ferdinand Marcos, Jr. – who is also serving as secretary of agriculture – has made increasing domestic pork production a priority for his administration. But Marcos acknowledged that the country continues to struggle with ASF outbreaks, and that the need for imported pork is ongoing. To capitalize on the lower tariff rates, USMEF has expanded promotions of U.S. pork in Philippine wet markets.
Effective July 1, Vietnam reduced its most favored nation tariff rate on frozen pork imports from 15% to 10%. While the U.S. industry welcomes this reduction, U.S. pork remains at a tariff disadvantage compared to its main competitors in Vietnam. For 2022, the duty on pork imports from the European Union is 9.4% and the rate for Canadian pork is 5.6%, as tariffs continue to phase to zero under the EU-Vietnam FTA and the Comprehensive and Progressive Agreement for Trans-Pacific Partnership. Russian pork enters Vietnam at zero duty under a trade agreement. 
While some of the tariff reductions announced to date will benefit competitors more than the U.S. industry, Halstrom still views these policy actions as a positive trend that recognizes the heavy burden tariffs place on consumers. He notes that in countries that do not have an FTA with the United States, high tariffs often have a dampening effect on trade and limit options for consumers. This includes many countries and regions where disposable income is limited, such as the Caribbean, South America, Africa, Southeast Asia and China. The U.S. dollar has also strengthened against most currencies and tariff reductions can help offset some of the added cost.  
"USMEF is hopeful that the trend toward lower tariff rates will expand further as more countries look for ways to combat inflation," Halstrom says. "Anytime the playing field is level and fair, we are confident that buyers will choose U.S. pork based on its superior quality and consistency. We would like to see more consumers have that opportunity."
Source: U.S. Meat Export Federation, which is solely responsible for the information provided, and wholly owns the information. Informa Business Media and all its subsidiaries are not responsible for any of the content contained in this information asset.
Subscribe to Our Newsletters
National Hog Farmer is the source for hog production, management and market news
You May Also Like
---