Pork Quality Program Gains Momentum
Pork Quality Program Gains Momentum
Nearly 40,000 individuals have enrolled in the Pork Checkoff's flagship educational effort. The Pork Quality Assurance (PQA) program started out in 1989 as a voluntary residue avoidance awareness effort. By 2007, it became the PQA Plus program, with an added emphasis on pork safety, pig well-being and on-farm assessment. The PQA Plus rollout period ends in June 2010, says Paul Sundberg, DVM, vice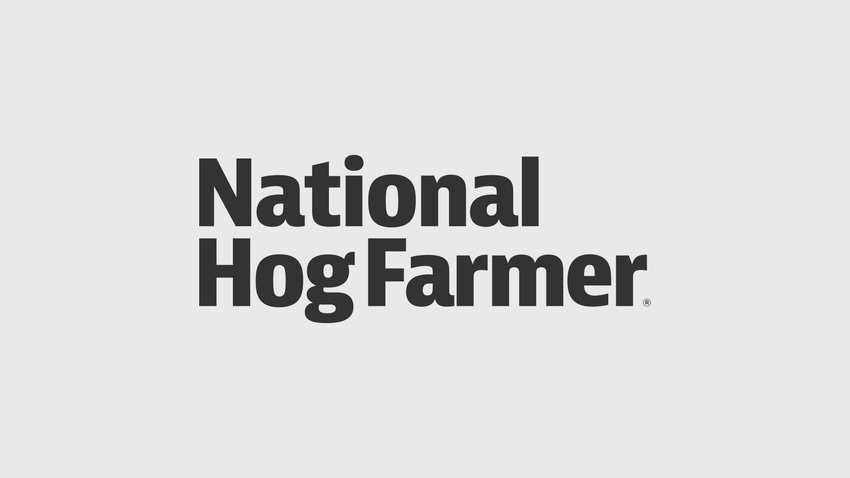 Nearly 40,000 individuals have enrolled in the Pork Checkoff's flagship educational effort.
The Pork Quality Assurance (PQA) program started out in 1989 as a voluntary residue avoidance awareness effort. By 2007, it became the PQA Plus program, with an added emphasis on pork safety, pig well-being and on-farm assessment.
The PQA Plus rollout period ends in June 2010, says Paul Sundberg, DVM, vice president of Science and Technology, National Pork Board.
Certified PQA Plus producers have completed an educational program with a program advisor, certifying that they understand the 10 good production practices. Those practices range from following effective herd health management plans and using antibiotics correctly, to following appropriate on-farm feed processing methods and providing proper animal caretaker training to ensure swine well-being.
Producers can also have their farm sites qualified under the PQA Plus program. At that point, the Pork Checkoff can analyze composite data collected from a third-party database. "We don't ever see anyone's individual data," Sundberg points out. The data is used to drive Checkoff-funded research and educational programming.
The PQA Plus program is designed to be workable, credible and affordable for the entire pork chain, he says.
Major packers have begun requiring their producers and their sites to become certified in the PQA Plus program. To date, about 40,000 individuals have enrolled in PQA Plus; 5,000 are enrolled in the original PQA program, but their three-year enrollment status expires by June 2010. More than 7,000 sites have been assessed, representing more than 22 million pigs. That figure reflects total farm inventories, not annual marketings.
Starting in March 2010, as the certifications of PQA Plus advisors expire, their training will be updated and they will receive additional animal handling training to help prepare them for the next phase of the program.
The next phase of PQA Plus starts in the second half of 2010, when farms will be randomly selected from a pool of PQA Plus sites for a survey of program implementation in the industry. "We don't want producers to have multiple audits of the production practices on their farms, so we're doing a survey to see how the PQA Plus program is being implemented in the industry," Sundberg says.
"The objective is to have one set of rules for all to follow based on the implementation of the PQA Plus program in the industry, not to verify the implementation on any one individual farm. We have to sample individual farms, but we don't need to sample every farm to tell us with 95% confidence what is going on in 95% of the farms in the industry," he says.
Sundberg reassures that all of the individual data from the site assessments and surveys remain the property of the farm, not the Pork Board. No individual farm data is provided to the Pork Board. Rather, a third-party database management company provides aggregate data to the Pork Board to be used to help gauge the need for workable and affordable solutions.
"The survey is to find out how successful our programs are in the industry — not about us doing audits to find out if a producer is in compliance or not with the PQA Plus program," he adds. The Pork Checkoff will pay for the cost of the third-party survey, while the cost of the site assessments is the responsibility of the pork producer.
Pork Safety
Jennifer Greiner, DVM, director of Science and Technology, National Pork Producers Council, spoke last month at a U.S. Department of Agriculture Food and Drug Administration meeting on food traceability.
She reinforced the value of the PQA Plus program in discussing violative drug residues.
"U.S. pork producers' longstanding commitment to producing safe and wholesome pork products has paid dividends. For example, USDA's Food Safety and Inspection Service (FSIS) since 1996 has routinely tested sows, boars and stags, show pigs, roaster pigs and market hogs for various antibiotic residues, and since then the total number of residue violations has been reduced by nearly 50%.
"For each year, the overall violative residue percentage has not risen above 0.35% and was as low as 0.13%. The U.S. pork industry supports FSIS in following the processes and procedures that it has in place for testing and monitoring for antibiotic residues in pork," says Greiner.
Subscribe to Our Newsletters
National Hog Farmer is the source for hog production, management and market news
You May Also Like
---