Pork industry needs to tango with established Latino market
Pork industry needs to tango with established Latino market
To kick off National Pork Month, which coincides with Hispanic Heritage Month, the NPB released "Time to Tango: Latinos are Pork's Future."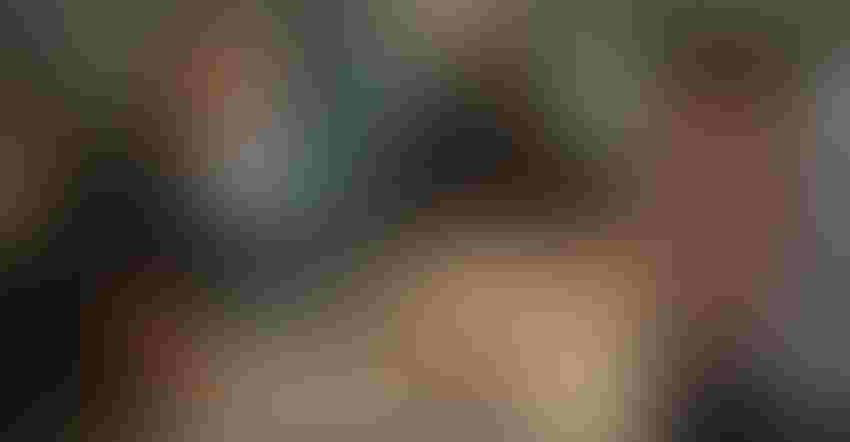 Chef José Mendin describes the variety of authentic Hispanic dishes to Iowa Gov. Kim Reynolds during the formal opening of the Innovation Kitchen at the National Pork Board offices to kick off October as Pork Month.
National Hog Farmer/Kevin Schulz
Pork is the most widely consumed protein in the world, but here in the United States, it lags behind beef and chicken on a per capita consumption basis. The U.S. pork industry is faced with ways to make its product more appealing to American consumers, or maybe to address a consuming public that already desires the wares of pig farmers' work.
National Pork Board, and its Pork Checkoff program, is tasked with creating and broadening markets and availability of pork. To kick off National Pork Month (October), which coincides with Hispanic Heritage Month (Sept. 15-Oct. 15), the NPB released "Time to Tango: Latinos are Pork's Future" that acknowledges the growing U.S. population of Latinos who hold pork near and dear to their hearts.
"We started with a hypothesis that we knew that there was a tremendous affinity for the product, particularly with those folks that still remain anchored to the Latino culture," says José de Jesús, director of multicultural marketing for the NPB. "We knew that because of our involvement in the community doing previous research and knowledge of the target market. But what we didn't know was what would happen as Latinos acculturate — as they adopt more of the U.S. culture into their lifestyles."
What the report shows, according to de Jesús, is that Latinos hold a "tremendous affinity for the product, a lot higher than there is in the non-Hispanic market. So that's good news and a good spot to be in, but we also learned through the research that as acculturation takes place in this country, that consumption weakens."
"As a whole, there's a lot of consumption going on, which is good," de Jesús says, "but I think this is a wake-up call for the industry to start paying attention because what we want to do is, we want to keep those folks in the franchise."
And the Latino population presents quite a franchise for the U.S. pork industry.
According to the report, Latinos are the largest minority in the United States, and they represent more than $1.7 trillion in buying power in 2020 — and that buying power is growing at twice the rate of non-Hispanics. U.S. Hispanics spend $95 billion a year on consumer-packaged goods.
That's a large franchise, but de Jesús says the members may become disenfranchised if they can't find the familiar cuts they're used to cooking with while shopping. "If you go to a store and you don't find what you were you looking for, why would you come back? It sounds simple, but it's true," he says.
With that, Time to Tango is divided into three main pillars, with the first being accessibility.
"This goes directly to access to, the variety of cuts that are relevant to the Hispanic culture. This is where the bodega guys excel and the specialty stores, because they know their consumer better than anybody else and they're able to cater those cuts to customers," de Jesús says. Getting mainstream retailers to acknowledge this large consumer base that presently may be walking away and taking their business elsewhere, will be a win for those retailers as well as for pork producers.
"There's an opportunity here for us to capture that market if we're being proactive. So, variety is No. 1. Then we can talk about the experience in the store — how do you position your stores so they're welcoming for those consumers. This is where the bodegas do a great job," he says.
Making for an inviting appearance is one thing, but Latino consumers want an authentic shopping experience, meaning they need to be able to find for what their hearts and stomachs yearn. Authenticity is the second of the three pillars addressed in Time to Tango.
Germans, Norwegians and Asians all have ethnic dishes that they wish to provide for their Americanized families, and Latino-Americans are no different. As with most Americans, food is often a centerpiece for Latino gatherings. But, de Jesús says, retailers have to dig deeper than to just start making shelf space for "Hispanic" dishes.
"Retailers have a lot of stores in different parts of the country, so it's critical that they understand who lives in what neighborhood," de Jesús says, "Not all Latinos behave the same way. Are they Mexican? Are they Central Americans? Are they Caribbeans, you know, Puerto Rican, Dominican? That impacts their buying decisions."
While two-thirds of Hispanics in the United States originated in Mexico, the other third is made up of from other nations, and each having their own desire to attain their local flavor. For this, de Jesús says it is imperative that retailers hone up on their homework to truly discover who their clientele are. "Find out who is in your neighborhoods," he says. "Then, bring in products for this consumer base, beyond the meat case. Branch out to offer the seasonings and flavors to satisfy their palate."
"Mexicans cook with a lot of chilis and spices," de Jesús says. "Like in Puerto Rico for example, it's a lot of seasoning, not necessarily a lot of spices. So, now I love the spice it up. Latinos sort of welcome other culture traits and attributes, but there are differences, and this is why a 'hyper-local' strategy makes absolute sense because you've got to know who's coming in your stores, and then you deliver accordingly."
Jarrod Sutton, NPB vice president of Domestic Marketing, says this doesn't mean retailers will have to do a complete makeover in their store or even their meat case, it's simply a case of providing offerings for your consumer base.
"You don't have to blow up the entire meat case and start from scratch, but there are little things that you can do now to effectively present new opportunities for growth with customers that are in your store but aren't buying a lot of the meat products because they can't find what they're looking for or what they'd like to buy," he says.
The third pillar of the "Time to Tango" report addresses the health of the U.S. pork product, as nearly two-thirds (63%) of unacculturated Hispanics mistakenly believe pork is unhealthy. Obviously, the healthful, nutritious values of U.S. pork will need to be stressed to educate the established Latino consumer base.
So why "Time to Tango"? A native of Puerto Rico, de Jesús says "there's a sense of urgency there, it's time to go ahead and do something about it. Because what we know is, the industry is looking for relevancy and Latinos are relevant. There are about  60 million of them in this country. Their purchasing power is $1.7 trillion, and they have affinity for pork. It's not an emerging market, but rather an established market. So, 'Time to Tango', the whole concept behind it is it creates a sense of urgency. And what we do know is that they want to talk to us. They just want somebody to talk to them, right. In other words, they want to dance. They just want somebody asking to go dance with them."
Also, a sense of urgency exists in that if the U.S. pork chain does not acknowledge this strong Latino market, de Jesús says they stand to lose to other proteins that may cater to the Latino's adapted tastes.
Sutton says, "If we don't create this awareness of what truly is the authentic dish, it will get replaced by probably cheaper, easier proteins and we can't have that for a number of reasons of millennials, behaviors and attitudes, what they're seeking, and also with true connectivity back to culture, to be authentic and relevant."
So, it is Time to Tango.
Subscribe to Our Newsletters
National Hog Farmer is the source for hog production, management and market news
You May Also Like
---