Pork industry honors Miller, Flowers, Morrison and Hines
Pork industry honors Miller, Flowers, Morrison and Hines
During Pork Forum, the late Bob Morrison posthumously received the Pork Checkoff Industry Service Award.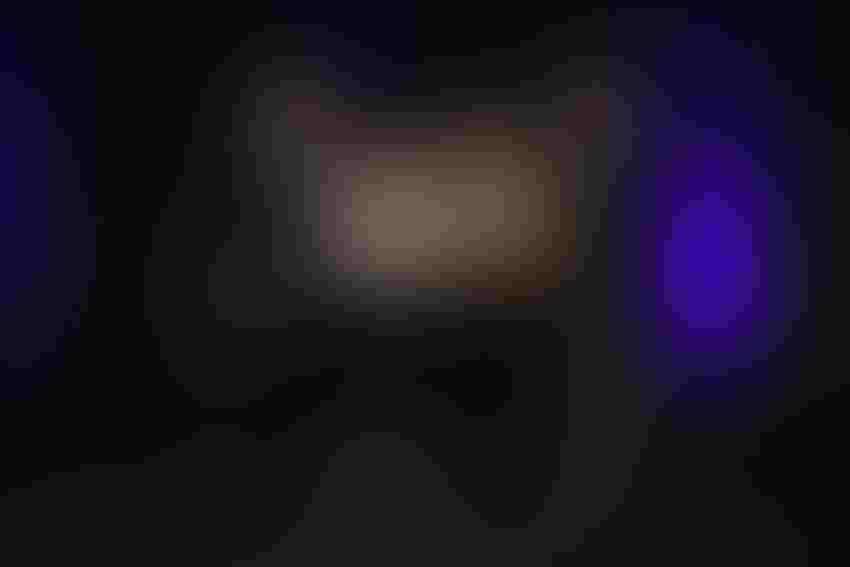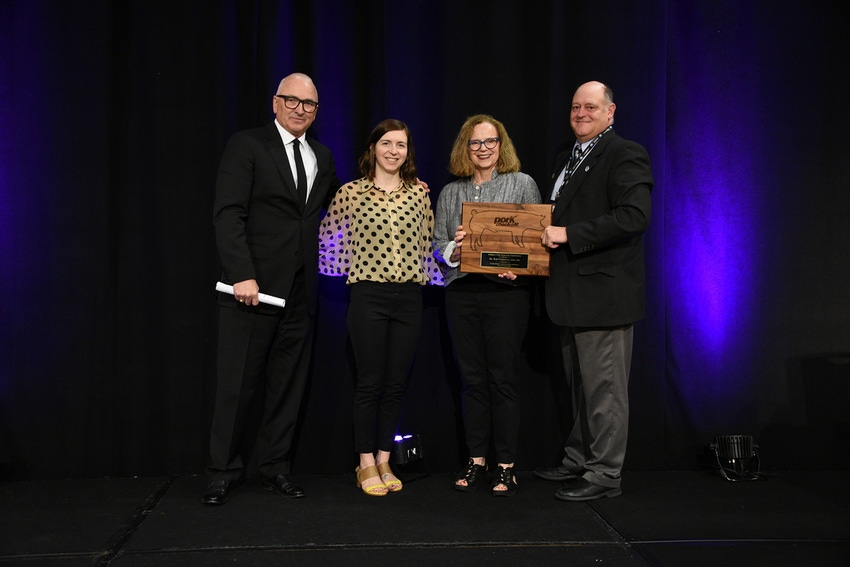 Gordon Spronk, NPPC board member and Steve Rommereim, NPB president present the Pork Checkoff Industry Service Award to Bob Morrison's wife Jeannie and his daughter Jessie.
ZimmComm
This week pork producers across the United States honored four individuals who helped advance the U.S. commercial pork industry into the success it is today.
Tom Miller, an Arizona pork producer, executive director of the Arizona Pork Council and past president of the National Pork Producers Council, was inducted into the NPPC Hall of Fame for his lifetime commitment to advocacy, leadership and advancement on behalf of pork producers.
"With nearly 50 years of service to producers in Arizona and the nation, Tom Miller exemplifies lifetime commitment," says NPPC President Jim Heimerl, a pork producer from Ohio. "His courageous leadership at key moments during NPPC's history and his experience, perspective and willingness to get his hands dirty are widely recognized and very much appreciated by pork producers. For that and his continued service to our industry, we are extremely pleased to induct Tom into the NPPC Hall of Fame."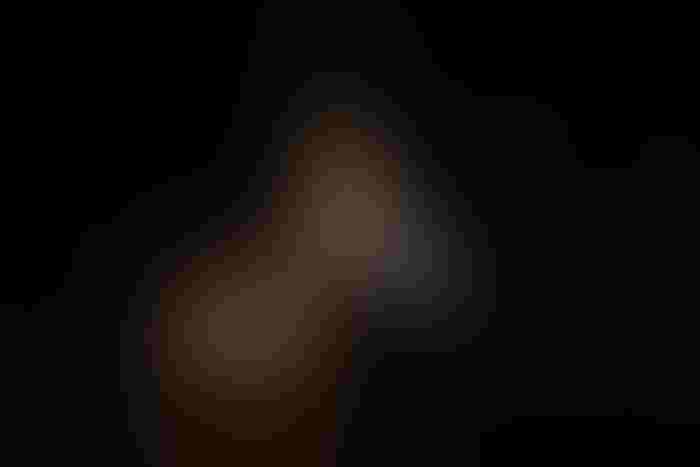 Miller served as the first president of NPPC, following the 1985 implementation of the legislative Checkoff, and later served on the National Pork Board.
Born and raised in Iowa, Miller grew up in Boone and became interested in farming in junior high school, pursuing it by working weekends and school breaks with a veterinarian. He attended Iowa State University, where he earned a degree in animal science. After college, he moved to California, working on a ranch, where he cared for a 300-sow herd – a huge number for the 1960s – and for baby pigs until weaning.
In 1967, he moved to Arizona to work for Arizona Milling, managing a 300-sow unit; he also volunteered to establish the Arizona Pork Producers Association. He subsequently started his own pork production business and in 1975 was named Arizona's first Pork All-American.
In the 1970s, Miller was elected to serve a six-year term as Arizona's representative to NPPC and volunteered to serve the rest of his successor's term when that person resigned. Miller then was elected to the NPPC executive committee and eventually was elevated to president of the organization. While devoting time to the state and national pork organizations and running his own business, Miller helped create what likely was one of the first producer-led marketing coops.
In his role as an NPPC board member and officer, Miller was directly engaged in advocacy on using nitrites; overhauling Farm Credit; instituting two pork marketing campaigns, including Pork. The Other White Meat; and establishing the legislative Pork Checkoff. On the latter, Miller helped shepherd the process, inform producers, equip state executives and set up governance for NPPC and the then-new National Pork Board. He served as the first president of NPPC, following the 1985 implementation of the legislative Checkoff, and later served on the National Pork Board.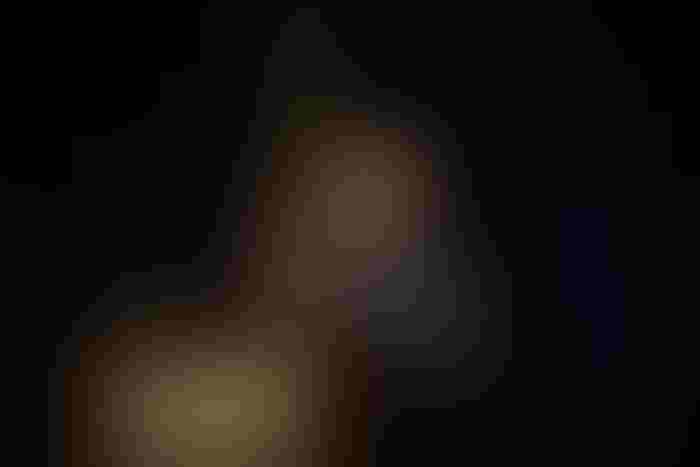 William "Billy" Flowers, North Carolina State University is this year's Distiguished Service Award recipient.
A North Carolina State University animal science professor who has worked diligently to propel the pork industry forward was also honored today at the Pork Industry Forum.  The National Pork Board presented this year's Distinguished Service Award to William "Billy" Flowers.
"I'm very, very honored. I tell people that I have had the best job," Flowers says. "I get to work with pigs which are the best animals The only thing better than working with pigs is the people in the swine industry."
Each year the award is presented at the U.S. pork industry's annual business meeting to an outstanding leader and in recognition of a lifelong contribution to the pork industry.
"Billy has provided extraordinary leadership to the pork industry," says NPB president Steve Rommereim, a pork producer from Alcester, South Dakota. "Through the years, he has worked tirelessly for the advancement of the pork industry and mentored numerous students at North Carolina State University."
Flowers was raised near Blacksburg, Va., and spent much of his youth on the farms of his aunts and uncles. He also was involved in 4-H and the FFA, which helped to inspire his career. Flowers attended Virginia Tech as an animal science major, graduating in 1982. He attended graduate school at the University of Missouri, earning master's and doctorate degrees. At the University of Missouri, he had the privilege of working with Billy Day, a world-renowned pork reproductive physiologist.
The combination of wanting to make things better and his appreciation of people steered his career toward teaching and research. In 1987, Flowers joined North Carolina State University. Working to prepare the next generation, his teaching responsibilities include introduction to animal science, pork production and management and advanced pork reproduction management. He also serves as an advisor to more than 70 students each year.
"When you work at a university and you want to do things that are a little bit different and cost money, heaven forbid, you hear the word no a lot of times," Flowers says. "I can tell you whenever I've asked producers in our industry to help, whether that be with research or helping our students and things like that, they have never said no. They've always said yes."
The North American swine industry suffered a great loss in May 2017 when Bob Morrison, University of Minnesota veterinary professor, was killed in a two-vehicle accident in the Czech Republic.
Also at Pork Forum, the late Bob Morrison posthumously received the Pork Checkoff Industry Service Award. In 2011, he launched the Swine Health Monitoring Project, which provides weekly reports on the health status of more than 50% of the U.S. sow herds. Morrison was a veterinarian and professor at the University of Minnesota and coordinated two internationally respected swine health management conferences – the Allen D. Leman Swine Conference in St. Paul and the Leman China Conference in Nanjing, China. 
"The pork industry was honored to work with Bob and Bob was honored to work in your herds," says Gordon Spronk, a swine veterinarian from Minnesota and an NPPC board member. "I found Bob the most enjoyable and most comfortable when he came to your barn and when he could see your pigs and talk about production. That's when Bob was in his 'sweet spot' if you will."
"He cared about you and I think he would be very honored to be in this spotlight as I said this is an acknowledgement of making a difference and that's what mattered to him," says Jeanie Morrison, Bob's wife who, along with his daughter Jessie, accepted the award on his behalf.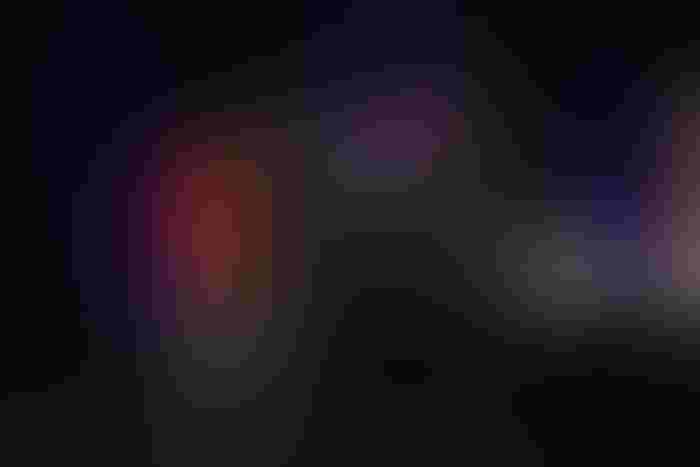 Sam Hines, former state executive of the Michigan Pork Producers Association received the Paulson-Whitmore State Executive Award.
NPB and NPPC also presented Sam Hines, former state executive of the Michigan Pork Producers Association, the Paulson-Whitmore State Executive Award. The award, developed cooperatively by the NPB and NPPC, recognizes the outstanding leadership and commitment of state pork association executives. The award is named in honor of two top leaders — Don Paulson, past Minnesota state pork executive, and Rex Whitmore, past Wisconsin state pork executive.
"I know it probably sounds a little trite, but any success I've had is directly attributable to the people that were surrounding me and I was extremely fortutunate in Michigan," Hines says. "I know there are great pork producers all over the country but I had some really fine people to work with in Michigan. I knew I worked for them but they always kind of made me feel like I worked with them." 
Sources: National Pork Producers Council and the National Pork Board, who are solely responsible for the information provided, and wholly owns the information. Informa Business Media and all its subsidiaries are not responsible for any of the content contained in this information asset.
Subscribe to Our Newsletters
National Hog Farmer is the source for hog production, management and market news
You May Also Like
---