Don't let mediocre pork leave bad taste in consumer's mouth
Don't let mediocre pork leave bad taste in consumer's mouth
Delivering the best meat for the money starts with detailed conversations with the packers.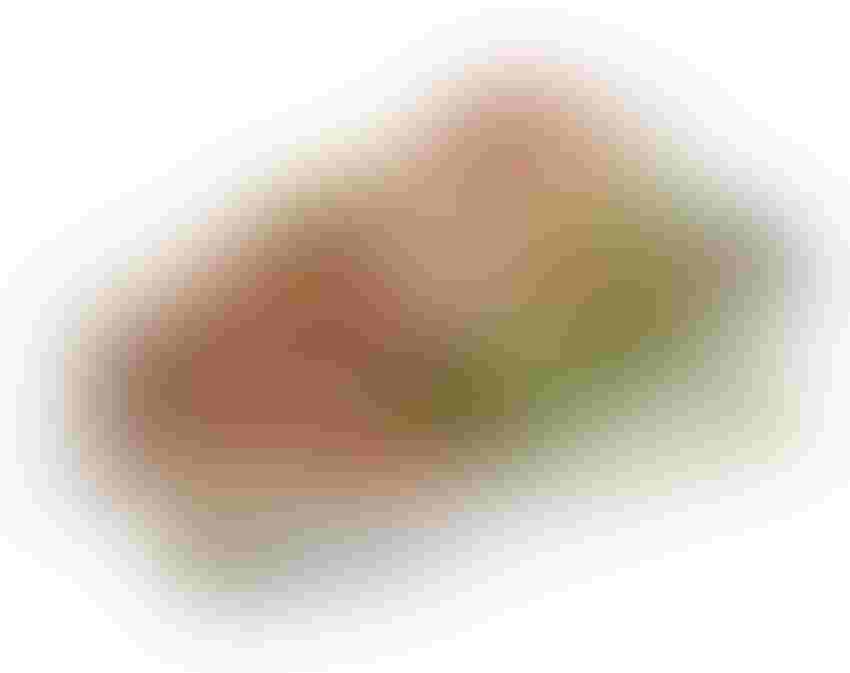 Fresh meat is at the center of the plate, and it is important to get it right.
Photo courtesy of Sam's Club
Consumers are recipe-driven. If they are going to take the time to prepare a meal, it often starts with inspiration from an excellent recipe or a memorable dining experience. Recreating the scrumptious dish usually sends them straight to the meat counter with the vision of serving appetizing delights to their families. Yet, selecting an inferior cut of meat can easily leave a lingering bad taste for many months to come.
Quality comes first when meat buyer Brian Gripe selects pork for Sam's Club locations nationwide. "For us, we want quality first. And by quality, it has to be consistent, tender and delicious flavor that leads to a positive eating experience," stresses Gripe.
Sam's Club is a membership warehouse — members pay to shop there, expecting the best deal and superior quality for their money, and Gripe's team plans to deliver by selling the best pork.
"When you are talking about fresh meat, it is the center of the plate for consumers, and they build their meal around that. So, it has to be right," explains Gripe. "People remember a negative eating experience far longer than a positive one."
Delivering the best meat for the money starts with detailed conversations with the packers. Sam's Club works with major packers such as Smithfield and Tyson to fill its 661 clubs' meat cases with pork produced by United States hog farmers.
The fresh pork cuts have to fit the Sam's Club business model, and more importantly, its members' expectations. So, the packers must deliver the specifications outlined by Sam's Club. The name of the game is keeping the customer returning for more.
Food trends are ever-changing, and it can be difficult to stay ahead of the latest craze. "The consumer wants everything — organic, antibiotic-free, grass-fed, healthy and a great price," states Gripe.
Studying restaurant trends and internal sales data and monitoring data from Nielsen Co. helps Sam's Club leadership gauge consumers' preferences. Gripe says sometimes you can be too far ahead of the curve. Nevertheless, the meat customer's core wants really do not change. He notes, "Every consumer wants the best deal they can get. They want the highest quality at the lowest price."
Learning from beef
The consumer is looking for something that makes a great meal. That process starts with a recipe, says Gripe. At the pork counter, the customer is looking for freshness — the No. 1 attribute. Gripe notes that safe and clean is a given for U.S. consumers. From there, the pork buyer is searching for flavor.
Buying pork is a problem for consumers. "Consumers do not have a lot of education around what attributes make a good pork chop or a good cut of pork. They all have different opinions," says Gripe.
He adds that the beef industry has done an excellent job of educating consumers. The set of standards is easy for meat buyers to follow. It gives the consumer the confidence in selecting beef to prepare at home.
"For pork, the customer does not know what to look for. They may pick out the lightest-colored chops in the case or thinner-cut chops versus thicker," says Gripe.
Consumers purchasing pork are very inconsistent in selecting the right quality for their eating pleasure. At Sam's Club, they try to diminish the variations in the meat case and present a uniform selection of pork products held to comprehensive specifications that lead to a pleasant experience. Essentially, Sam's Club customers can pick up any package of pork and enjoy a delicious meal, notes Gripe.
Still, finding a steady pork supply that meets Sam's Club's high standards is difficult. Variations exist on all levels of the pork chain from the hog farm to the packer. Each packer sources its pork differently from company-owned hogs to purchasing on the open market. Yet, the difference is not just from the actual hogs purchased. Variation is also present in processing the hog itself. "There is a lot of variance between packers and even variance between plants owned by the same company," says Gripe.
For instance, one plant may produce a very meaty rib while others do not just by the way their lines are set up. So, it is hard to get consistency.
Gripe recognizes producing a desirable, consistent pork product starts on the farm; however, the craftsmanship contributes plenty to the overall package. "Packers know how to kill a hog, chill it and cut it into the different primal cuts," he notes.
The difference in processing can be improved at the plant level with refining processing practices and developing thorough product specifications. "The hog piece is the hardest part to fix since there are so many different producers," explains Gripe.
One of Sam's Club's largest suppliers has developed the Sam's Club exclusive Smithfield Prime Reserve brand of pork utilizing proprietary genetics to deliver superior marbling, color and consistency.
All retailers strive for repeat sales. At the meat case, that is built on trust, quality product and the story behind the brand. Consumers connect quality with the retailer. Research shows the meat butcher is the second-most trusted individual in the building. The pharmacist is No. 1. "They may not know what made it a great pork chop, but they know it was delicious. They associate the quality with the retailer. It builds trust and loyalty," states Gripe.
Still, selling more pork comes down to repeat buyers for all cuts. Looking at the whole cutout, the fattest part of the hog brings the most money. The belly, back ribs and shoulder eat really well, and the price reflects it. The loin, on the other hand, gets leaner and leaner. As a result, the value of the middle has dropped relative to the cutout. "We have to figure out how to put the fat back into the loin to make it taste good while remaining efficient," notes Gripe.
Historically, the fat in market hogs went away when the fat meter entered into the packing plant. Being priced on lean carcass value resulted in a financial incentive for the hog farmer to go leaner. Since there is no technology for standardized grading, there is no way for the market to price differentiate for quality. "The pork industry has to evolve and develop technology to select for quality attributes that consumers see as economically viable for what they are willing to pay for, whether that is carcass-grading technology or a way to grade live hogs," states Gripe.
In essence, a mechanism is needed to grade pork, similar to beef, in a way that correlates directly to the consumers' eating experience. A choice steak eats better than a select steak. The grading standards and price closely reflect it. "Pork needs the same grading scale," stresses Gripe.
Is no-antibiotic-ever possible?
Sam's Club, a division of Walmart stores, follows a set standard for suppliers. The company is committed to enhancing sustainability throughout its global supply chain and announced its animal welfare standards in 2015, based on the United Kingdom Farm Animal Welfare Council's Five Freedoms. "We have a corporate policy on animal welfare as well as ethical standards that suppliers are expected to comply with," says Gripe.
Antibiotic use in food animals is also a component of Walmart's standards for suppliers. Basically, pork suppliers are required to comply with the judicious use principles of antimicrobials in line with the new Food and Drug Administration antibiotic rules that went into effect Jan. 1. Pork suppliers must also provide a report on antibiotics management to Walmart and publicly report antibiotic use on an annual basis. Gripe says these standards do not limit his options in buying pork because most of America's pig farmers are already committed to these practices.
Consumers are asking for antibiotic-free pork, Gripe confirms. Today, the price spreads between no-antibiotic-ever pork and conventional pork are too great. However, he thinks the no-antibiotic-ever pork supply will grow with future demand. He says, "As the pork industry moves further along and we get more economy of scale, we are able to grow pork at a better value, while improving quality and consistency. I think it will take off similar to what happened in the poultry industry."
Words for the pork industry
For Sam's Club, selling more pork is about creative ways to cut the pork and market it — a mission for in-house operation among the company's team. However, it is still a challenge to find consistent quality in mass quantities to provide the same product in every meat case in every store. After all, pork's biggest competition in the fresh meat case is beef, especially domestically. So, the quality has to match up.
"One thing I preach to the industry is we do not just produce protein. We produce food. It has to taste good," Gripe stresses. "Food is something that is enjoyed, flavorful and nourishing. So, the more you hit on those points the more you create demand for it. When you look at the economics for it, there is only so much meat people can eat. You have to figure out how to make better meat."
The good news is Gripe says fresh meat sales remain strong even though consumers seem to be moving more toward convenience, such as packaged meals and delivery.
Convenience is a factor, and the future is grocery deliveries. The demand for fresh food is robust. More Americans will place their order online and pick it up at the door or pay for it to be delivered. This can create new opportunities.
Subscribe to Our Newsletters
National Hog Farmer is the source for hog production, management and market news
You May Also Like
---