Consumers want pork, and U.S. producers deliver
Consumers want pork, and U.S. producers deliver
USDA reports record productivity for U.S. hog producers. Consumer demands support a growing pork industry, but rising total meat and poultry production could create a stumbling block for the marketplace.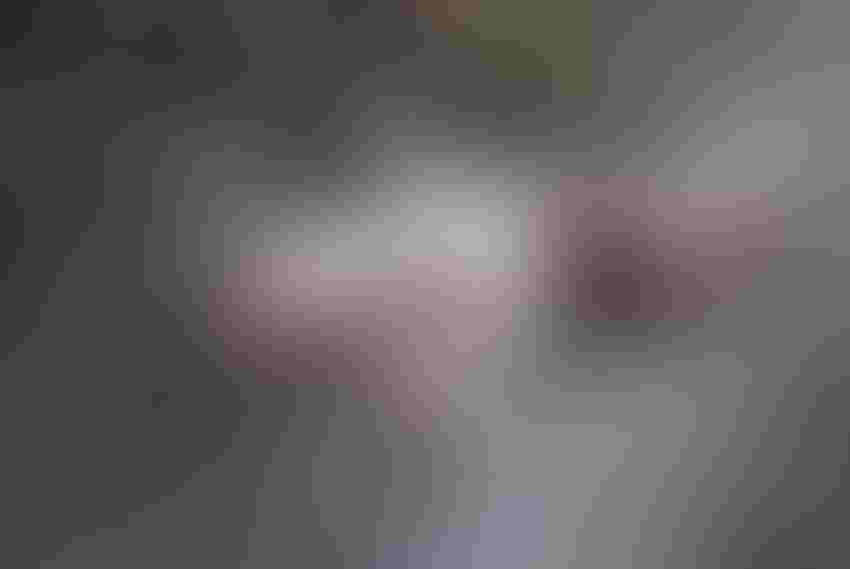 More money in consumers' pockets in 2018 is good news for a growing pork industry. Chris Hurt, agricultural economics professor at Purdue University, says demand carries the theme for 2017, and it will continue in 2018. Lower unemployment with improving wages in going into the new year will strongly support domestic meat demand.
Worldwide, consumers are eating pork. Americans are anticipated to not back away from meat and poultry in 2018, estimated to eat as much as in 2017. Turning to exports, U.S. pork is reaching more consumers through new marketing opportunities with strong numbers already recorded in 2017. The USDA estimates pork exports will grow close to 6%, up almost 13% from 2013.
Consumers want pork. America's pig farmers are delivering with excellent production performance as illustrated in the USDA's National Agricultural Statistics Service December Hogs and Pigs Report, released Dec. 22. 
According to the report, the highest pigs saved per litter rate ever recorded at 10.74. November hit the fresh monthly high ever at 10.8 pigs saved per litter. Putting this in perspective, Bob Brown, market consultant, says in September 2017 11.4 million pigs were born. Ten years ago in the same month, there were 10 million hogs born. "We had 11,000 fewer litters this year with a gain of 1.4 million hogs. Over 10 years we have this huge continuous growth in productivity only interrupted by PEDV (porcine epidemic diarrhea virus) of 2014," he explains.
As of Dec. 1, there were 73.2 million hogs and pigs on U.S. farms, up 2% from December 2016, reports USDA. Of the 73.2 million hogs and pigs, 67.1 million were market hogs, while 6.18 million were kept for breeding.
Looking at total annual pig crop, Brown says the United States averaged 115 million pigs born from 2008 to 2014 and 126 million after PEDV. For 2018, he estimates 134 million for 2018, pushing U.S. pork production to new highs.
While record production usually indicates a drag on prices, the expansion of the pork industry through efficient pork production is sustaining profits.
"One thing we have to recognize we have a growing industry on the pork side. That is very positive," explains Hurt. "When we think about growth orientation, it is not just on the domestic side, but the export market also. This adds to our ability to expand the herd and expand production 2% a year or somewhat higher."
Moreover, consumer demand for pork supports the expansion. In 2017, the U.S. herd produced 2.5% greater supply of pork marketed at a farm price 10% higher. "What that says at least relative to 2016, we had a very strong demand year," notes Hurt.  
Heading into 2018, predicting demand for next year the same factors are in play with a good U.S. economy and more people working. "Lot of demand is helping us to market more pork and even see stronger prices maybe for next year," states Hurt.
On the bigger picture, Jim Robb, director at Livestock Marketing Information Center, says the headwind is the sheer amount of total red meat and poultry produced in 2018. The USDA released the Cattle on Feed report on Friday also, showing a larger number of cattle coming to market in late spring and summer than market analysts anticipated. According to Robb, the United States is slated to produce on net basis 102 billion pounds of meat and poultry in 2018, exceeding 100 billion pounds for the first time. "When we put that big picture together that is probably the headwind in the marketplace should there be any stumbling on demand side. Taking those number to per capita basis and adjust for imports and exports, it looks like we are going to ask consumers overall in the United States to eat as much poultry and meat in 2018 as they did in 2017."  
Still, growth has its limits. Supply can outrun demand. Hurt says the pork industry can maintain 2-2.5% annual growth rate in strong U.S. economy and continue to do well in the export market. However, it is essential to keep an eye on overall meat and poultry production. In 2017, the three species — beef, pork and chicken — ramped up production. "As we get back to 220 pounds per capita, we are going to have to be really cautious across the animal industries as expanding too much rapidly. Going forward we are going to have to match our supply increases with what the world is going to eat," explains Hurt.
Profitability in 2018?
On the price profile for the pork complex, the big story is margins with higher pork prices and lower wholesale prices. That is market compression at the packer level, says Robb.
Given the crop production will be good next year keeping feed prices at an affordable level, profits should hold steady for America's pig farmers. For 2017, Hurt estimates profitability at $5 per head. He estimates an improvement next year to $5-$8 per head.
Price projection for 2018

Key numbers in the December Hogs and Pigs Report
As of Dec. 1, there were 73.2 million hogs and pigs on U.S. farms, up 2% from December 2016, but down slightly from Sept. 1, according to the Quarterly Hogs and Pigs report published today by the USDA's NASS. Breeding inventory, at 6.18 million head, was up 1% from last year, and up 1% from the previous quarter. Market hog inventory, at 67.1 million head, was up 2% from last year, but down slightly from last quarter.
• Between September 2017 and November 2017, 33.4 million pigs were weaned on U.S. farms, up 3% from the same period one year earlier. Sows farrowing during this period totaled 3.11 million head, up 2% from 2016. The sows farrowed during this quarter represented 51% of the breeding herd.
• From September 2017 through November 2017, U.S. hog and pig producers weaned an average of 10.74 pigs per litter.
• U.S. hog producers intend to have 3.07 million sows farrow between December 2017 and February 2018, and 3.08 million sows farrow between March 2018 and May 2018.
• Intended farrowings for March-May 2018, at 3.08 million sows, up 4% from 2016.
As expected, the USDA revised estimates from previous reports. For the last four quarters previously reported, the USDA increased breeding herd by 20,000 to 40,000 head while at the same time decreased the pig crop by 254,000 head for December-February and 474,000 for March-May, matching it up to hog slaughter numbers.  
According to the USDA, the net revision made to the December 2016 all hogs and pigs inventory was 0.1%. The net revision made to the March 2017 all hogs and pigs inventory was 0.4%. The net revision made to the June 2017 all hogs and pigs inventory was 0.9%. A revision of 1.5% was made to the March-May 2017 pig crop. A revision of 0.3% was made to the September 2017 all hogs and pigs inventory.
Subscribe to Our Newsletters
National Hog Farmer is the source for hog production, management and market news
You May Also Like
---