Where is the competition for hogs?
Where is the competition for hogs?
New packing plants will be coming online by the end of the year and hopefully this will generate more competition for hogs.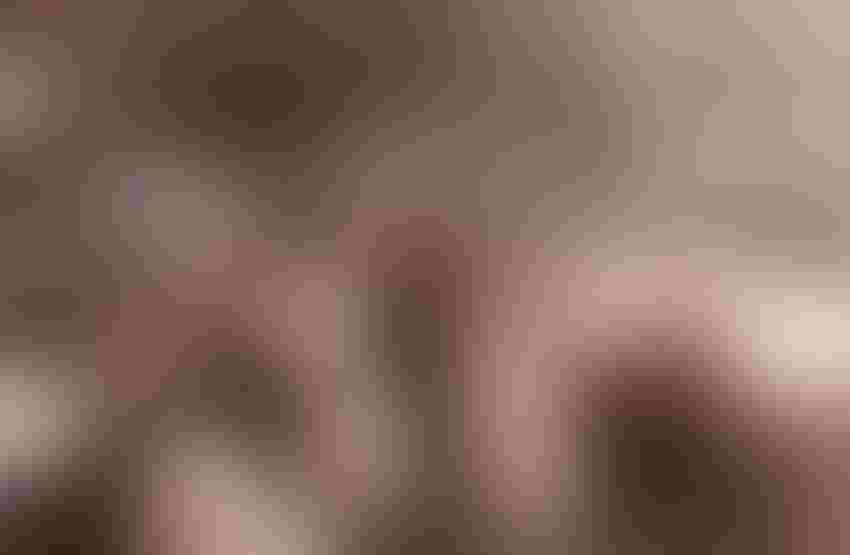 Cash hog prices have been flat to lower for 22 consecutive days. During this period the lean hog futures market has sold off hard. In fact, since the middle of February, when the February hog contract went off the board, the June lean hog contract has dropped $12. Half of this break has occurred over the last 22 days. In tandem with the lower cash hog market, the sharply lower futures market has occurred on declining open interest. It appears that the funds, holding a substantial net long position from early in the first quarter, have been liquidating their length.
In tandem with the consecutive string of lower cash hog bids, the cutout or value of the hog carcass has held steady. Cutout has been calculated on either side of $75 for several weeks. The end result has been a dramatic improvement in processing margins for the packer. Thus, the lower procurement costs are going straight to their bottom line. Cash hog prices, for this time of year, are trading at nine-year lows. Yet, the cutout value is trading even with values from this time last year and higher than cutout values from the same period in 2015. Why the consistent break in cash prices? Where is the competition for butcher hog supplies? Are packers simply padding margins now knowing that increased competition lies just around the corner when new packing plants will come online? These are questions that, in my opinion, every hog producer in the country should be asking.
Several years ago I contacted the Illinois attorney general in regards to what I thought was collusion in retail meat pricing in the Chicago area. I did get a response back. An attorney contacted me and indicated they would not put forth any resources toward such an allegation unless I could show proof. Needless to say, that's as far as that went. I thought proving such an allegation was their job?
New packing plants will be coming online by the end of the year and hopefully this will generate more competition for hogs. Packing capacity, over the next year, will increase by 8%. I have to question the degree of pure competition that currently exists in this market under current conditions.
The biggest news to surface in the hog market of recent was totally ignored by the futures trade. In the week ending April 15, the Chinese were large buyers of U.S. pork. Weekly pork export sales were reported at 36,200 metric tons, up 49% compared to the four-week average. Of this total, the Chinese were in for 23,900 mt, or 66% of the weekly total. This represents one of the largest weekly Chinese pork purchases in weeks, possibly years. Monthly pork export data has been impressive. In January, U.S. pork exports were up 19% compared to January of 2016. February exports were up 16% compared to February of 2016. Thus, pork exports so far this year are on a torrid pace. The February data marked the fourth consecutive month of double-digit increases. The USDA is currently projecting pork exports for this year to be up 8.3% from last year. Indeed, this projection may be too conservative. Several years ago such impressively strong export news would have created a fire storm of buying in the futures market and it would have fueled a large move in the bull spreads. This year, the news has been totally ignored. Since a Chinese conglomerate purchased Smithfield Foods, it appears the hog futures market is not nearly as sensitive to Chinese export business.
Finally, the recent hogs and pigs report showed a very cautious and conservative expansion in the U.S. hog breeding numbers. U.S. breeding numbers were up 1%. Total production for 2017 is projected to increase by 4.6%. Pork exports are projected to increase by more than 8%. Production in 2016 was record large at 24.939 billion pounds, up 1.7% from 2015. In the face of record large production last year, it's noteworthy that frozen pork stocks this year are lower than last year. This holds true in every pork cut with the exception of pork ribs. This is proof that demand for U.S. pork is outstanding if not record high. The fact that pork packers, since last fall, have been processing record numbers of hogs and increasing profits along the way in due to huge demand for U.S. pork. Finally, as testimony of the type of demand the packer is feeling and expected to experience in the future, packing capacity is slated to expand by 8% in the months ahead. One plant has already announced an expansion within 12 months of their projected opening date. Clearly, millions of dollars are not put to risk in the face of "iffy" demand. I wish the hog producer would start getting his fair share.
Subscribe to Our Newsletters
National Hog Farmer is the source for hog production, management and market news
You May Also Like
---