Student project aims to find pig waste solutions
Student project aims to find pig waste solutions
Student researching possibilities of using biochar made from pine bark to clean wastewater from hog farms.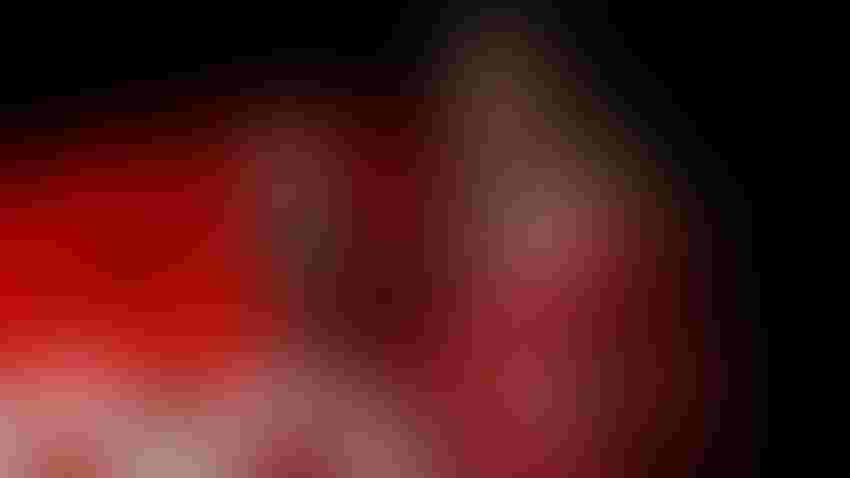 Pine bark and hog waste seem like an unlikely pair, but a rising North Carolina State University senior is working to find a way to bring them together to provide environmentally sound solutions to animal waste issues.
Working with Praveen Kolar, professor of the department of biological and agricultural engineering, Victoria Augoustides is researching the possibilities of using biochar made from pine bark – a readily available byproduct of the forestry industry – to clean wastewater created when hog farmers flush waste from their barns and empty the wastewater into treatment ponds called lagoons.
Biochar shows promise as a valuable soil amendment that farmers and gardeners could use to improve soil health and fertility. It's a porous material made when organic matter is heated to high temperatures in an environment without oxygen.
Augoustides discussed her research, which she calls the Pig and Pines Project, during a recent TedxNCState talk. The student-organized TEDx event aims to elevate the voices of students and other community members and help them realize their potential to shape the world.
"The TEDx talk itself is my attempt at raising awareness that sustainable solutions in agriculture are possible and that anyone can do it if they put their mind to it," she said.
Augoustides co-authored a paper published last year in the Chemical Data Collections journal. She examined the chemical properties of loblolly pine bark to get a better understanding of how it might be used for industrial design and engineering solutions.
Passion for problem-solving
Augoustides is enthusiastic about the research because she grew up in Lexington, considered by many to be Carolina's pork barbecue capital, and because she wanted to learn more about how the state's 9 million pigs are raised.
After moving to Winston-Salem, Augoustides developed what she referred to as "a connection to agriculture and the outdoors." Her hobbies included horseback riding, gardening and hiking.
"I wanted to give something back to the local ecosystem here … that had given me so much growing up," she said. "I wanted to start to bridge the gap between research and applications to the hog waste problem in North Carolina."
Using the locally available wastes to treat lagoon water will help both forestry and agriculture industries.
Augoustides paired with Kolar to win a stipend and research funding from the BAE department. Kolar's research focuses on converting agricultural wastes into energy and value-added products such as absorbents.
"Dr. Kolar's research focus … spoke to my interests in bioprocessing and sustainability," Augoustides said. "I've also done a lot of work as an organic chemistry teaching assistant and have a minor in biomanufacturing. The opportunity to learn more about engineering with organic chemistry, enzymes and pyrolysis, as well as assays and spectroscopic techniques, really excited me."
Kolar said the motivation behind this research is to help the animal agriculture industry and enhance its stature.
"We are strong supporters of animal agriculture and we want our research to help solve their problems. Using the locally available wastes to treat lagoon water will help both forestry and agriculture industries," he said. "We are also hoping that by mitigating the odors and pollutants from lagoons, our animal agriculture will flourish."
The problem she sees
In her TEDx presentation, Augoustides discussed the issues she sees around hog waste and treatment lagoons. The problems, she said, are odors that can impact the quality of life in communities with large hog farms and past water contamination when major floods have caused lagoon breaches.
Pine is locally raised, like swine, and using it as a solution keeps money in the North Carolina agro-economy, she added. 
"I decided to take action on how I could help fix … the issues by going right to the source by contributing more research into academic, sustainable and economic solutions to this problem."
The quest for solutions
Pine bark is relatively inexpensive and a valuable source of biomass, carbon-rich renewable material that comes from plants and animals, she said. Burning the bark for three to four hours in an oven at 1,000 degrees Fahrenheit or higher leaves behind a carbon-filled material that's rough, bumpy and full of holes.
"This transforms it from a block of carbon to a carbon sponge. The holes in the biochar serve to increase its surface area," she told her audience in the online TEDx talk. "This creates little, tiny sites for the compounds from the air that we want to absorb to come and stick to.
"That makes biochar an excellent sponge for waste in water," Augoustides added.
She explained, "We are currently testing the biochar (made from pine bark) for its potential to absorb volatile organic compounds from the air around the swine farms. It could also be used to lower the level of contaminants in the water, not just the volatile organic compounds."
Implementing the solution would require further research, but Augoustides hopes her work is a promising start to explore a promising idea.
Augoustides said her independent studies have given her a new perspective on solving waste problems, and she hopes it will inspire others to follow suit.
"I challenge you to go out and look at what you consider to be waste in your everyday lives," she said. "Do a little digging and see if you can find your own fresh perspectives."
Subscribe to Our Newsletters
National Hog Farmer is the source for hog production, management and market news
You May Also Like
---