Record large production versus record high exports
Record large production versus record high exports
The key for U.S. hog producers, moving forward, is to prepare to lock-in prices for next fall and winter.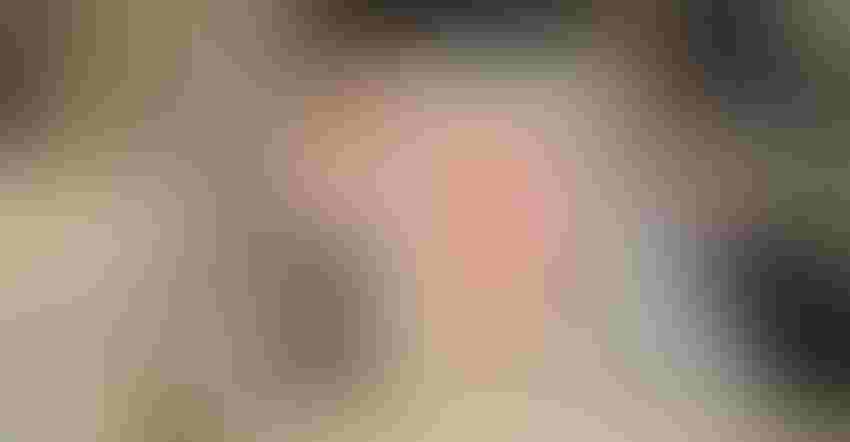 Because of a schedule change from last year to this year, my turn around time between columns is short. Honestly, not much has changed. My theory of "flip the light switch" in the cash hog market has not been sufficiently tested yet.
Lean hog futures rallied on the first trading date of the year, tested resistance and then backed off to unchanged into the close. On Jan. 3, the second session of the year, futures were spooked by the U.S. military action in the Middle East. This uncertainty in tandem with the premium structured board encouraged the funds to sell aggressively and futures suffered limit losses. On Friday cash hog prices (the CME lean hog index was up 0.89 at $58.62) were higher while futures lost 300 points for a nearly 400-point basis correction.
Looking ahead, which we must always do, record large pork production will be met with record high exports. Domestic pork demand is also expected to remain excellent in the face of 50-year low unemployment. With the uncertain situation developing between the United States and Iran, it's possible an escalation of tension and violence could drive crude oil prices sharply higher and trigger a recession. Consider this a remote possibility. Two major differences exist today that did not exist in the past when trouble surfaced in the Middle East.
First, in 2020 the United States, thanks to the fracking industry, is now a large net exporter of crude oil and not a heavily dependent importer of energy. Second, we have a strong president in the Oval Office who is decisive and willing to make hard decisions backed by the U.S. military. These two important factors make a rapidly rising escalation in the Middle East unlikely to develop.
Switching gears, we shipped China approximately 360,000 metric tons of pork in 2019. Total export commitments equaled around 1.6 million mt. Mexico was our largest pork export customer taking roughly 525,000 mt followed by China which was followed by Japan which took 206,000 mt. Mexico represents roughly 32% of U.S. pork exports with China business jumping to 22%, with the Japanese representing 13% of our pork export business. This year I'm expecting the Chinese business to more than double, pushing the percentage of Chinese pork exports out to more than 30% of total.
Total pork exports, as projected by the USDA, stand at 7.1 billion pounds or up 13% compared to exports in 2019. If achieved this would be up 20% from exports in 2018. Exports as a percent of total production will approach 25% this year. However, because total production continues to rise, domestic supply is stable. This is a major factor contributing to an inability of the futures market to rally sharply.
More clarity is now available on the signing of a phase one trade deal with the Chinese. The top Chinese negotiator is flying to the United States to sign the deal on Jan. 15. In addition, U.S. Congress is expected to pass the U.S.-Mexico-Canada Agreement trade legislation soon, perhaps by the end of this week. Consider both events very friendly toward hog prices moving forward.
My sources indicate that many companies with "boots on the ground" in China believe they've lost as much as 80% of their breeding stock. The Chinese government appears to be making special efforts to inform the world of something vastly different. Officially they admit they've lost 40% of their hog herd. So the actual losses likely reside somewhere between a 40% loss and an 80% loss. The Chinese government simply cannot allow their 1.6 billion population to suffer through record high pork prices for an extended period.
Simply put, their form of government will not survive a long-term food crisis. News from Vietnam and South Korea regarding their battle with African swine fever is scarce which likely means they're losing the battle. The disease is now moving in Poland and has been identified within 20 miles of the Polish border with Germany. Germany, by the way, represents the largest supplier of pork to China in the European Union.
My "flip the light switch" mentality and expectation are still valid, in my opinion. With all of JBS pork now eligible for export to China, look for offtake to increase substantially. The Chinese have already booked 250,000 mt of U.S. pork for shipment this year. They need the pork now and they'll likely start the New Year with aggressive shipments.
One new potentially bullish factor I've been hearing since my last column is actually a two-fold factor. The harvest of an extremely wet corn crop this fall with much of the crop stored on-farm, could likely result in poor to very poor quality for much of the crop when actually sold and shipped. Hogs do not gain weight well when fed poor-quality corn. In tandem with this is the fact that by spring a huge percent of the hog population will not be fed the feed additive ractopamine. These two forces in tandem may contribute to a much-larger-than-normal drop in average hog weights this spring and summer.
In the face of record large production, packers are not going to bid their margin away easily and willingly. Keep in mind, however, as the percent of total exports compared to production increases, actual packer margins are most difficult to measure. One should consider they'll always be better than we believe. The point is, the situation facing China, Vietnam, South Korea, the Philippines and the rest of Asia is so critical, so overwhelmingly bullish, U.S. hog prices can be expected to rally sharply, despite record large production.
The key for U.S. hog producers, moving forward, is to prepare to lock-in prices for next fall and winter. If packers don't solve a few issues, mostly labor issues, hog prices can be expected to move lower to sharply lower next fall and winter. The selling window should be from early March to early May. My expectation and hope are that prices are sharply higher during this window than current levels.
Source: Dennis Smith, who is solely responsible for the information provided, and wholly owns the information. Informa Business Media and all its subsidiaries are not responsible for any of the content contained in this information asset.
Subscribe to Our Newsletters
National Hog Farmer is the source for hog production, management and market news
You May Also Like
---