New Product Tour: BinMaster FeedView
New Product Tour: BinMaster FeedView
Gregg Hora, Iowa swine producer; Brad Leuwerke, veterinarian with Swine Vet Center; Gary Anderson, South Dakota State University; and Brett Ramirez, Iowa State University chose six products as finalists in this year's New Product Tour.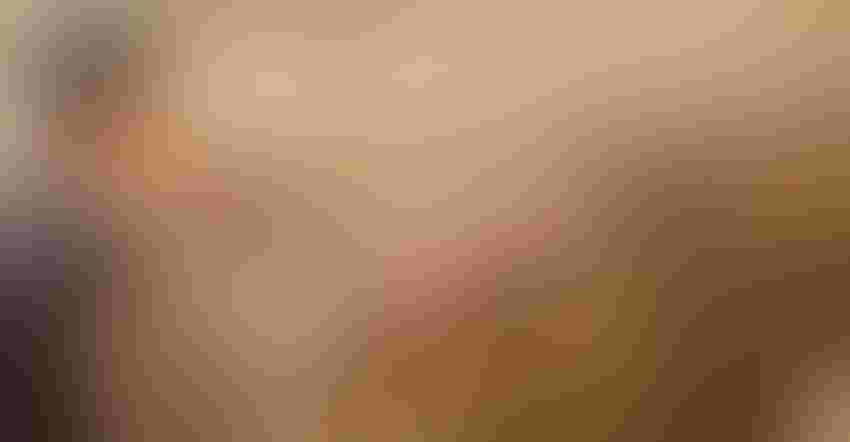 Though being able to view feed levels inside a bin may not be new, the way BinMaster's FeedView goes about it is new, according to Scott Hudson, BinMaster executive vice president of Sales and Marketing.
"What is unique is how we go about the approach and what it can offer you," Hudson says. FeedView uses battery-operated FVL-100 laser level sensors using long-range (LoRa) technology. Since the system is battery-powered, the installation on the bin requires no wiring. "You just install the sensor, put a battery in the sensor, and then it starts taking readings. It really is that simple."
Hudson says the use of LoRa technology allows the data from the sensor to be transmitted up to a mile "to a gateway that receives the data. That gateway then will send that data to the cloud so that you can see it inside of FeedView."
Feed inventory data can be viewed from any device connected to the internet such as a smartphone, tablet or computer. Users simply log onto the FeedView website to view all bins, see current levels, and get an estimation of the number of days until each bin is empty. Automated alerts via text or email ensure notification occurs before feed bins run empty. The software also allows users to generate an order and send it directly to the mill. From both safety and manpower standpoints, this system eliminates the need to climb bins.
More accurate feed orders
Hudson shares the example of one producer using the system who expected to have two tons of feed per bin when the hogs were marketed; with eight bins that would be 16 tons of feed leftover. "Using the FeedView system at the end of the cycle, right before they marketed, they were able to order less feed than they normally would, and they were able to manage that down to a half a ton, and it wasn't a half a ton per bin, it was a half a ton total."
Battery life is a concern, and Hudson says producers should be able to get two to three years out of the battery, "but temperature is the No. 1 thing that battery life is dependent on. In the north where it's colder, the batteries will wear out a little faster than they will in warm weather."
Judge Brad Leuwerke likes the versatility of the FeedView system. "Feed management is a big deal, and this can be site-specific, or it can be managed by someone overseeing feed purchases for a company."
Judge Brett Ramirez is intrigued about the mode of communication from bin sensor to producer, and the possibilities it may open up for future innovations. "It's kind of interesting. The way that they're using it in some other applications might make some more wireless technology practical in barns in the future."
Subscribe to Our Newsletters
National Hog Farmer is the source for hog production, management and market news
You May Also Like
---