More corn and soybean acres expected this year
More corn and soybean acres expected this year
Legislative Watch: Plantings expected up; seeking hazard pay; pork line suit to proceed; beef needs help now; 'harmonized' weight limits needed.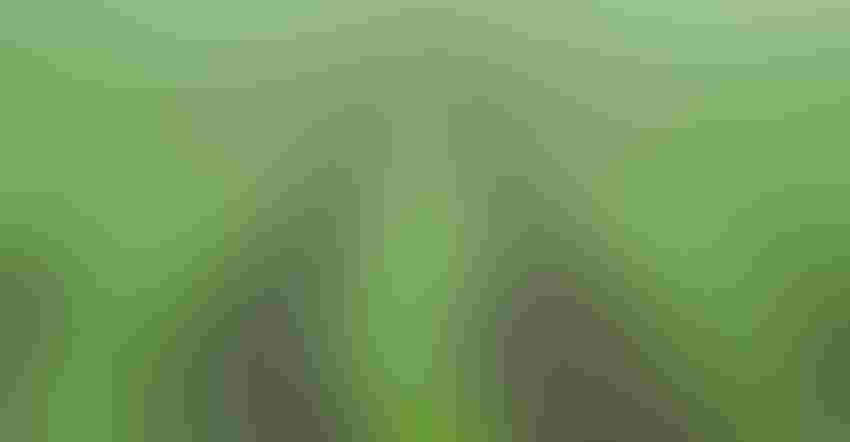 U.S. farmers intend to plant more corn and soybean acres this year according to the USDA Prospective Plantings report.
The report estimates 97.0 million acres of corn will be planted in 2020, an increase of 8% from 2019. Planted acreage intentions for corn are up or unchanged in 38 of the 48 estimating states. South Dakota had the largest increase of 1.65 million acres from last year.
Soybean farmers intend to plant 83.5 million acres, up 10% from 2019. This would be the third highest planted acreage on record. Planted acreage is expected to be up or unchanged in 22 of 29 states estimated.
All wheat planted is estimated at 44.7 million acres, down 1% from 2019. This would be the lowest all-wheat planted area since records began in 1919.
The Prospective Plantings report is the USDA's first official survey estimates of farmers' 2020 planting intentions. The National Agricultural Statistics Service conducted surveys during the first two weeks of March from approximately 80,000 farmers throughout the United States.
Federal workers sue for hazardous pay
A lawsuit was filed in the U.S. Court of Federal Claims by the American Federation of Government Employees on behalf of five federal employees who were exposed to coronavirus while performing their official duties. They are seeking a class-action lawsuit in which an estimated 100,000 federal employees would be covered.
They are asking that federal employees receive 25% hazardous pay because of exposure to "hazardous working conditions" because coronavirus would qualify as a hazard. Also, AFGE is asking for 4% to 8% pay increases for employees who have worked with or close to "hazardous microorganisms" depending on the availability and effectiveness of personal protective equipment.
AGFE President Everett Kelley says, "Each day front-line federal employees willingly risk their health and their families' health to provide critical services to the American people. It is our hope that the government does right by these employees and pays them the hazardous duty pay they've earned."
The employees involved in the lawsuit work for the USDA, Bureau of Prisons and the Veterans Administration.
Lawsuit to stop pork line speed rule moves forward
The case filed by the United Food and Commercial Workers to stop USDA's swine slaughter modernization rule, to allow for increased line speed for pork plants, can move forward. The ruling came from the U.S. District Court for the District of Minnesota.
U.S. District Judge Joan Ericksen says USDA's Food Safety and Inspection Service failed to address public comments on work safety before finalizing the rule.
UFCW President Mar Perrone says, "America's pork workers won an important victory with this ruling as our lawsuit moves forward to stop the USDA's dangerous line speed rule. As we confront the coronavirus outbreak, these workers are more important than ever to protecting our food supply chain. Stopping the USDA's reckless pork lobby giveaway is essential to the safety of our country's food and the hardworking men and women who produce it. We are proud to continue this fight to ensure food safety never takes a backseat to corporate profits."
Beef producers need assistance now
A bipartisan group of over 140 Senators and Representatives are asking the USDA to move quickly on providing a temporary and targeted assistance to beef producers. Producers have seen a drop in cattle prices during the last three months.
The members in a letter to Secretary of Agriculture Sonny Perdue say, "We write to request swift assistance for cattle producers with the resources provided in the recently enacted Coronavirus Aid, Relief and Economic Stabilization Act to facilitate the stabilization of farm and ranch income to producers who are facing market volatility in the wake of the COVID-19 pandemic and economic fallout."
The letter was organized by Sens. John Thune (R-SD) and Catherine Cortez Masto (D-NV) and Reps. Dusty Johnson (R-SD) and Henry Cuellar (D-TX).
Ag needs increased weight limits
A coalition of 62 agriculture organizations is asking states to establish a minimum truck weight limit of 88,000 pounds on U.S. highways and federal interstate highways in an effort to "harmonize" all states so truckers will not face challenges when crossing state lines.
The stimulus packaged clarified the Department of Transportation's authority to allow states to increase truck weight limits during the coronavirus emergency.
In a letter to state governors, lieutenant governors and directors of agriculture and transportation, the coalition says, "Establishing a minimum truck weight limit of 88,000 pounds would ensure that a minimum harmonized weight exists across the country and help protect against essential shipments adhering to this common increase from being impeded at state borders."
The letter states, "Increased truck weights improve the food and agriculture industry's efficiency and capacity to deliver essential food, feed and key ingredients which sustain our food supply chain. This will become more critical if the availability of truck drivers is impacted adversely by COVID-19."
Those signing the letter include Agriculture Retailers Association, American Farm Bureau Federation, National Cattlemen's Beef Association, National Farmers Union, National Grain and Feed Association, National Pork Producers Council and North American Meat Institute.
Source: P. Scott Shearer, who is solely responsible for the information provided, and wholly owns the information. Informa Business Media and all its subsidiaries are not responsible for any of the content contained in this information asset.
Subscribe to Our Newsletters
National Hog Farmer is the source for hog production, management and market news
You May Also Like
---