Lean hog futures ready for takeoff
Lean hog futures ready for takeoff
Major rally in lean hog futures will be like rocket launched into space, straight up for a very quick move.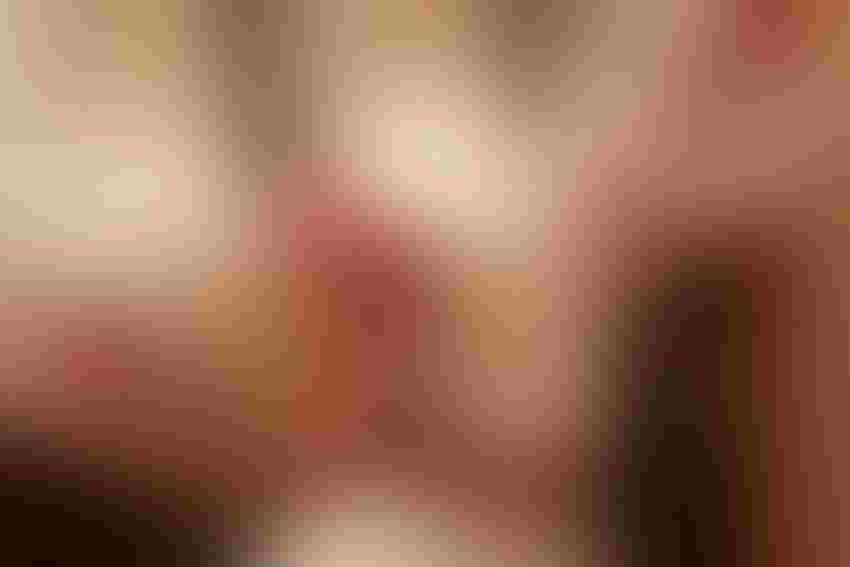 Scott Olson, Getty Images
The countdown has started. Lean hog futures are on the launch pad ready for takeoff. Exactly when is liftoff, and how much fuel is in the booster? In other words, how high will they go? 
In the wake of the holidays, my sources are indicating that packers are woefully short of product. Indeed, the last week of the year the hog carcass appreciated $9.24, finishing at $78.58, or more than $10 off the lows from the previous week. The product is the key as it will drive the carcass higher along with the CME lean hog index and force packers to compete in the negotiated cash market, something they've not had to do in months. Listed below are the bullish fundamentals as I view them, as well as the bearish ones. Bullish bullets outnumber the bearish more than two-to-one. They are as follows:
The glut of fresh pork has been cleaned up over the holidays. 

Frozen stocks have been depleted, at the lowest in more than 20 years.  

Sources indicate packers are short of product starting out the new year.  

A contraction in breeding numbers was confirmed.  

Since December 1, the sow slaughter remains elevated.  

The new and rapidly rising price of corn will keep contraction going.  

Packer processing margins remain highly profitable.  

Butcher hog numbers are projected to decline relative to last year.  

PRRS and PEDV are likely to create a hole in numbers toward summer.  

In my opinion, China still needs record amounts of U.S. pork in 2021.  

In my opinion, total pork exports in 2021 will be record high.  

Investment money will be looking for inflation hedges.  

Recent increases in lean hog open interest suggests this money flow has already started.  

The U.S. economy, including foodservice, is expected to open up in the first half of 2021.  
 Bearish bullets include the following: 
USDA projects production in 2021 will exceed that of 2020 and be record large.  

USDA projects that pork exports will back off in 2021 and not be record large.  

Reports out of China suggests a 90% recovery in their hog herd.  

If production is larger in 2021, packer labor problems will persist.  

Possibility that the Biden administration will keep the economy shut down on virus fears.  

Possible ASF event (scare) in the U.S.   
Consider it highly likely that the USDA will revise their current projections for production downward in reaction to the "Hogs and Pigs" report that confirmed contraction. It may take them a while to revise exports higher.
The Biden Administration's willingness to open the economy as quickly as possible is impossible to gauge at this time. For what it's worth, in my opinion, once we get 15-20% of the U.S. population vaccinated, the positive COVID-19 numbers will start dropping off. There will be little reason to keep restrictions in place.  
There is no doubt that the U.S. government's actions are inflationary. Stimulus checks, in the amount of $600, hit individual bank accounts one minute after midnight on New Year's Eve. In 2020, the M1 money supply has skyrocketed higher. In addition, as the trend of pushing manufacturing jobs overseas is reversed, wage price pressure will develop for the first time in decades. What I'm describing will send billions of dollars into the commodity markets, including lean hogs.  
More specific to the lean hog futures market, the key is the product, and product prices are very likely headed higher to sharply higher. Key resistance in the carcass lies $10 above the final carcass quote of last year. So, watch for a close in the carcass above $88.00. This would be very bullish and signal a move in the carcass to $100 or higher.
Summer hogs will follow the carcass. My upside target in June hogs is $102 with a possible move to $105. This will provide excellent hedging opportunities.
There are several other variables that will be at play this year. While an ASF event, or scare, is possible in the U.S., it's actually much more likely to occur in Germany's commercial hog herd. This would further cripple their industry and force aggressive contraction. In addition, we're now hearing that Russia is experiencing a serious outbreak of ASF. Also, we know for fact that ASF remains imbedded within China. They'll likely be fighting this disease for years.
Finally, I believe that beef production is on the decline and that the poultry industry will quickly lower production in response to escalating corn prices.  
Yes, it's my opinion that a major rally in lean hog futures has just started. The move, I'm projecting, will be like a rocket launched into space, straight up for a very quick move. Most will be caught completely off guard. How about you? Feel free to contact me if you'd like a free trial to my evening livestock wire, published daily for our clients.  
Source: Dennis Smith, who is solely responsible for the information provided, and wholly owns the information. Informa Business Media and all its subsidiaries are not responsible for any of the content contained in this information asset. The opinions of this writer are not necessarily those of Farm Progress/Informa.
Subscribe to Our Newsletters
National Hog Farmer is the source for hog production, management and market news
You May Also Like
---