Is that Chicken Little or is the sky really falling?
Is that Chicken Little or is the sky really falling?
You still have hope and data on your side; let's be smart on how we position ourselves in this environment.
Trump tariffs, Chinese retaliation, more Trump tariffs, and the fate of America's hog farmers flapping in the wind. Not exactly the stuff a market rally is made of.
These are uncomfortable times for agriculture and many are searching for answers in an environment that is lacking in confidence. We can all have our opinions of how the China tiff will come out, whether the U.S. ag sector will really be protected as promised and whether North American Free Trade Agreement negotiations are going better or worse than expected.
But the hard truth is that nobody knows. In these times, I find it helpful to try to abandon our tendency toward confirmation bias and look to make decisions based on fact-based, non-emotional assessments. We all tend to seek information to support our own theory. It's the same reason your Twitter account or a review of your Google searches would tend to support your political or religious or fiscal bias. We are all searching for "the answer" and hope it fits our way of thinking. When was the last time you really changed your mind about an important issue? It is not just you, we all do it.
Consider the myriad of things that have taken place in the last two weeks alone.
• The Trump administration announces tariffs of Chinese imports of steel and aluminum, followed by China retaliating with sanctions on pork and other products, followed by Trump increasing the stakes with further sanctions, followed by China pulling the trump card (no pun intended) by including beans in its tariff list, followed by Trump seeking another $100 billion in yet-undefined tariffs. This is a game of high-stakes poker with the United States (I think) having more chips at the table given that we import $400 billion annually from China while they take roughly $100 billion from us, with aviation and soybeans representing the bulk. As of this writing, the latest Trump tweet suggests that we are only interested in intellectual property issues. This is impossible to handicap.
• In the wake of the Chinese sanctions on U.S. beans, Brazilian premiums are up over $1 per bushel. That is a basis change that has importers across the globe scrambling. The Chinese are booking South American cargos, the rest of the world coming to the United States as we are now the cheaper source of beans. Funny how the loss of Chinese business is compensated by export sales to others — when you squeeze the balloon in one spot it expands in another. Another example of you-can't-make-this-up, China is buying U.S. cargos for October. Perhaps there is a timeline for these tariffs that is only written in Mandarin.
• Soybean meal values in China are up 10% and, if the Dalian Exchange is any indication, may go higher. The sanctions by China to "punish" the United States have resulted in higher prices to the Chinese end user and we have beans in the United States trading within 20 cents of their highs on the CME. This may be the best example of what happens in a trade war, the people in your own country bear the brunt of the fallout.
• At least 70 people are dead in Syria from what appears to be a deployment of chemical weapons by that same government. The human toll is tragic; it adds to the world's consternation.
What does all of this mean? Volatility. You can feel it in your bones that the world is moving on shifting sands, our agricultural markets are both caught up in the sweep and even out in front in some instances. Everything I have mentioned so far is before we reference the 8 inches of snow in Minnesota, the record cold temps for this time of year across much of the Midwest, the flooding in the eastern belt, and the inevitable delays in getting this year's crop in the ground. Bottom line: buckle up, folks. There is likely more on the horizon and if you have some options positions around the commodities where you have a hedgeable vested interest, you will not have to panic if/when another twist in the road occurs.
I flew a small craft to southern Indiana last week, here is a picture from about 4,000 feet of the situation in the eastern Illinois through the Ohio River valley. Several roads under water, countless streams out of their banks, flooding everywhere. Yuk.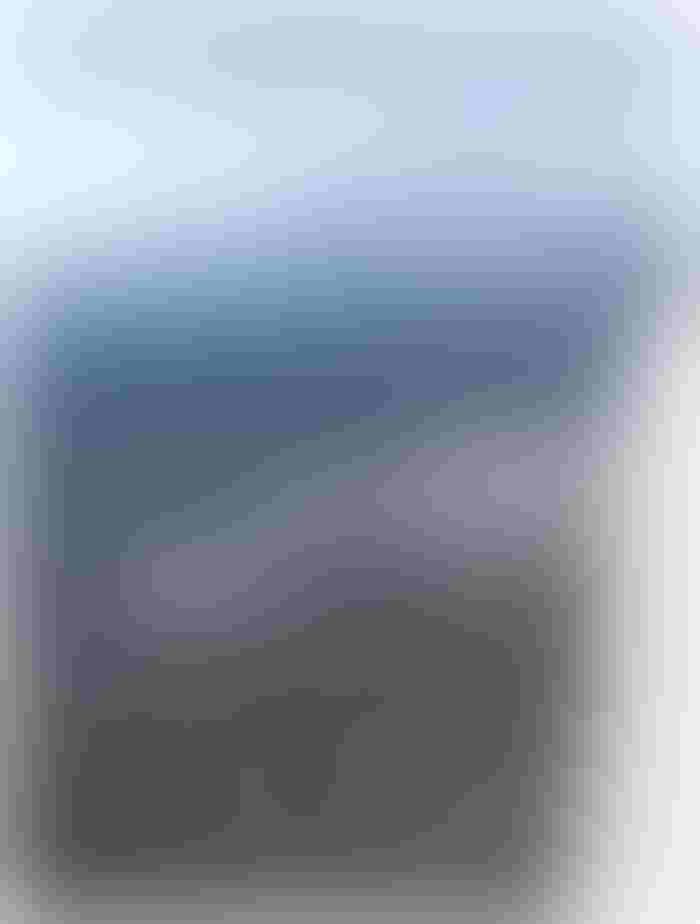 There are a couple of other things I wanted to address in this column. First, the dismal performance by the April hog contract should give caution to pork producers for the fourth quarter. If we are only able to generate $50 cash bids for hogs now, what happens when the run rate increases by roughly 300,000 head per week in the fall? That is a valid and legitimate concern. Per the calculations of our expert economist, Steve Meyer, the stress on the packing capacity in the fourth quarter is NOT reminiscent of 1998. In fact, it will not be as bad as it was in 2016. After I gave you all of the things to be afraid about in the first portion of my writings, I felt an obligation to at least take that one off the table. Second, remember that pork demand is relatively inelastic in the short term and can be a fickle beast. You felt the benefit of that last year when belly prices went through the roof in the summer, but this is the back side of the curve. We tend to price the entire lot on the margin. If we have just a little too much supply relative to demand, the entire complex suffers and that is where we find ourselves right now.
The other thing to remember is that cold storage is not a huge buffer. Our biggest cold storage report in history represented roughly seven days of production. Think about that for a moment. We can run a combine for corn or beans in the fall and make it to the next harvest with room to spare. Grains are a storable commodity. Meat? Not so much. We will have to grunt through our oversupply situation in the present to, hopefully, have better prices in the summer.
I will leave you with two charts. The first depicts how this one played out just last year and where we sit so far this year. July 2017 hogs traded down to $68 before rallying to $92 at expiration. You are riding a fickle beast, indeed. The second is the effort of Cody Good in our office demonstrating the distribution of when the highs of a particular contract month occur. Note that our potential euphoria is weighted for the summer months — you still have hope and data on your side, let's be smart on how we position ourselves in this environment.

Comments in this article are market commentary and are not to be construed as market advice. Trading is risky and not suitable for all individuals. Contact Joseph Kerns with questions, comments and concerns. 
Subscribe to Our Newsletters
National Hog Farmer is the source for hog production, management and market news
You May Also Like
---