Iowa pork producers give thanks to Cedar Rapids community
Iowa pork producers give thanks to Cedar Rapids community
IPPA teamed with Tyson Fresh Meats to donate nearly 1,200 pork loins, equal to about 24,000 pork meals.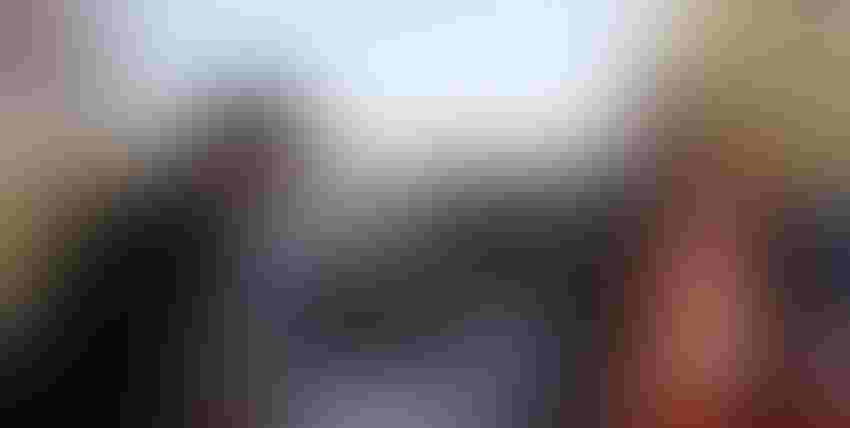 On Monday, Nov. 13—also World Kindness Day—the Cedar Rapids community was the focus of a "Thank You" celebration from Iowa's pig farmers, for the support shown to those who work in bringing food from farm to table. During a kickoff event, local pig farmer Trish Cook told Cedar Rapids-area residents why she is thankful to be part of the community.
"Your support helps us do what we do—raise pigs and produce high-quality, delicious pork," said Cook, who lives near Winthrop and is president of the Iowa Pork Producers Association.
"We understand that being welcomed and appreciated by our communities is a privilege that must be earned and maintained," she continued. "We're grateful for this opportunity, and we want to say thanks by giving back."
As part of the "Thank You" event, Iowa pork producers teamed with Tyson Fresh Meats to donate nearly 1,200 5-pound pork loins, equal to about 24,000 pork meals, to the Cedar Rapids community.
Half of the pork loins were given to the Hawkeye Area Community Action Program, a nonprofit whose Hiawatha-based Food Reservoir serves more than 35,000 food-insecure individuals in a seven-county area. The pork producers also provided pork coupons and educational materials to local grocery stores for distribution to consumers, as well as pork thank-you packages to local first responders.
Marion Mayor Nicolas AbouAssaly expressed respect for pig farmers, and said the donation "means a lot."
"HACAP serves such a critical role in our community, especially in the last few years with the pandemic and the derecho," said AbouAssaly, referring to COVID-19 and an unprecedented straight-line windstorm that caused widespread devastation in 2020. "So many stresses came with that for families, and certainly lots of food insecurity."
That need continues to rise locally and across the state, according to Kim Guardado, director of HACAP's Food Reservoir. Currently, about 12.8% of the population HACAP serves is facing food insecurity. And with increased food prices, "what we're seeing right now is actually higher than what we saw at the height of the pandemic," she said. Statewide, food insecurity is the highest it's been since 2008.
Guardado added that protein can be tough to come by.
Liz Mathis, recently named the first economic development coordinator for the Hiawatha Economic Development Corp., called the gift of pork "invaluable." She said the area has "a lot of employees who are in some midrange-level jobs and jobs that don't always pay as much as we would hope. And they need some help with their food costs."
"Our families look for protein in the products that are at HACAP," she told pork producers. "Thank you so much for supplying that to them, and the consistent vigilance you have for people in need."
Later in the day, the remaining pork loins were distributed to area residents during a drive-thru giveaway at the Noelridge Aquatic Center parking lot. Anyone was invited to pick up a pork loin to share with their own families or a neighbor in need.
This is the 10th "Thank You" stop hosted by the state's pork producers since 2021. During the past two years, similar events have been held in nine Iowa cities that are home to major pork processers, thanking residents for supporting the industry through COVID-19 challenges. Those other communities include Columbus Junction, Denison, Eagle Grove, Marshalltown, Ottumwa, Perry, Sioux City, Storm Lake and Waterloo.
Subscribe to Our Newsletters
National Hog Farmer is the source for hog production, management and market news
You May Also Like
---