Illinois pork producers donate 50,000 pounds of pork in 2023
Illinois pork producers donate 50,000 pounds of pork in 2023
Pork Power program helps producers donate pork that is processed at local lockers and then donated to those in need.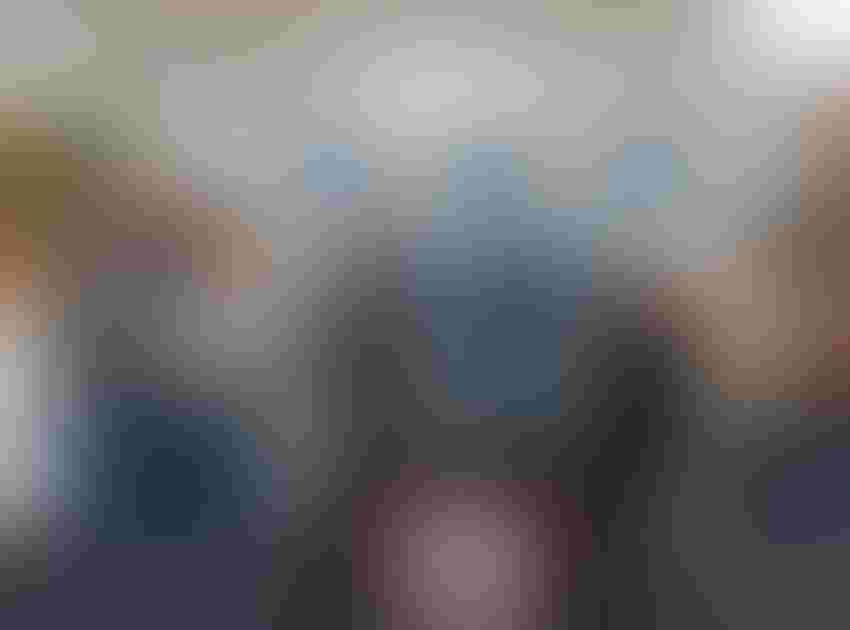 From left Chad Leman, IPPA president; Oliva Key, IL Soybean Association; Shane Gray, Illinois Corn Growers Association; Brad Turasky; Turasky Meats; Dianne Handsaker; Illinois Association of Meat Processors; and Pam Molitoris, executive director at the Central Illinois Food Bank.
IPPA
As part of "Pork Power: Partnering to Fight Hunger in Illinois" campaign, the Illinois Pork Producers Association has donated 50,000 pounds of ground pork to nine regional food banks in 2023.
IPPA President Chad Leman, was recently joined by the Illinois Corn Growers Association board member, Shane Gray, and staff members from IPPA, the Illinois Soybean Association and Turasky Meats, at Central Illinois Foodbank in Springfield, Illinois to make one of the final end-of-year donations. The donated pork was processed by Turasky Meats. Central Illinois Foodbank serves over 140 partner agencies across 21 counties in central and southern Illinois.
"As farmers across the state of Illinois, we have deep ties to our local communities," says Leman. "Ingrained in each of us is a desire to help our neighbors, who may be in need. One of the best ways we can do that is to provide food from our farms, specifically pork products to our local food banks. Pork Power is a program administered through the Illinois Pork Producers Association that helps pork producers donate thousands of pounds of pork that is processed at local lockers and then donated to those in need. This past year Illinois pig farmers have donated over 50,000 pounds of pork to nine regional food banks who then distribute the meat to local food pantries. Thank you to my fellow producers for your generosity and always responding to the needs of others."
"I am so proud that my Illinois corn checkoff dollars work in partnership with Illinois Pork dollars and Illinois Soybean dollars to make a big impact for hungry families in Illinois," said Gray, Illinois Corn director and a farmer from Waverly. "Farmers are passionate about feeding people, and I know that this protein donation is vital to the foodbanks in Illinois. IL Corn is proud to support this important mission and to encourage people in Illinois to eat more pork."
"ISA's collaboration with IL Pork and IL Corn in the Pork Power program consistently proves to be valuable for the organizations involved, Illinois farmers, and the community each year," says Brian Atteberry, ISA District 16 Director and Market Development Committee Chair. "This program highlights the power of collective efforts and the importance of supporting local food banks and those in need."
Towards the end of each calendar year, IPPA turns the remaining funds into ground pork and divides it among the regional food banks in the state. As part of the end-of-the-year giving campaign, over 4,800 pounds of pork was donated to Central Illinois Foodbank.
"Protein is expensive and many of our neighbors are unable to afford to put it on their tables," says Brooke Dunn, public relations manager at Central Illinois Foodbank. "We are so incredibly grateful for this donation from the Pork Power program and the many years of partnership with Illinois Pork Producers Association, Illinois Corn Growers Association, and Illinois Soybean Association."
IPPA thanks its generous sponsors: Illinois Corn Growers Association, Illinois Soybean Association and the Illinois Association of Meat Processors.
IPPA encourages pig farmers to participate in the program by covering processing fees of their donated pigs. Farmers can go to the website to learn more about the donation process. This program would not be possible without the help of our commodity partners, local packers and processors across the state, and those who purchased a themed t-shirt that profited the program. 
Subscribe to Our Newsletters
National Hog Farmer is the source for hog production, management and market news
You May Also Like
---