Food supply chain challenges focus of hearing
Food supply chain challenges focus of hearing
Legislative Watch: COVID workplace requirements released; US, EU reach agreement on steel; Ag goes to U.S. Court of International Trade over fertilizer tariffs.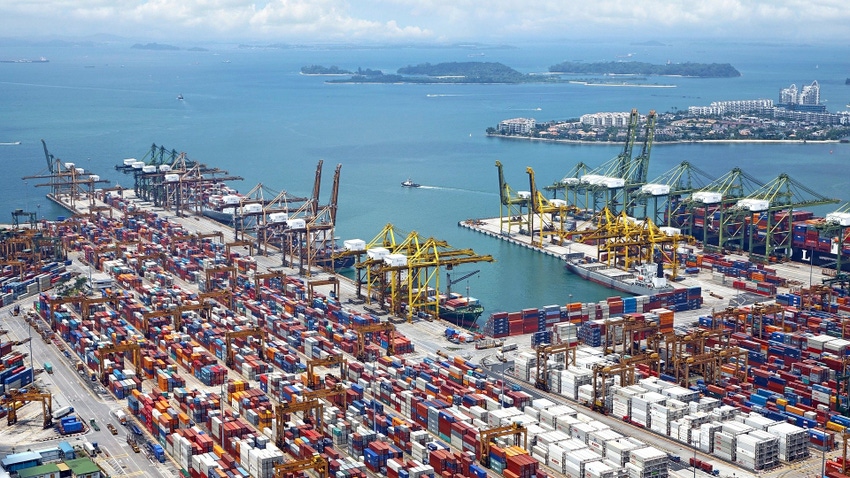 Labor shortages and port congestion are major problems facing our nation's food supply chain, according to witnesses at the House Agriculture Committee's hearing on "The Immediate Challenges to Our Nation's Food Supply Chain."
Labor shortages are affecting the supply chain throughout, including farms, meatpacking plants, warehouses, distribution centers, and manufacturing.  In addition, the continued port congestion and shortages of supplies are disrupting the food chain. 
Jon Samson of the American Trucking Association said that the trucking industry is short 80,000 drivers nationwide, and that if trends continue, the shortage of truck drivers will reach 160,000 by 2030. 
ATA supports the "Drive Safe Act" which establishes a Department of Transportation pilot program to collect data that 18–20-year-olds can be trained to operate safely in interstate commerce. The Senate passed infrastructure bill develops a pilot program to lower the age requirement for interstate trucking to 18 years of age for approximately 3,000 employees.
Mike Durkin, president and chief executive officer of Leprino Foods Company, said the port congestion on the West Coast is increasing costs and threatening U.S. agricultural exports.  He said in 2021, over 99% of Leprino's ocean shipments have been cancelled and re-booked for a later date. Over 100 bookings have been cancelled and re-booked over 17 times, which equates to a five-month delay.
COVID workplace requirements released
The Department of Labor's Occupational Safety and Health Administration (OSHA) released new COVID requirements that apply to companies with 100 or more employees. Employees will have to be fully vaccinated by Jan. 4. Unvaccinated workers will have to begin wearing a mask indoors by Dec. 5 and provide a negative COVID test each week after Jan. 4.
The mandate covers an estimated 84 million individuals employed by the private sector. OSHA estimates the new requirements will save over 6,500 lives and prevent more than 250,000 hospitalizations during the next six months.
Companies that do not comply could face fines starting at up to $13,653 per violation or $136,000 per willful violation.
It is expected the new rule will be challenged in the courts by states, companies, trade groups, and religious organizations. A number of Republican lawmakers announced they plan to take legal action, and approximately 24 Republican state attorneys general plan to file cases opposing the rule.
US, EU reach an agreement on steel
The United States and the European Union (EU) reached an agreement on steel and aluminum tariffs. The U.S. will establish a tariff-rate quota (TRQ) system which will allow a certain amount of tariff-free EU steel and aluminum imports. In exchange, the EU will lift retaliatory tariffs and a scheduled tariff increase on $4 billion in U.S. exports.
This agreement is huge for U.S. agriculture because the EU was scheduled to double the retaliatory tariffs in June if the two sides did not reach an agreement. The EU temporarily delayed the increase on tariffs until Jan. 1, 2022 in an effort to reach agreement.
President Trump imposed duties on European steel and aluminum in 2018 using Section 232, saying they were a threat to national security. The EU retaliated with tariffs on a number of U.S. products including corn, pork, rice, cheese, orange juice, nuts, whiskey, motorcycles, and recreational boats. U.S. corn was hit with a 25% tariff.
American Farm Bureau Federation President Zippy Duvall said, "Today's agreement between the United States and the European Union is welcome news for America's farmers. While the dispute centered around steel and aluminum, farmers were swept up in the turmoil as the EU clamped down on U.S. agricultural exports like orange juice, butter, cheese, pork, nuts and many more. It's crucial that we now restore those trade relationships."
Ag goes to U.S. Court of International Trade over fertilizer tariffs
With fertilizer costs skyrocketing, farm organizations are asking the U.S. Court of International Trade to overturn a previous decision regarding phosphate fertilizer imports from Morocco.
In March, the International Trade Commission (ITC) voted to impose tariffs of over 19% on phosphate fertilizer from Morocco and Russia as a result of a petition filed with ITC by Mosaic Company. 
The National Corn Growers Association (NCGA) said in a press release regarding the ITC decision, "As a result, critical sources of imported supply have been shut out of the U.S. market, and the costs for fertilizers have increased for farmers. In the meantime, Mosaic, whose control of the phosphate market has grown from 74% to over 80%, is gaining a near-monopoly over the phosphate fertilizer supply in the U.S."
Organizations asking the U.S. Court of International Trade to overturn the ITC decision are the Agricultural Retailers Association, American Soybean Association, NCGA, National Cotton Council, and National Sorghum Producers.
In the brief filed by the organizations, they argue that a decision by Mosaic in 2017 to shutter two facilities caused a shortage of fertilizers for U.S. farmers in the 2018 planting season. This caused farmers to seek fertilizer supplies from companies outside the U.S.
NCGA President Chris Edgington said, "Farmers are feeling the pain from these tariffs.  We're facing severe cost hikes on our fertilizers, and we are worried about fertilizer shortages next year. We desperately need the U.S. Court of International Trade to remedy this situation."
Sources: P. Scott Shearer, who is solely responsible for the information provided, and wholly own the information. Informa Business Media and all its subsidiaries are not responsible for any of the content contained in this information asset.
Subscribe to Our Newsletters
National Hog Farmer is the source for hog production, management and market news
You May Also Like
---