Don't believe what China says; go by what it does
Don't believe what China says; go by what it does
The government is pushing producers hard to expand the herd quickly, even while ASF remains in the country, in the face of record high feed prices.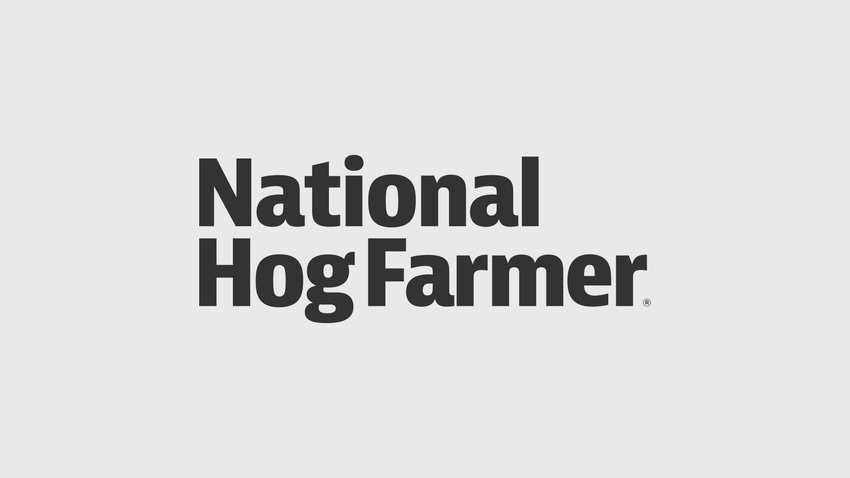 The Chinese government is telling the world its hog herd currently resides at 370 million pigs, down from 430 million prior to African swine fever (ASF) wiping out more than 40% of the herd in 2018-19. This represents about a 14% decline in numbers from peak inventory. Putting it bluntly, I don't believe it. What has actually happened this year? China has imported record large amounts of pork, including from the U.S. They're taking more than 6%, perhaps close to 8% of total U.S. production. In 2018, before the onset of ASF, Chinese per capita pork consumption was 88 lb., which compares to 53 lb. in the U.S.

Yes, the Chinese love pork. It's their staple, their preferred food by far. The only time they reduce consumption is when it's not available and prices escalate, as they have in 2019-20. Chinese per capita pork consumption dropped to 72 lb. in 2019 and it is expected to decline to 62 lb. this year. This demonstrates hardship for 1.6 billion people. This is a hardship in which the Chinese government must correct before widespread discontent spreads like wildfire across the entire country. The pressure is on.  
Hog prices in China remain extremely high, approximately $2.50/lb. compared to about 55 cents/lb. in the U.S. A major problem for the Chinese pork producer, however, is the fact that corn prices are record high in China, averaging over $10/bu. The government is pushing producers hard to expand the herd quickly, even while ASF remains in the country, in the face of record high feed prices. They tell us it's going very well. Really? I anticipate another round of record high U.S. pork exports next year, dominated by shipments to China. One final comment on Chinese pork consumption. As prices ease downward in China, per capita consumption will recover toward the 2018 level of 88 lb. Achieving this, in my opinion, will take years not months.  
The world is distracted in a major way by the COVID-19 pandemic. My focus remains on China because I believe it has big problems, problems not clearly evident because there's so much distraction. We know the Chinese have gutted their corn reserve over the last five years. Until a few months ago it appeared the strategy to begin rebuilding the reserve with cheap U.S. and South American corn would work. However, things have changed quickly in the U.S. corn supply/demand table. First planted acreage was reduced unexpectedly. Then the flash drought occurred in August and reduced the size of the crop. Third, the September stocks report confirmed that corn for feed consumption had been under-projected, reducing ending stocks even further. Basically, what's occurred is projected ending stocks have moved from over 3 billion bushels (a 33-year high) to 1.7 billion, lowest in seven years. The dramatic swing (drop) in projected ending stocks, in a very short few months, has caught everyone off guard including the Chinese.  
In the last two years China has battled ASF, COVID, the Trump Administration, severe flooding and severe insect infestations. As it fought a trade war with Trump, China encouraged producers to expand soybean production at the expense of corn production. Now, they're out of corn. The Chinese will only consume 62 lb. of pork this year when just two years ago they were consuming 88 lb. These are hardships the Chinese government must solve if it is to stay in power. Cost becomes a non-factor. Besides pork, there are other signs that China is becoming very worried about food insecurity. The government has started a "clean your plate" policy that is attempting to reduce food waste. Just issued were new rules for building the grain reserve, putting local governments responsible as well as state-owned companies. Food insecurity for a communist regime that has 1.6 billion citizens is a very serious matter.  
The U.S. continues to offer incredibly cheap pork to the world, helping the China to solve its problems. I find it difficult to comprehend that China, the largest producer and largest consumer of pork in the world, is painfully short on supply, yet many U.S. pork producers continue to lose money because of low prices. Partly due to the fact that many if not most U.S. pork producers have been losing money for most of 2020, and partly due to the rapidly changing price structure for feed, a general and sustained reduction in U.S. breeding numbers should occur over the next year. The most recent hog and pig report indicated that it's already started. The next quarterly report will be issued on Dec. 23. Currently the U.S. Department of Agriculture is projecting pork production next year at 28.5 billion pounds, compared to 28.2 billion pounds this year. No one in the industry believes this. Sow slaughter so far this year is up 11% from last year. Pork production is peaking hopefully while demand continues to expand. Barring a sharp rise in corn prices, odds favor a return to profitability for U.S. pork producers in 2021 and into 2022.  
As the U.S. economy re-opens in 2021, in the wake of COVID, domestic demand for both pork and beef is going to take an impressive jump. It appears this will occur in tandem with another round of stimulus checks. There's also signs of inflation beginning to bubble to the surface. Take a look at money supply, gold, silver and copper prices and the value of dollar. Not very many traders in today's markets have traded inflation. Generally speaking, commodities can be expected to rise, some will rise substantially. The meat markets may be especially attractive. In my opinion, beef production is also peaking with demand increasing, and if corn prices challenge $5.00/bu., as I expect they will, the poultry industry has the ability to cut production quickly.  
For the most part we've been recommending to remain largely unhedged going into 2021. In my opinion there is far more upside potential than there is downside. Locking in losses or very small profits could cause one to miss the windfall that's about to unfold. By the middle of 2021, the CME's new hog carcass contracts should be trading more actively as open interest accumulates. This contract should represent a valuable vehicle, a key tool in hedging pork production down the road.  
Subscribe to Our Newsletters
National Hog Farmer is the source for hog production, management and market news
You May Also Like
---