2023 World Pork Expo educational lineup unveiled
2023 World Pork Expo educational lineup unveiled
Topics include marketing and economics, nutrition and health, gene editing, sustainability and foreign animal disease defense.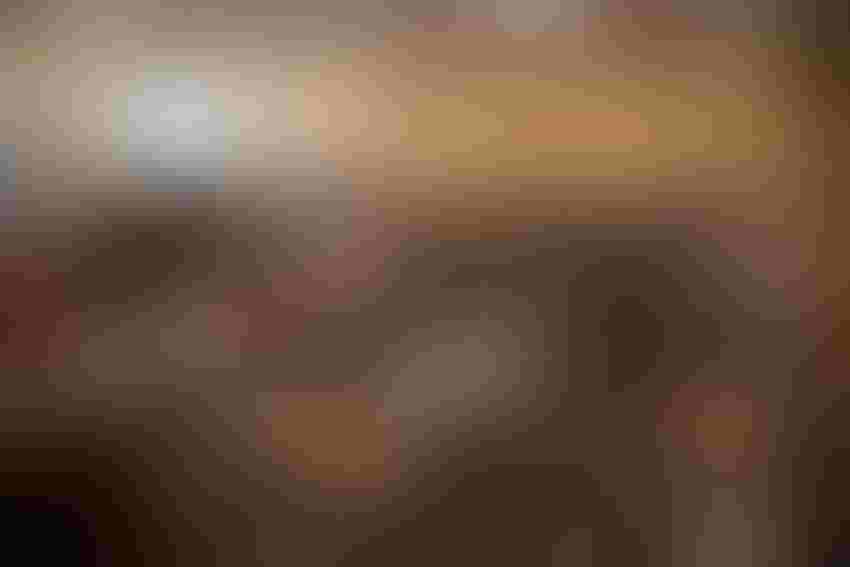 Attendees at the 2023 World Pork Expo will have free access to a wide range of educational seminars covering all aspects of the pork industry. Presented by the National Pork Producers Council, this year marks the 35th anniversary of the industry's largest pork-specific trade show. The free seminars held at the Iowa State Fairgrounds in Des Moines, Iowa, will again be a cornerstone of the three-day event.
"With so much happening in the pork industry right now, it's more important than ever for producers to have access to the latest information and insights," said NPPC President Scott Hays. "This year's World Pork Expo is packed with educational seminars that will help attendees take their operations to the next level."
 
This year's Business Seminars lineup includes topics covering sustainability, animal health, technology, and other important issues in the pork industry. All Business Seminars occur in the Varied Industries Building and will include multi-part panel discussions and Q&A opportunities with presenters and other experts.
Business Seminars schedule of events:
Wednesday, June 7:
10 a.m. – 11:30 a.m. Digital technologies, such as sensors, artificial intelligence and cloud-based programs, play a larger role in our lives. Learn more at Turning Animal Agriculture's Toughest Challenges into Our Biggest Opportunities. Sponsored by: Alltech/Hubbard Feeds.

1 p.m. – 2 p.m. Join Cargill and Swine Vet Center for Because Health and Nutrition are No Longer Two Separate Conversations, a panel discussion regarding nursery health in the U.S. swine industry today that includes slat-level strategies to improve clinical outcomes. Sponsored by: Cargill.

2 p.m. – 5 p.m. Economics Shaping the Pork Industry features a panel discussion with special guests, including industry-leading economists and risk management consultants. Sponsored by: ADM.

2:30 p.m. – 3:30 p.m. Market outlook, diet strategies, optimum market weights: it all matters when it comes to your profitability. Hear from marketing, nutrition and production experts during this session, Because if You Aren't Optimizing Profits, Nothing Else Matters. Sponsored by: Cargill.
Thursday, June 8:
9 a.m. – 11 a.m. Profitability is a key driver for sustainable pork production. Join us in conversation with Novus and invited experts for ScaleUp Program: Optimizing Pork Produced per Sow Lifetime. Sponsored by: NOVUS. 
The Pork Academy, presented by the National Pork Board and Pork Checkoff, offers  expert insights and chances to win unique pork-inspired prizes for those who attend. Pork Academy sessions will also take place in the Varied Industries Building, and admittance is included with World Pork Expo entry.
Pork Academy schedule of events:
Wednesday, June 7:
9 a.m. – 10 a.m. What does demand look like for pork internationally and here in the U.S.? How are prices impacting markets and pork consumption? Join Dr. Steve Meyer and Dr. Lee Schulz for this interactive session, Porkonomics: An Economic Outlook for the Pork Industry.

10 a.m. – 11 a.m. Could advancements in gene editing in swine improve animal and human health, sustainability, and food and agricultural production? Hear from experts across the pork supply chain in Is Gene Editing the Next Frontier?

1:30 p.m. – 3 p.m. Gain insights and solutions to prevent and prepare for a foreign animal disease on your farm in this session, FAD Defense: From Ag K9s to On-Farm Solutions. 
Thursday, June 8:
8 a.m. – 9 a.m. Protecting your history and sustaining the future of your farm doesn't have to be complex. Join our panel of experts for Using Your Sustainability Data to Protect Your Farm's Legacy. 

9 a.m. – 10 a.m. Hear from key investigators in the "Improving Pig Survivability" project as they share their findings and explain practices you can take back to your operation in Advancing Profits and Sustainability by Improving Pig Survivability. This project is funded by the National Pork Board and the Foundation for Food and Agriculture Research.

10 a.m. – 11 a.m. Explore the current and future state of the global pork market and gain insight into the anticipated opportunities and challenges ahead during this session, Global Pork Market Update and Opportunities.

1 p.m. – 2 p.m. Join our expert panel for Proving the Industry's Chops: Tackling a 30-Year Challenge as they share information about the market situation and pork's role within it. 
There's still time to register to join thousands of pork industry professionals at World Pork Expo 2023! Visit the website for details about registration, events, hotel availability and more.
Subscribe to Our Newsletters
National Hog Farmer is the source for hog production, management and market news
You May Also Like
---