2023 U.S. pork profitability banks upon many factors
2023 U.S. pork profitability banks upon many factors
From September 2021 to 2022, the total value of wages paid to workers on U.S. pig farms increased 12.1%, while the number of workers declined by 0.4%.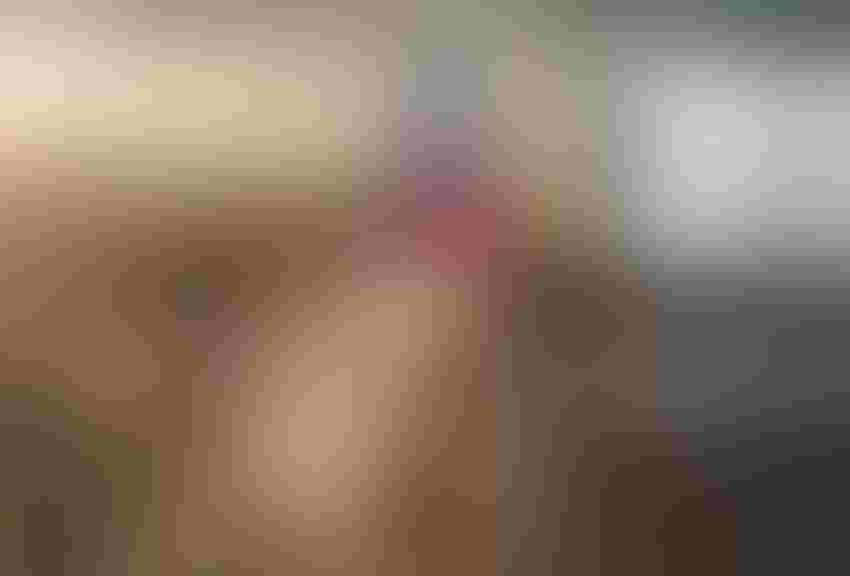 Increased production costs and hog prices well below breakeven levels are spawning a negative market environment for U.S. pork producers. According to the latest economic update from the National Pork Producers Council, the cost of raising pigs in February 2023 was 13% higher than the year prior, and 53% higher than in 2020, with much of the increase attributed to higher feed costs, up 19% from 2022.
Producer sold hog prices averaged around $75/cwt for the first three months of 2023, considerably less than than the estimated breakeven level of $100 for farrow-to-finish producers. In 2023, the USDA projects annual live hog prices to be down 14.3%.
According to Holly Cook, staff economist with NPPC and author of NPPC's second quarter pork industry economic update, profitability for the remainder of the year will depend on domestic and export demand, global corn and soybean production, the price and availability of other meat proteins, and actual pork production levels for the remainder of the year. The USDA is now predicting a 1.4% increase in pork production for the year with minimal growth in Q2 and Q3 and 2.1% growth in Q4.
"The quarterly update provides a snapshot of current trends and market conditions using the latest data and explaining what it means for pork producers, and this information can be a resource for stakeholders throughout the industry, but it's also important for congressional leaders and other outside audiences to understand the issues impacting the pork industry," Cook says. "We look at pork production levels, retail price spreads, exports, labor market trends, and examine the factors that could impact producer margins for the remainder of the year."
Retail, wholesale and farm level price decline
While retail prices often experience a lagged response to farm and wholesale price changes, the recent drop in farm and wholesale rates has caused a wider wholesale-to-retail price spread and a reduced farmer share of the pork retail value, Cook notes.
Farm-to-wholesale price spread, representing packer and processor costs and profits, has declined 31% over the past year as the wholesale-to-retail price spread, representing retailer costs and profits, has increased by 18%. The retailer share of each consumer dollar has increased to $0.67 (+21%); while the wholesale share has declined to $0.13 (-29%) and the farmer share fell to $0.20 (-24%).

Exports gained momentum in Q1 2023
The industry saw U.S. pork exports decline in overall volume and value from 2021 to 2022, but Cook points out that has not been the case so far in 2023. Through February 2023, exports of pork and pork products were up 11.3% year-to-date in terms of volume and 12.7% in terms of value. Pork variety meat export volumes increased 37.6% YTD.
According to the USDA's Meat Supply and Disappearance tables, the U.S. pork industry produced 27 billion pounds of pork in 2022, exporting 6.3 billion pounds of that or 23.5% of annual production.
Labor continues to impact pork industry
Unemployment rates among the top 10 hog-producing states currently average 3.1%, with six states experiencing unemployment rates of 3.0% or lower. Using five-year estimates from the U.S. Census Bureau, eight of these 10 states experienced a decline in populations of 20-to-44-year-olds in non-metro counties from 2016 to 2021. However the average labor force participation rate of rural-county 20-to-44-year-olds in these states was more than 80%
"Labor issues and worker shortages are something that we've been talking about in the pork industry for many years, and in this report we go beyond just national indicators to show just how tight the labor market can be in rural areas," Cook says. "This report highlights the very low unemployment rates that we see in top producing states, as well as changes in rural county populations that help show why hiring and retaining workers can be even more difficult on hog farms. And that is, of course, important to convey to congressional leaders."
NPPC Vice President Duane Stateler notes while returns for the remainder of the year will be influenced by various factors, U.S. pork producers are committed to providing safe, nutritious, reasonably-priced pork products for the nation and beyond.
"The United States is a worldwide leader in pork production and a significant contributor to the U.S. economy," says Stateler, a pork producer from Ohio. "While many factors can impact our business, especially during this period of high inflation and difficult market conditions, pork producers around the country will continue navigating the economic challenges to ensure we raise safe, wholesome, affordable food for communities here and around the world."
Subscribe to Our Newsletters
National Hog Farmer is the source for hog production, management and market news
You May Also Like
---