Producer shares happy ending of run-in with manure gases
Producer shares happy ending of run-in with manure gases
Not a day goes by that Jerry Nelson doesn't realize how lucky he is to have survived being overcome by hydrogen sulfide when he entered a manure pit. He shares his story to spare others from going through the same, or worse.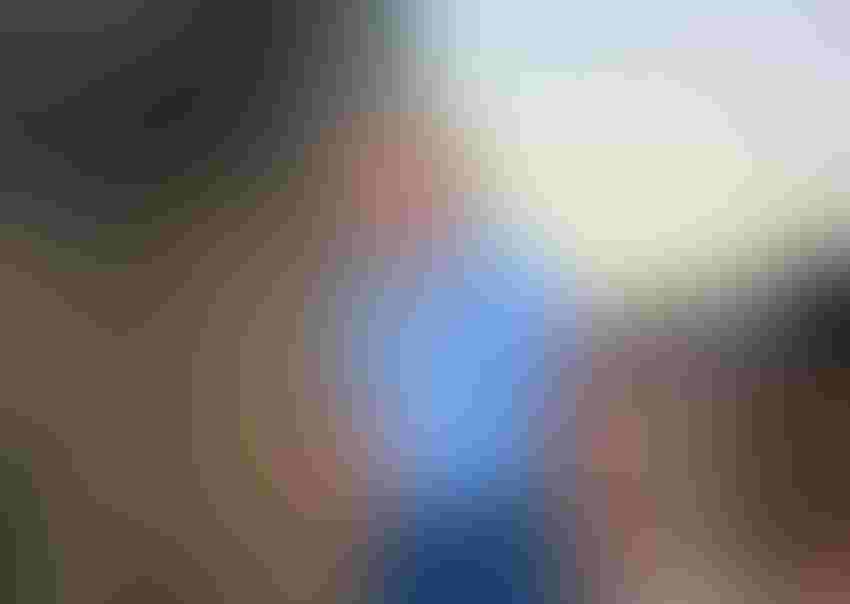 Jerry Nelson, former dairy farmer from Volga, S.D., related how a poor decision in 1988 nearly took his life.
National Hog Farmer/Kevin Schulz
Jerry Nelson is glad that he was at the North American Manure Expo this week, in his backyard at Brookings, S.D. The Volga, S.D., native is actually glad that he was anywhere this past week, or anytime in the last 30 years.
Farming is in his blood, and in July of 1988 he was finishing up chores on the family's dairy farm before meeting his wife, Julie, and two young sons in Brookings. He had noticed that a manure pump had been plugged, and in the essence of time he decided to take a short cut and climb down into the manure pit to unplug the clog, rather than hoisting the pump out of the pit.
As he got down in the pit, working to unplug the pump, he started feeling woozy. Realizing that he had stuck his head in the "pool" of hydrogen sulfide gas, he started to make his way out of the pit. "I could see the blue sky, and I could hear the 4020 idling," he tells a standing-room only crowd at a presentation at the Manure Expo. "Then the world faded to black, just like an old-time movie."
Only this was not a Hollywood script, even though the same events have played out way too often across the Heartland. Such stories are usually accompanied by a follow-up obituary or two. Nelson's story did not end that July day in the manure pit.
Curious about his delay, his parents went looking and found their son floating face-up in the manure pit. After they called the First Responders, they took action that in hindsight probably saved his life. They brought a box fan from the house and aimed it into pit to dissipate the potentially deadly gases. The first First Responder to show was a neighbor, and upon seeing his friend appearing lifeless in the pit wanted to go down to get Nelson out.
"My dad stopped him and said, 'no, you are not going down there. We already have one man down there, we don't need another.' That was the best thing to say at the time," Nelson says today. All too often such stories have multiple victims, as the common response is to help someone who has fallen victim to gases, only to have the potential hero also to succumb.
"They waited for the rest of the First Responders to show, and needed to wait for the First Responder to show up who was small enough to go down in the pit with the self-contained breathing apparatus," he says. His apparent lifeless body was pulled out of the pit — no pulse was found; and he wasn't breathing.
A First Responder tracked down Julie, telling her to get to the Brookings hospital, saying "Jerry might not make it." She was told to gather family to say good-bye. Julie would not stand for that, and demanded that her husband be airlifted to a Sioux Falls hospital. He was stabilized, but doctors still gave Nelson a 50-50 chance of surviving — if he made it seven days.
Obviously, he made it those seven days, though a consult with Mayo Clinic doctors had the Sioux Falls doctors do more investigating, finding and removing blood clots that ultimately saved Nelson's life.
After about five weeks in the hospital, he returned to the farm, though he gained a greater respect for manure pits and the dangers that lurk. He quit dairy farming in 2002, and turned to a career as a writer and sales representative for a Minnesota-based dairy magazine. He also authors a regular column, and has written books.
A day does not go by that he doesn't think of the accident that almost left his wife a widow, and his sons without a father. He tells his story, not for sympathy, but as a reminder to everyone who works around manure pits, lagoons and pumps. How quickly a life, and lives, can change, with one poor, alleged time-saving judgement.
Nelson is lucky to be around to tell his tale. He realizes that. His story could have ended so differently.
As the crops are coming off the fields, and manure pits and lagoons are being emptied, producers and custom applicators may feel the pinch of time. But don't give in to a shortcut. Do the right thing, take the route that may not save time, but it just may save your life.
Subscribe to Our Newsletters
National Hog Farmer is the source for hog production, management and market news
You May Also Like
---