Trading horses for hogs
Trading horses for hogs
Swine's Promising Next Generation: Suidae veterinarian aims to bump up research on Mycoplasma hyopneumoniae.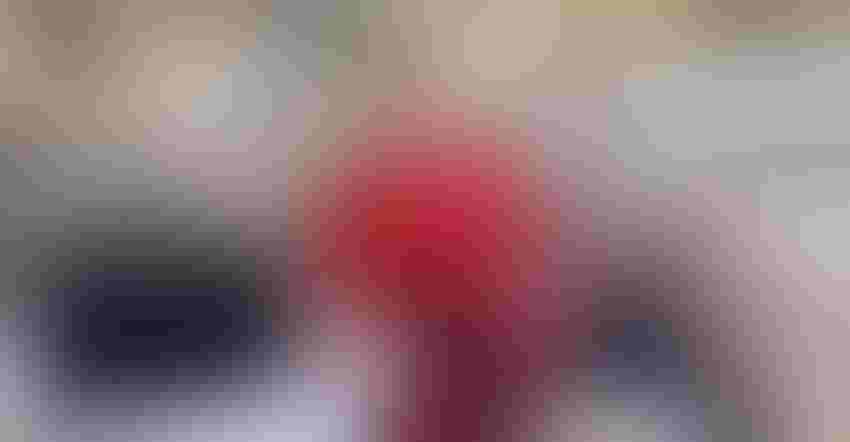 A swine consultant for Suidae Health and Production, Brandi Burton floats her time between client support and research on Mycoplasma hyopneumoniae.
Courtesy of Brandi Burton
Growing up in the northwest suburbs of Chicago, Brandi Burton always knew she wanted to be a veterinarian, but more specifically, one for the hoofed herbivorous mammal of the Equidae family.
"I did show jumping when I was younger and all through college, and I also grew up near a thoroughbred racetrack, so my veterinary goal was always to do equine sports medicine," Burton says.
However, in 2011, when Burton started her first semester at the University of Illinois at Urbana-Champaign to study animal science, her interest in practicing veterinary medicine drifted to other species. After an extra-credit project to attend a meats judging meeting, Burton joined the team. She began taking more meat science and production classes, working with pigs in a research setting and visiting a friend's family farrow-to-finish farm.
Halfway through veterinary school at the University of Illinois, she started leaning closer to practicing swine medicine, working with associate professor Jim Lowe and his wife, Erin, a  veterinarian from Boehringer Ingelheim's Integrated Health Management team, on the Illinois Swine Health Network.
As a student, Burton used an online program called BioPortal to connect Illinois swine producers and veterinarians on disease statuses. However, it was after spending two summers in the swine veterinary internship program at Iowa State University, studying mycoplasma testing and antimicrobial resistance, that her interest in swine medicine was solidified.
"That was a game changer for me and what really sold me on swine medicine and the swine industry as a career choice. The people, the networking, the research opportunities, the hands-on experience and the environment was so student-friendly," Burton says. "After my second summer, I decided that swine medicine was the way to go, and the pigs would pay for the ponies and be more a hobby than a job."
Respiratory research
Now more than six hours away from home and living in Algona, Iowa, Burton is a swine consultant for Suidae Health and Production, where she floats her time between client support and research. For several clients, she works on biosecurity, setting up protocols and doing audits, as well as helping them build their Secure Pork Supply Plans. She also works with sow farms that are looking to eliminate or test for Mycoplasma hyopneumoniae and is continuing research in that area. On the grow-finish side, much of her focus has been on early post-weaning pig care.
With just a year under her belt, Burton says the learning curve between school and the real world has been the most challenging.
"A lot of people assume that we learn all the things that have to do with pig medicine in vet school, and anyone who goes to vet school will tell you that the amount of information you really get, solely on swine, typically is limited," Burton says. "You really have to take your life experiences and apply it and learn on the go."
Burton points to her research on Mycoplasma hyopneumoniae thus far as her biggest accomplishment. A 2020 recipient of the Awards for Advancing Research in Respiratory Disease, Burton received $35,000 from Boehringer Ingelheim to further her study, "Determining the minimum infectious dose of Mycoplasma hyopneumoniae using diluted pooled tracheal sample fluid as an inoculum administered intratracheally."
As much as she loves doing research, Burton says her real joy is working with producers.
"I love being on farm and helping grow a business so I definitely see myself staying on the production side and working with independent producers for as long as I can," Burton says. "I really enjoy interacting with them and that more personal relationship-building."
Swine's Promising Next Generation is independently produced by National Hog Farmer and brought to you through the support of Boehringer Ingleheim.
Subscribe to Our Newsletters
National Hog Farmer is the source for hog production, management and market news
You May Also Like
---