Pork producers, beware
Pork producers, beware
Protecting farms involves human resources, proper monitoring of employees once on payroll.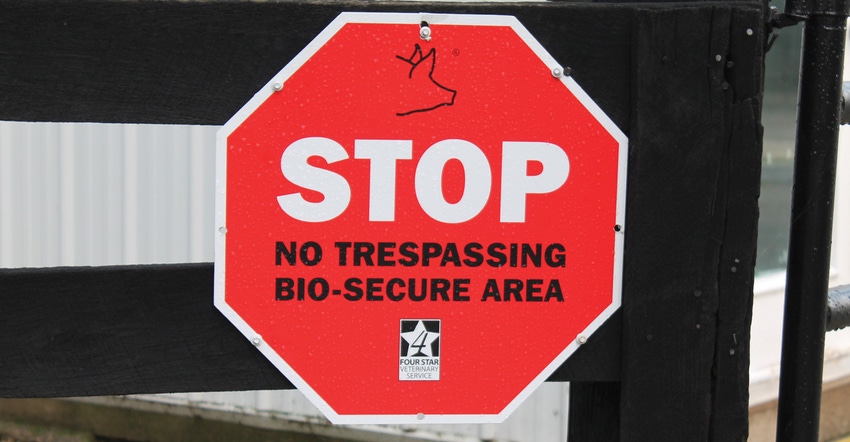 Last fall, the Indiana State Police were contacted by the People for the Ethical Treatment of Animals, which reported that it had received a video of animal cruelty that allegedly was captured from an anonymous source at a Jackson County, Ind., farm.
A veterinarian familiar with the pork production system and a veterinarian with the Indiana Board of Animal Health did find facility maintenance issues, and the producer continues to make improvements; however, neither veterinarian found any evidence of animal abuse or neglect at the farm.
Through the course of the investigation, detectives determined that an unknown person or persons illegally entered the farm on multiple occasions in September and October, where they captured video inside the facility at night, when no workers were present.
Detectives determined that cameras were then hidden inside the facility to capture daytime operations.
The investigation established that some of the clips were staged for the purpose of capturing the video, and other video clips may have been filmed at a different facility. No charges were filed against the farm, and detectives have not been able to identify the person who filmed the videos.
This is just one example of the rise in animal activist activity over the past year in Indiana, putting pork and all livestock producers on high alert.
While proper employee training is the best way to protect against legitimate animal care issues on-farm, it is also important to consider how to prevent staged interactions or manipulated situations that can give the appearance of an animal care issue.
Procedures, monitoring key
The Indiana Pork Producers Association says protecting against these nefarious animal activist activities requires proper human resources procedures during the hiring process, and proper monitoring of employees once they are on the payroll.
The association says it is crucial to keep these typical behaviors of undercover artists in mind when monitoring current and potential staff:
Asking questions about security matters or time schedules

Volunteering for jobs before or after normal business hours, or arriving early or leaving late

Volunteering for less desirable jobs

Mingling with upper management

Seeking employment below their job or skill level

Seeking employment with no pay

Having an out-of-state driver's license

Saying they want to see places, just because "I have always wanted to see how that was done"
Before making changes to hiring practices on-farm, consult your local pork association if you need a referral to an attorney with experience in this area.
Check references and have a policy or statement on your application or during the interview for employment that states, "All information provided is true and correct under penalty of perjury," etc.
Consider going back to current employees in phases to verify that all employee data is correct and updated just to alleviate any issue of discrimination, and consider having employees sign nondisclosure statements.
During the interview process with new job candidates, include these questions on your list:
Have you ever seen an animal abused or mistreated? Explain.

Are you part of an organization seeking information on how this company operates?

Do you own video or recording equipment? (If so, the employer should keep track of which employees have such devices, and have a written policy stating such devices can only be used with permission.)
In addition to monitoring employees, IPPA says producers may want to consider conducting their own video monitoring inside the barns.
Subscribe to Our Newsletters
National Hog Farmer is the source for hog production, management and market news
You May Also Like
---