New ISU Extension swine specialist named
New ISU Extension swine specialist named
Kristin Olsen has a master's degree in swine nutrition from Iowa State.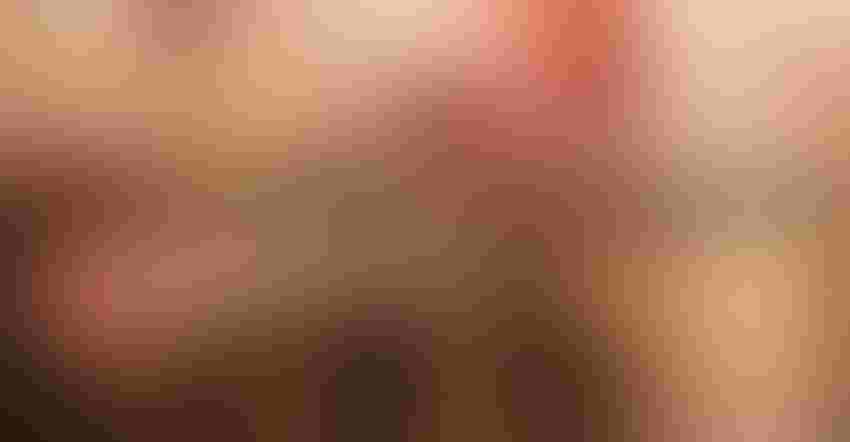 LOOKING FORWARD: The new ISU Extension swine specialist at the Iowa Pork Industry Center at Ames, Kristin Olsen, says she's "passionate about pork production."
The opportunity to serve Iowa's pork industry as an Extension program specialist at the Iowa Pork Industry Center was one Kristin Olsen couldn't pass up.
Olsen received her bachelor's and master's degrees at Iowa State University. "I've been a student in the animal science department since fall 2013 and have worked in labs [and] offices for the past two years," she says. "I've gotten to know many of the professors and students in the department, and I'm looking forward to seeing many familiar faces as I begin my new role at Iowa State."
She recently finished her master's degree in swine nutrition under Dr. John Patience at ISU, and that experience provided a wealth of learning about the U.S. swine industry. "I was able to work with people from many different areas of the industry, including visiting commercial farms and feed mills," she notes. "I also conducted a research project off-campus with an industry collaborator and had a short internship with Hanor."
Exposure to the swine industry during her academic career provided unique opportunities for better understanding of the practical implications of new concepts and ideas in pork production practices. Those experiences also taught Olsen the importance of being able to convey complex information in ways that are understandable to a wide array of audiences.
"I have experience writing and speaking for both industry and academic audiences, which I enjoy and look forward to using in my role with IPIC," she says. "My experiences have given me a unique set of skills that will serve IPIC and the pork industry well."
Iowa Swine Day
Part of her role will include coordinating the annual Iowa Swine Day event by working with Dr. Jason Ross, Patience, IPIC staff and a committee of pork producers. She'll also have an opportunity to work on a variety of information materials and collaborate on specific research projects to help answer important questions facing pork producers.

ON THE JOB: Kristin Olsen will coordinate the annual Iowa Swine Day as part of her job.
"I'm excited to work toward making Iowa Swine Day even more impactful not only for Iowa producers, but for those across the U.S.," she says. "I'm excited to get to work with faculty and staff in many different areas of production in addition to nutrition. I also love learning, and am excited to continue developing my skills and knowledge of the swine industry."
Olsen can be contacted at [email protected] or 712-249-5731.
Source: Iowa State University
Subscribe to Our Newsletters
National Hog Farmer is the source for hog production, management and market news
You May Also Like
---