Flash-forward using the Provimi pig model
Flash-forward using the Provimi pig model
New Product Tour most promising finalists: Provimi Pig Flash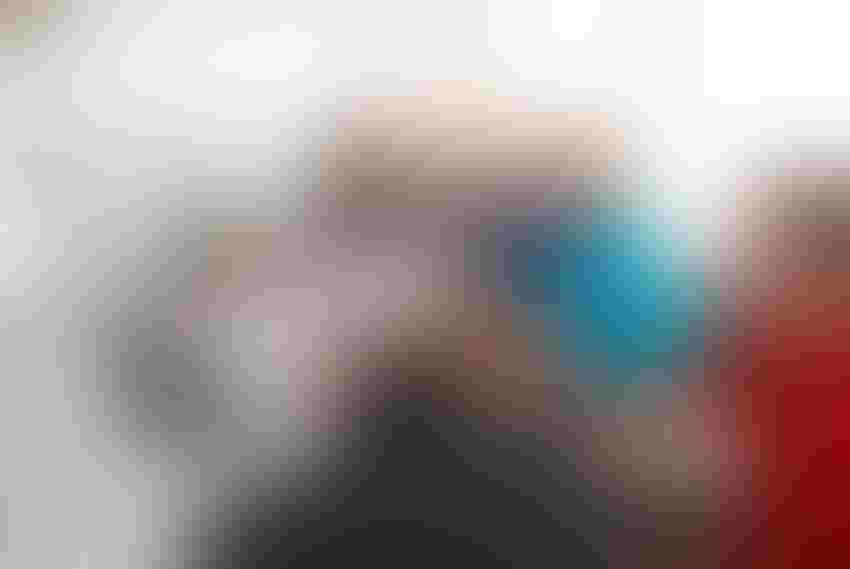 National Hog Farmer/Kevin Schulz
Hog production would be a lot easier if producers had a crystal ball to look into the future.
Provimi's Pig Flash Model is a real-time diagnostic that allows producers to monetize complex feeding strategies in a side-by-side comparison, allowing them to make faster and more profitable management and production decisions. The ability to compare variations in the feed budget, health status and even ingredient quality differences is allowing producers to make short- and long-term production comparisons.
"As the pork industry continues to become more competitive and consolidate, I think it becomes more important for us, as providers of goods and services to the producers in this industry, to provide solutions that match with that," says David Bauer, Provimi digital solutions specialist.
The Pig Flash Model is a digital solution that is revolutionizing the ways producers are able to analyze and compare various high-impact factors of hog production. The strength of the Pig Flash Model lies in the ability to dig deep into key production factors that impact producer profitability, and bring that together with Provimi's expertise in nutrition and production practices, "enabling us to provide a more in depth, economic comparison of the day-to-day decisions hog producers make," Bauer says. "Greater value, through better nutrition and production management decisions, while also providing real-time, forward margin analysis."
Price discovery in the Pig Flash Model is driven by CME futures prices for corn, meal and hogs, each applied to a basis. "In the base-model we use a three-year Iowa State average basis to establish cash hogs," Bauer says, "and an average central U.S. basis for corn and meal." Basic price information is built into every model, and then Provimi representatives ask customers the question: "OK, how can we customize these data inputs to best represent your business?"
"We then adjust each model with a customer's historical cash basis, their historical packer grade-and-yield premium or discounts, along with specific production and performance data, such as actual start and end weight, as well as performance statistics that all reflect their specific feed budget, and this highlights how much feed is needed," Bauer says. Once actual or closeout information is known, a comparison begins to take shape. The model can compare approximately 30 data points from production and performance statistics to financial summary details.
"This isn't just another crush model," Bauer says. "The real power of the Pig Flash solution is uncovered as producers begin to compare their actual performance against their initial targets, to see if there is money being left on the table. … You may see a health issue in the herd that may cost a buck-and-a-half per pig to fix, but you can then project, after a medication program is implemented and your herd health is brought back under control, that it could net two bucks profit. So it can help us pin-point a performance deficiency, and then put a net value on the solution. The Pig Flash Model helps us engage in the customer dialogue, while also being able to put a value on production and nutrition changes."
Bauer says that not only does the model have the ability to give a producer an idea of future profitability based on the cost of placing a pig today, "but it's a diagnostic tool that allows us to weigh all cost against net revenue projections and see if it's even worth it."
"It's hard to predict the future," says Erik Potter, Extension swine specialist on the New Product Tour panel, "but if you can see where you can make an advantage in your operation, it could be a great tool."
As producers adjust the weight, mortality, cull and various nonfeed costs specific to their business, the model will provide customized cost and revenue projections.
"The Pig Flash Model isn't necessarily providing you with the answer," Bauer says. "Pig Flash Model facilitates the discussions that our nutritionists and specialists like to have with their producers."
Pat Thome, hog producer on the New Product Tour panel, says, "It's a good starting point to find out where your breakevens are, where your opportunities are to lower those breakevens." 
To learn more, visit Provimius.com or contact Chris Steiner, 937-770-2400.
Subscribe to Our Newsletters
National Hog Farmer is the source for hog production, management and market news
You May Also Like
---