Educational seminars planned for World Pork Expo
Educational seminars planned for World Pork Expo
Attendees can choose from 19 free seminars at this summer's Expo.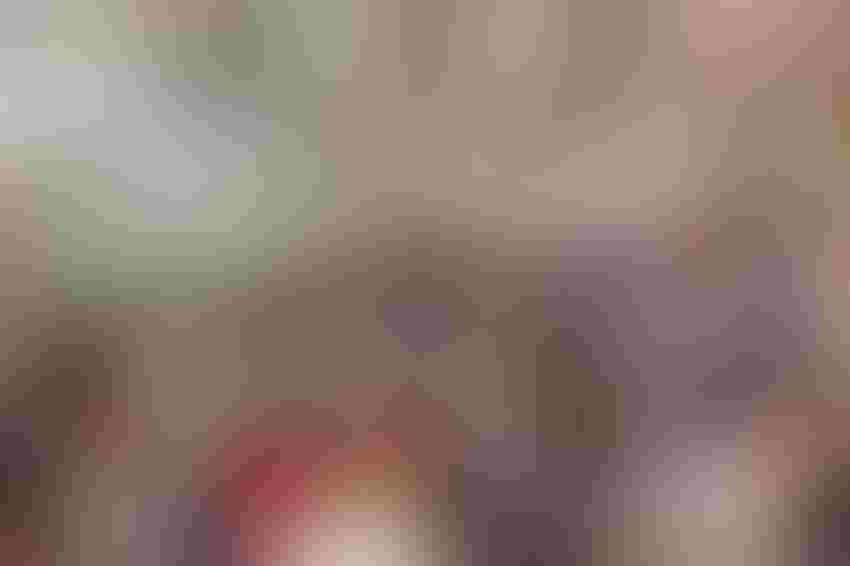 Professionals in the pork industry will be the first to have access to the latest production and management strategies at this year's World Pork Expo. This year's line-up of PORK Academy and Business Seminars gives producers the opportunity to learn more about topics such as sustainability, data, industry collaborations, nutrition and more.
Visitors can find these seminars, networking opportunities, the world's largest pork trade show and more at the 2021 World Pork Expo, presented by the National Pork Producers Council (NPPC), taking place June 9-11 at the Iowa State Fairgrounds in Des Moines, Iowa.
"These seminars provide a fantastic opportunity for all pork professionals to stay up-to-date on the latest information and insights available," said NPPC President Jen Sorenson, communications director for Iowa Select Farms in West Des Moines, Iowa. "The Expo is truly a can't miss event for those who are interested in how they can improve their own operations with the newest technology."
More than 10 business seminars
This year's line-up includes a variety of sessions including multi-part panel discussions and Q&A opportunities. All Business Seminars take place in the Varied Industries Building. Here's the schedule of events:
Wednesday, June 9:
8:00 a.m. – 8:45 a.m. — The evolution and revolution of the swine tech ecosystem.  Driving business and production results with a software platform via connections, collaboration, and analytic insights, sponsored by MetaFarms.

9:00 a.m. – 9:45 a.m. — Learn firsthand how MetaFarms and Industry Affiliates are helping producers get the upper edge through the MetaFarms Production Gateway highlighting our AgView integration with the National Pork Board.

10:00 a.m. – 10:45 a.m. — How to use analytics to control costs, uncover opportunities, and create a successful data culture within your organization — sponsored by MetaFarms.

11:00 a.m. – 11:45 a.m. — Understand how the technology of today and tomorrow has practical uses in production systems. MetaFarms asks some of our forward-thinking customers to share how they are leveraging technology to identify issues using analytics, formulate plans to fix these issues and lastly, determine if their solution was successful.
Cost Effective Strategies for Sustainability in Pork Production: A four-part panel discussion for producers, sponsored by the National Pork Board and IFF Danisco Animal Nutrition.
1:00 p.m. – 2:00 p.m. — Understanding Sustainability. What are the Benchmarks for Producers Outlined by the National Pork Board and the USDA? Land use, water consumption, energy consumption, carbon emissions and more; what's been accomplished and what lies ahead?

2:00 p.m. – 3:00 p.m. — Tools for Producers: What You Feed Your Pigs Can Impact Manure Management. Listen as our panelists discuss manure management practices that influence quality, application, environmental footprint and more.

3:00 p.m. – 4:00 p.m. — Nutrition and Sustainability: Driving feed strategies to meet environmental stewardship and cost efficiency goals; options to put you in the driver's seat.

4:00 p.m. – 5:00 p.m. — Sustainability: Effectively Communicating Your Story. Science and soundbites for producers.
Big Ideas In Pork: Whether it's big ideas or innovative thinking you're looking for at this year's World Pork Expo, Cargill-Provimi is pleased to bring you topics and experts to tackle the big challenges and the solutions needed to help pork producers, and our communities, thrive.
1:00 p.m. – 2:00 p.m. — Rethinking Methane: Animal Agriculture's Path to Climate Neutrality

2:30 p.m. – 3:30 p.m. — Disruption: Technology and the Pork Systems of the Future
Thursday, June 10: Learn the latest about sow health, performance and care presented and sponsored by Zoetis.
10:00 a.m. – 10:45 a.m. — Becoming Vaccinologists: Critical Vaccination Training for Caregivers

1:00 p.m. – 1:45 p.m. — Successful Sow Health Through Individual Sow Care

3:00 p.m. – 3:45 p.m. — Improve Treatment Outcomes with Individual Pig Care Training
And don't forget this year's can't miss PORK Academy events. Included with admission, attendees can participate in six free sessions. Presented by the National Pork Board and Pork Checkoff, the PORK Academy seminars give producers a deeper understanding of their checkoff investments.
There's still time to register to join thousands of pork industry professionals at this summer's hottest event. Learn more about the 2021 World Pork Expo by visiting the website.
Subscribe to Our Newsletters
National Hog Farmer is the source for hog production, management and market news
You May Also Like
---