Coughing at weaning could be more than influenza
Coughing at weaning could be more than influenza
RNA scope detects porcine astrovirus 4 associated with tracheitis and bronchitis in weaned pigs.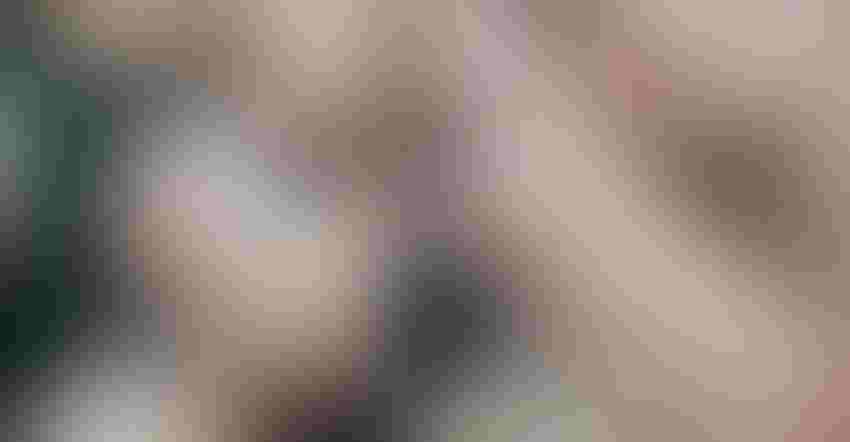 When coughing starts to show up in the barn, just prior to weaning or shortly thereafter, pork producers and veterinarians often assume influenza. But that's not what one pathologist and his team have been finding lately.
"We have a lot of cases that would come in like this where, we would test them but they would test PCR negative for influenza and we'd be, oh well, maybe we missed it, maybe it's too late in the course of disease and we're just not finding it," said Chris Rademacher, a clinical professor in veterinary medicine at Iowa State University.
Mike Rahe, who previously worked alongside Rademacher at the ISU Veterinary Diagnostic Laboratory, is now an assistant professor in the Department of Population Health and Pathobiology at the North Carolina State University College of Veterinary Medicine. When a recent case was presented to Rahe that looked like influenza, he decided to test it and sure enough came back PCR negative. The case was then filed under bronchitis, non-specific viral.
"They went ahead again, did the next generation sequencing and found porcine astrovirus 4," Rademacher said. "So, what they did is they built a test, which is called an RNA scope, which essentially is they have the ability to try to stain the genetic material specific for porcine astrovirus into these cut sections of the lung."
The RNA scope is very specific for the disease or for that nucleic acid of interest, Rademacher said, describing it as a "PCR for tissues."
The next question Rahe had was how many other non-descript cases where the PCR comes back negative for influenza was actually PoAstV4?
After screening more than 1,000 cases from 2019 to 2022, Rahe and his team identified 117 cases that matched that description and age range and were influenza PCR negative.
After using the RNA scope for it, they found 73%, or 85 of those 117 cases with just due to wean or recently weaned pigs were positive for PoAstV4. PoAstV4 was found in all airways (trachea, bronchi and bronchioles).
The geographic distribution of the cases was widespread: Iowa- 40, South Dakota- 8, Illinois- 8, Missouri- 4, Indiana- 4, Virginia- 3, Nebraska- 2, Ohio- 2, Wisconsin- 1, Arkansas- 1, Kentucky- 1, Minnesota- 1, Oklahoma- 1 and Tennessee- 1.
Sixty-three of the 85 cases had coughing as their main symptom. Other clinical signs included thumping, sneezing, nasal discharge and dyspnea. Secondary bacterial bronchopneumonia was discovered in 54 of the 85 cases.
"In other words, for those ones that are Influenza PCR negative and those pigs that are coughing at weaning PoAstV4  certainly might be something to consider, talk to your veterinarian about requesting a PCR test for it," Rademacher said.
During the 2023 Iowa Swine Day, Rademacher summarized many of the key items that were presented at the 2023 McKean Swine Disease Conference, including recent research by Rahe.
Subscribe to Our Newsletters
National Hog Farmer is the source for hog production, management and market news
You May Also Like
---