Swine Nutrition Guide Introduced
Swine Nutrition Guide Introduced
New modeling program will allow producers to customize swine diets using farm-specific ingredients. With the feed cost pressures facing pork producers in recent years, the use of a broader array of feed ingredients has necessitated the customization of swine diets, while ensuring the pigs' dietary requirements are met. With that as a base to work from, a new Swine Nutrition Guide has been designed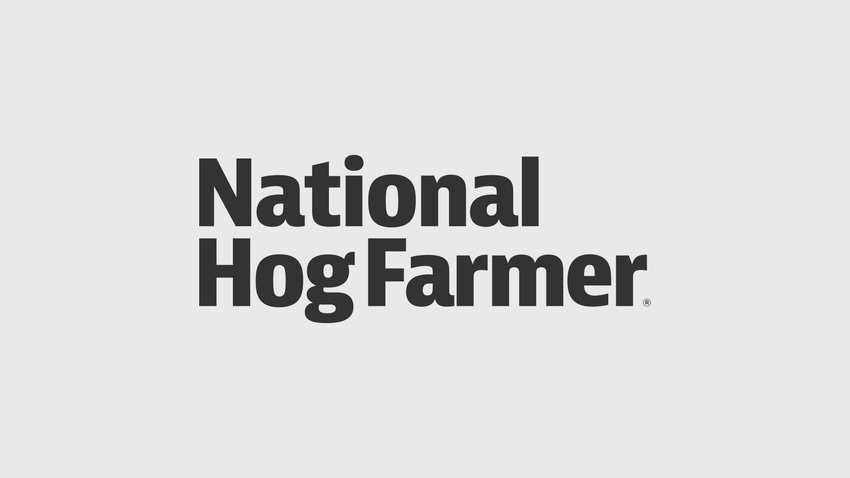 New modeling program will allow producers to customize swine diets using farm-specific ingredients.
With the feed cost pressures facing pork producers in recent years, the use of a broader array of feed ingredients has necessitated the customization of swine diets, while ensuring the pigs' dietary requirements are met.
With that as a base to work from, a new Swine Nutrition Guide has been designed to enable pork producers and consultants to develop feeding programs using a feed ingredient library of over 200 ingredients to serve as a baseline for building diets, plus the capability of adding novel ingredients.
Addressing the Leman Swine Conference in St. Paul, MN in mid-September, regional Extension swine specialist Mark Whitney says the original plan to upgrade swine nutrition guides in the upper Midwest soon grew into a national initiative.
The new swine modeling program was developed utilizing information from the National Research Council (NRC) 1998 Nutrient Requirements of Swine guide and other sources of university and industry trial data.
Swine nutritionists and specialists from nine universities, the U.S. Pork Center of Excellence (USPCE) and the USDA's Cooperative State Research, Education and Extension Service (CSREES) collaborated on the project.
"In order to ensure that the national Swine Nutrition Guide is current and relevant to the pork industry, the assistance of people representing various facets of the industry was sought," Whitney explains. "In situations where 'gray areas' existed, these industry representatives made specific recommendations."
"This is a practical publication that provides recommendations and feeding guidelines — not requirements," Whitney stresses. "It is not our intent to replace the NRC 1998 Nutrient Requirements in Swine, nor the anticipated updated NRC requirements."
The introduction includes assumptions, information and references used to develop the recommendations, plus chapters and associated fact sheets.
"The swine modeling program allows the user to enter on-farm production data, including energy intake or concentration, lean growth rate, pig or sow weight, expected gestational weight gain, lactation length, litter size/litter growth rate, etc., to calculate recommended nutrient levels," Whitney explains.
"These nutrient recommendations, calculated by the growth/production model, are then listed as suggested nutrient levels in the formulation portion of the program. Producers can use the suggested nutrient recommendations or replace them with their own nutrient levels and formulate diets based on the constraint nutrients they choose, on a least-cost basis.
"We have the ability in the nutrient constraint files to use available or digestible phosphorus (P) levels instead of total P for diet formulations, which has become extremely important for manure management as well as understanding the value of P in swine diets," he says.
Training Sessions
The new Swine Nutrition Guide can be downloaded from the Pork Information Gateway (PIG) web site, www.porkgateway.org, at no cost after Feb. 1, 2010. Printed and bound guides with the diet formulation and evaluation software will be available from the USPCE for $125 per set. An "early bird" price of $80 is available to those registering at least two week prior to the date of the respective workshop. Dates and locations for the hands-on training sessions include:
Feb. 5, Pillar Rock Restaurant/Moses Lake Country Club, Moses Lake, WA;

Feb. 11, North Carolina State University McKimmon Conference & Training Center, Raleigh, NC;

Feb. 17, Hilton-Kansas City Airport, Kansas City, MO;

Feb. 24, Indiana Pork offices, Indianapolis, IN;

March 5, Clarion Hotel, Sioux City, IA; and

March 11, Holiday Inn & Suites, Owatonna, MN.
Additional information is posted at www.porkgateway.org, www.usporkcenter.org and at respective state Extension web sites; or call (515)-294-2490. Development of the guide was coordinated by the USPCE and financially supported by the United Soybean Board (USB) and USDA CSREES grants.
Subscribe to Our Newsletters
National Hog Farmer is the source for hog production, management and market news
You May Also Like
---