Winkelman carries on Leman legacy of putting science in practice
Winkelman carries on Leman legacy of putting science in practice
The Leman Science in Practice Award honors the legacy of Allen D. Leman, a University of Minnesota Extension veterinarian who passed away in 1992.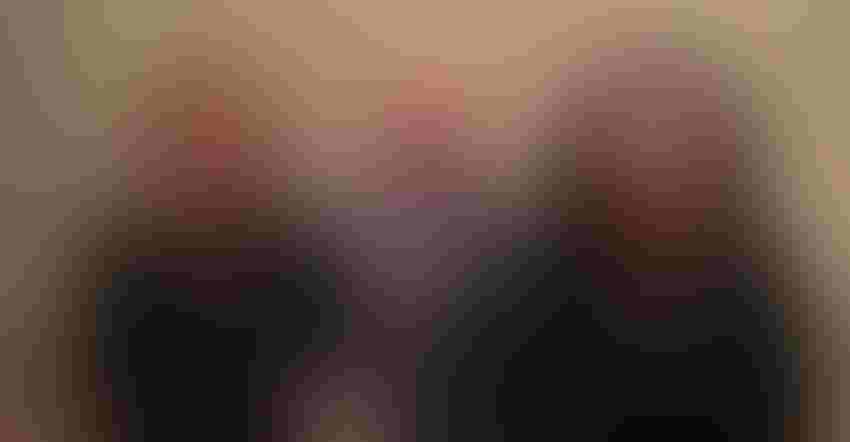 Nathan Winkelman is honored to be the recipient of the 2019 Allen D. Leman Science in Practice Award. Winkelman was presented the award by Lucina Galina Pantoja, Zoetis director of Pork Technical Services. Montse Torremorell (left) is the program chair of the Allen D. Leman Swine Conference held annually in St. Paul, Minn.
National Hog Farmer/Kevin Schulz
Al Leman's influence on the U.S. swine industry, and the many practicing veterinarians, is deep and varied, and that influence is not lost on Nathan Winkelman, the recipient of this year's Allen D. Leman Science in Practice Award.
Receiving this award in Leman's name "brings back a lot of memories," Winkelman says after being awarded the honor during this year's Leman Swine Conference in St. Paul, Minn. "I worked for his grad students, worked in his laboratory and he was a tremendous influencer on my wanting to be a swine practitioner and he was an influencer of a whole generation of swine practitioners. That's one of the reasons we've got such a plethora of wonderful swine practitioners in the state of Minnesota and beyond."
So, what makes Winkelman stand out in the field of all veterinarians influenced by Leman, who passed away in 1992, to receive this award today?
Winkelman, president and co-owner of Swine Services Unlimited Inc., says his main focus had been working with progressive pork producers, but as a veterinarian, he found a lot of unanswered questions. In his pursuit of answers, he rented a client's nursery barn and with help from the University of Minnesota, developed a research model for ileitis. "That was back in the early '90s. And since then, that's continued and has grown into a business, so that a preponderance of my practice now is with randomized controlled trialed research for lots of other diseases. But I kind of stood out a couple of decades ago because of this research model and helping mostly pharmaceuticals and some vaccine companies develop new products to get on market, new antibiotics to get on the market in the feed, in the water and injectables. … it's kind of a pigeonholed me a little bit as a pig diarrhea expert, quote unquote. But we do research in all swine diseases."
Keeping with the Science in Practice mantra, Winkelman realizes that "this is motivating. Now, I have to defend this award to keep going. I will continue to do a lot of work with ileitis. … We've answered a lot of questions with ileitis. Just over time we've got good treatment and control programs. The next big step is how can we prevent it? How can we control and prevent and monitor subclinical ileitis? And eventually, it's going to rise to the top as an important disease so that we can eradicate it and eliminate it from certain systems that have good biosecurity. We've got the tools now that we can prevent and or eliminate it."
Past honorees
1994: Steve Henry
1995: Camille Moore
1996: Scott Dee
1997: Roy Schultz
1998: Alberto Stephano
1999: John Harding
2000: Mike Muirhead
2001: Tim Loula
2002: Luciano Roppa
2003: Montserrat Torremorell
2004: Joseph Connor
2005: Darwin Reicks
2006: Paul Schneider
2007: Jim Lowe
2008: Rodger Main
2009: Laura Batista     
2010: Paul Yeske
2011: Gordon Spronk
2012: Julie Menard
2013: Lisa Tokach
2014: Luc Dufresne
2015: Jeremy Pittman 
2016: Deb Murray 
2017: Bob Thompson
2018: Rebecca Robbins
"For more than 20 years this award has honored some of the most accomplished veterinary leaders in the swine industry," says Montse Torremorell, DVM, PhD, and professor in the Department of Veterinary Population Medicine at the University of Minnesota. "We are excited to recognize Dr. Winkelman and to have the support of Zoetis in supporting this award."
"Dr. Winkelman is an outstanding ambassador for integrating science into the practice of veterinary medicine," says Lucina Galina Pantoja, DVM, PhD, and technical director at Zoetis. "We salute his long record of innovation and tireless pursuit of solutions that improve swine health around the world." Zoetis is sponsoring a reception at this year's Leman Swine Conference, further honoring Winkelman.
Winkelman is the primary author of more than 40 scientific articles, a book chapter and coauthor of numerous other scientific articles on ileitis and other swine diseases. He routinely volunteers his time with various organizations and frequently presents clinical case reports to veterinary students. Winkelman is the current American Association of Swine Veterinarians president and has been active in that organization since 1982. He earned his bachelor of science degree in animal science from the University of Minnesota in 1979 and his doctor of veterinary medicine degree from the school's College of Veterinary Medicine in 1984. He and his wife, Deb Bryant-Winkelman, also a veterinarian, reside in Sartell, Minn.
Editor's note: Partial content for this article originated from a University of Minnesota press release.
Subscribe to Our Newsletters
National Hog Farmer is the source for hog production, management and market news
You May Also Like
---