Technology that's fit for purpose in ASF fight
Technology that's fit for purpose in ASF fight
Changing ASF virus calls for updating polymerase chain reaction assay.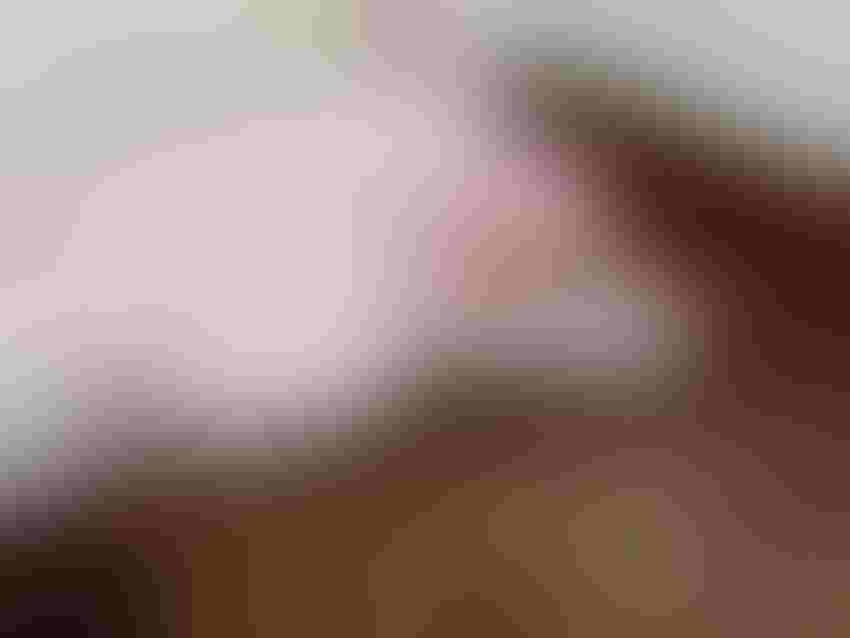 A real-time polymerase chain reaction assay for African swine fever has the potential to detect the virus in pigs two to four days prior to the appearance of clinical signs in the herd.
Plum Island Animal Disease Center
When disease hits a swine herd, a quick diagnosis is imperative so that producer and veterinarian can develop the best mode of attack.
Those stakes are even higher when there's potential that the infectious pathogen is a foreign animal disease such as foot-and-mouth disease, classical swine fever or African swine fever. ASF's recent spread across China and eastern Europe has the global swine industry on edge, and one company thinks it has just the ticket to get producers up to speed should ASF be suspected in a herd.
Tetracore is a biotechnology research and development organization that develops innovative kits, assays and reagents for the detection of infectious diseases, biological warfare threat agents and biological markers. The company focuses on antibody-based and nucleic acid-based detection reagents and technologies.
Johnny Callahan, Veterinary Diagnostics Business Development manager with Tetracore Inc., says the company's move into ASF detection isn't a far reach, "because as part of the biodefense arena, there is a concern about agroterrorism. We looked at agro threat agents early on."
In 2000, the Rockville, Md.-based Tetracore had developed a real-time polymerase chain reaction for the detection of ASF viral DNA in swine samples.
"Then it just kind of sat on a shelf for a few years, because there wasn't a lot of concern about African swine fever in the U.S. at that time," Callahan says.
Four years later, the Tetracore team, in collaboration with the Agricultural Research Service at the Plum Island Animal Disease Center, started working on validation of the rPCR, resulting in the publication of a research paper (bit.ly/asf-pcr-diagnosis) with the conclusion that the test "detected viral DNA in tonsil scraping samples two to four days prior to onset of clinical disease. Thus, the assay would have application for preclinical diagnosis of African swine fever and surveillance and/or emergency management of a disease outbreak."
Hit the ground running
In 2007, ARS contacted Tetracore with an urgent plea: The republic of Georgia was witnessing an ASF outbreak and needed help in detection. How quickly could these tests be manufactured and on the ground to help in Georgia's cause?
"From the time we got the call," Callahan says, "I was on the ground in Georgia with about 2,500 dried assays ready to go seven days later."
This involvement was a technological leap of faith. "We had never transferred this test from R&D [research and development] to production. It had never been tested in real life," Callahan says. "All the previous work was on animals that had been experimentally infected and under ideal laboratory settings, and samples were taken and tested to do the validation work, but this was the first time we actually deployed the test for an outbreak investigation."
The test stood up to trial in the field, doing about 300 reactions at the Laboratory of the Ministry of Agriculture in the first week of the outbreak in Georgia. In addition to getting a detection two to four days prior to the presentation of clinical signs, Callahan says a laboratory detection of viral DNA in samples could be visualized in real time on an rPCR instrument between an hour and an hour and a half after samples had reached the lab. He says that compares to several hours with conventional PCR assays, and those hours may be critical.
Also, in contrast to a conventional PCR, an rPCR is a closed-tube system, which cuts down on the risk of cross-contamination in the laboratory. "Timing and lower risk of cross-contamination of samples are big advantages to real-time PCR over what is called a conventional PCR," Callahan says.
Though the efficacy of the rPCR assays was proved in a crisis situation in Georgia, regulatory restrictions in place in the U.S. do not allow such tests to be used here until they are licensed by USDA; even then, the use of any licensed test for a foreign animal disease is highly controlled and restricted for use only by either the National Reference Laboratories or qualified laboratories within the National Animal Health Laboratory Network.
Callahan also admits that Tetracore is not the lone wolf in development of an rPCR for ASF, "but we have a dried PCR assay that has been continually used for research purposes since it was first evaluated at the Plum Island Animal Disease Center in the year 2000."
Field testing
Whenever a farm gets hit with a disease, time is of the essence. Even though the rPCR can confirm the presence of ASF viral DNA in a sample in less than two hours, those two hours begin only after the sample reaches the lab, which could take a while depending on the distance between the infected farm and lab. So, could the lab be brought to where the samples are collected?
"Not in the U.S at this time, because testing for ASF is highly regulated," Callahan says. "The technology is available but has primarily been used outside the U.S. in areas where the disease is present. But we just published a paper of work being done in Uganda … we dry the test, so the reagents are stable at room temperature, and that way you break up the logistical barriers where a cold chain is required."
He explains that most reagents, if not dried, need to be frozen and kept frozen during shipment, "which is a huge logistical nightmare. A dried test is stable at room temperature for at least one year, and in some cases, we show it being stable for even two years at room temperature."
Callahan says the rPCR assay was field-tested in Uganda where the ASF virus is endemic, and blood and/or tissue samples from domestic pigs were tested on-site in the affected villages using a portable thermocycler produced by Tetracore.
Pigs from two of the five suspected outbreak sites investigated were ASF-positive, and these results matched those of the reference method in the lab at the National Animal Disease Diagnostics and Epidemiology Centre in Uganda. Archived samples were also tested, and in total, samples for 22 of the 69 pigs tested were ASF-positive.
Good results
Callahan says, overall, the portable platform performed with good correlation to the reference method. "This study showed that confirmation of an outbreak can be performed on-site in less than two hours, and then appropriate actions can be taken," he says.
Even with the success of the remote testing, Callahan stresses that several factors need to be considered, including biosafety, simplicity and effectiveness of sample preparation, and turnaround time.
Just as the swine industry has changed over the years, producers and veterinarians have learned that viruses attacking the swine herd also evolve. ASF is no different, and Tetracore's rPCR has had to adapt to keep up with the times.
Callahan speaks of making sure the assay remains "fit for purpose," and that means continual monitoring of outbreaks and emerging viral sequences associated with them.
"Periodically, you should look at a test design to make sure that it remains fit for purpose," he says, "because the virus mutates over time, and possibly it mutates to a point that your design could be obsolete based on a point mutations in the viral sequence; so it's prudent to go back and review your design and compare the design to the newly published sequences."
The National Center for Biotechnology Information maintains the GenBank, the National Institutes of Health genetic sequence database, which is an annotated collection of all publicly available DNA sequences.
"After 16 years, we went back and took the old primer and probe sequences and compared them to new contemporary ASF viral sequences, now representing 24 subtypes [genotypes], to see if in theory the test is still fit for purpose," Callahan says. The evaluation revealed that it was not possible to assess the subtype coverage of the test due to lack of sequence information in GenBank representing the assay design region, so it was decided to add a new primer and probe to the mix, targeting the gene region where ASF subtype sequences are represented in GenBank.
Test modernization
This modernized design should be able to pick up all 24 new subtypes. "I think that if you go to the field in different remote geographies around the world, you're going to find variations of the virus so that they can be classified into different subgroups, and we have greater confidence that the new test would be able to detect all 24 of the recently described subtypes," Callahan says.
While the old design is good for outbreak testing based on currently circulating subtypes, which are all closely related to the Georgia 2007 outbreak strain, Callahan believes this modernized test will be better for surveillance where there's a chance of encountering different subtypes that may be present in remote geographies.
"The reality is that any of the subtypes could be introduced in the U.S. or anywhere else that pigs are produced. We need to have robust tests that are suitable for outbreak investigations, but also fit for purpose for surveillance efforts," he says.
Just as the porcine epidemic diarrhea virus came from China to the U.S., no one knows when and how ASF could make its way to the U.S., so it's best to be prepared.
Subscribe to Our Newsletters
National Hog Farmer is the source for hog production, management and market news
You May Also Like
---