Specialized vaccine program starts pigs off right 
Specialized vaccine program starts pigs off right 
Custom vaccination isn't eradication, but a positive, proactive approach.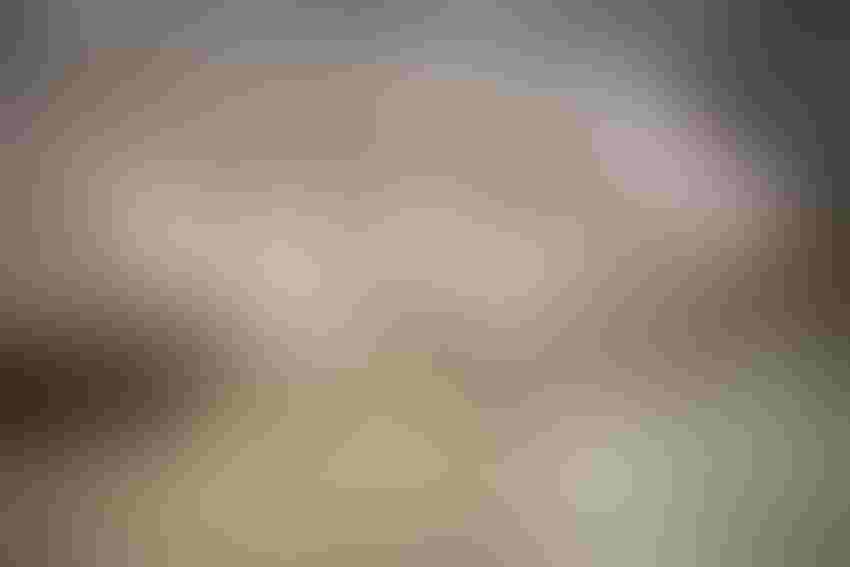 Five to seven years ago, Illinois veterinarian Pat Graham says he rarely ran into trouble getting weaned pigs started on feed due to the flu. He's seeing more of that occurring now.
Getty Images/Kelli Jo
For a swine veterinarian, no news usually equates to good news from customers, and can often mean that the preventive vaccine approach he or she decided to take on farm is working.
"The way I look at things is a vaccine basically sensitizes the body's immune system to the disease antigen, whether it be a bacteria or virus," says Pat Graham, a veterinarian in west-central Illinois who oversees around 25,000 sows.
"An antibiotic is just a tool to tip the infection battle, so the immune system can take hold and dominate it to get rid of clinical signs. Without the immune system, an antibiotic is really of no value," he says.
With the change in veterinary feed directive requirements and paying specific attention to antibiotics in general, one of the items Graham has tried to incorporate into his practice is the use of custom vaccines, whether they be for bacterial or viral antigens.
"Even though viral antigens, of course, cannot be treated with antibiotics, we certainly see viral infections that predispose sows [and] pigs to secondary bacterial invaders that can become significant. For this reason, we try to address the virus first, and then the treatment of bacterial diseases after that," Graham says.
While Graham says farms can implement extensive biosecurity protocol and auditing as much as possible to keep new pathogens entering at a minimum, farms can still have disease strains that have accumulated over the years to become endemic to that group of sows or pigs.
"Some of the diseases we find being inoculated into these farms, even if they are closed herds, are viruses such as flu," Graham says.
To get a better handle on influenza strains, Graham conducts nasal swabs and udder wipes monthly on his farms to track how flu changes, regarding flu type and sequence from one month to the next, and to try to identify the dominant strains on each farm. He then uses that information to come up with a regional flu vaccine that covers a multitude of his farms, rather than having to make one vaccine for each farm.
Graham says he has had the most success in tracking flu when there are the least clinical signs of flu. Around May and June, he will begin to sample for next year's vaccine and will sample sow farms monthly through September to see what viruses are available on those farms and what strains he should base his vaccine on.
"The reason I think tracking at a time when we don't have a lot of flu issues is because it lets me know not only what endemic strains are present, but also what strains in that barn are most likely to show up very significantly in October or November when ventilation tightens down," Graham says.
"When there is plenty of air moving through a farm, you have less signs of flu. It is just natural because all of that virus is just pulled out of the farm and sent on its way. Where when you get into cooler weather, air movement is decreased. Those viruses just hang around and expose more pigs to higher levels of virus."
Graham says he often fields the question, "Are we going to get new strains into our farm?" His response is yes, and that is one reason why he started working with Channing Sebo, a technical service veterinarian with Merck Animal Health, on regional flu virus tracking. This way he could see not only how his farms' strains compare to everybody else's, but also what his close neighbors may have that may be different.
Sebo exclusively works with Merck's Sequivity, an RNA particle vaccine technology. She describes the technology as "plug-n-play," where you don't need a whole bacteria or virus to start the vaccine process, but instead can make custom vaccines electronically with sequences.
"We can electronically receive a sequence from a diagnostic lab or a customer, and we insert that sequence into our vaccine platform and produce a custom vaccine within about eight weeks," Sebo says. "It is a very rapid type of approach. We are regulated through a prescription license, so veterinarians can treat exactly what diseases they have in their farms by utilizing custom vaccines. This is exactly what Dr. Graham does on a routine basis."
Sebo has also been involved for the past two years in designing a dashboard for the Sequivity program. The data management tool takes genetic sequences from pathogens, such as influenza or porcine circovirus 3, and analyzes them, performs geomapping and runs high level analyses to make better vaccine recommendations for Merck's customers.
"Our original approach to influenza was to see what strains were present in that one population, and we made a vaccine specific to that," Sebo says. "With the Sequivity dashboard and geomapping, we can actually map all those different strains, monitor it over time, watch as new strains evolve, and come into populations and into different regions. Where we are shifting our vaccination approach is not only including what diseases and strains are there today, but also looking at what is coming tomorrow."
A vaccination does not eradicate a disease, but Graham says waiting until there is a problem and then vaccinating is a little tougher. For his farms that use this vaccination program right away, it seems to allow the pigs to get off to a good start.
"They are on this program, which I think is a big plus because flu seems to be a big problem today and even becoming worse," Graham says. "Five, six, seven ars ago I never really ran into a lot of trouble getting weaned pigs started on feed due to the flu, but we seem to have more of that occurring now, and I think that is because of the multitude of flu strain differences we have in the industry."
Subscribe to Our Newsletters
National Hog Farmer is the source for hog production, management and market news
You May Also Like
---