Resolving Weaned Pig Health Issues
Resolving Weaned Pig Health Issues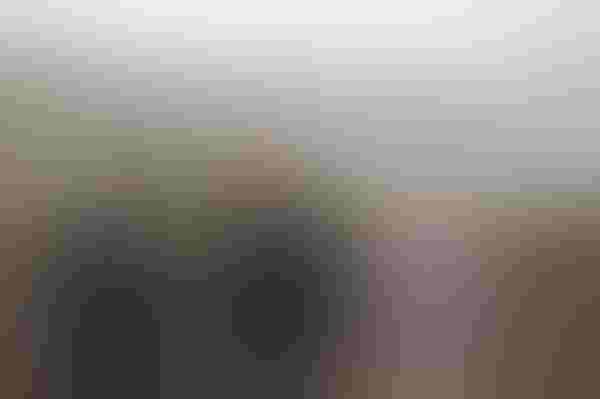 <p> Pictured in front of Mark Fehr&#39;s nursery are Gabriel Rocha, University of Illinois and the Federal University of Vicosa in Brazil (left); Fehr; and James Pettigrew, University of Illinois.</p>
Mark Fehr, Tremont, IL, and his brother-in-law Don Stuber buy 1,000 head of 21-day-old weaned pigs every nine weeks from a sow co-op. The pigs flow into a hot nursery and then flow into one side of a 2,000-head, double-wide finishing facility.
On arrival, the pigs were getting 5 gallons of Liquitein, a plasma-based product from APC, Inc., placed in the water to help with stress. For the first two weeks, all of the pigs looked great while they consumed three different complete pelleted rations containing carbadox and switched to the farm's first grind-and-mix ration after one week, Fehr reports.
Some in the group suddenly seemed to go backward, becoming skin and bones, Fehr says. They were placed in a hospital room, given injectable antibiotics and hand fed. But the results were poor with some dying and half ending up junk pigs.
To complicate matters, the sow herd supplier got porcine reproductive and respiratory syndrome (PRRS), resulting in a 3% death loss to the partners' pigs, compared to their normal nursery death loss of just 1.4%.
At that point, the partners learned of a feed additive product called Gut Check from ADM Alliance Nutrition. This product was placed in the first grind-and-mix nursery ration at 5 lb. per ton and repeated for the first six tons of feed. The Liquitein was given again at this time. Fehr says now the pigs receive 2-1/2 gallons of Liquitein when they arrive and another 2-1/2 gallons with the first grind-and-mix ration with the Gut Check.
Fehr says the results have been impressive — no more fallback pigs. Death loss in the next group of PRRS-positive pigs was .6% in the nursery. And average nursery death loss is now running 1.2%, lower than the 1.4% rate before PRRS.
"What we were seeing in the finisher before the Gut Check and the Liquitein was some tail enders and some junk pigs. But this last group only had one junk pig," he says. "So now we basically see pigs that don't go backward and there are not as many junk pigs at the end of the production cycle."
Gut Check is a probiotic product made up of two parts: yeast that promotes immunity and starch that encourages the growth of beneficial bacteria in the gut, explains Joe Hahn of ADM Alliance Nutrition. CitriStim, a yeast mannan, is an ADM whole-cell proprietary yeast product that can be used in all stages of swine production. PremiDex, an ADM modified wheat starch (dextrin) supplement, is a prebiotic that supports intestinal health.
"Yes, we do use antibiotics, but we use them very sparingly. The public is very concerned about antibiotic residues in their meat, but I don't believe there is any data that shows this is true. But that doesn't make any difference; there is a perceived problem. So we do give antibiotics as needed to keep our pigs healthy," Fehr says.  
Subscribe to Our Newsletters
National Hog Farmer is the source for hog production, management and market news
You May Also Like
---