Rapid-fire quarantine and much more
Rapid-fire quarantine and much more
High-tech biosecurity combines powerful software, GPS technology for immediate outbreak containment.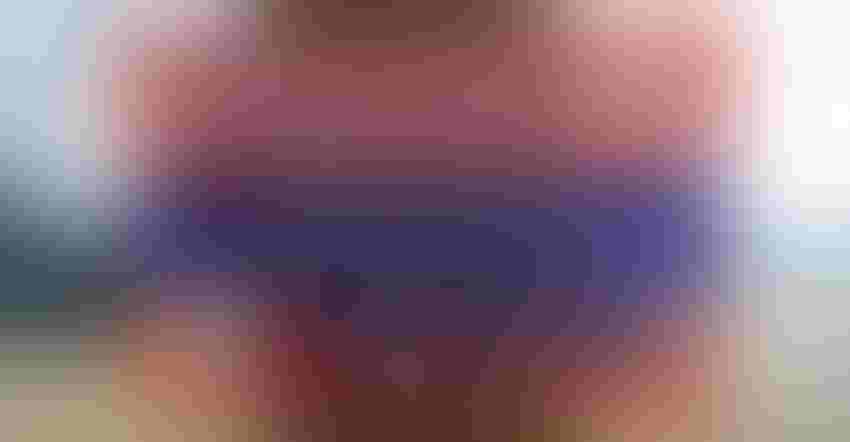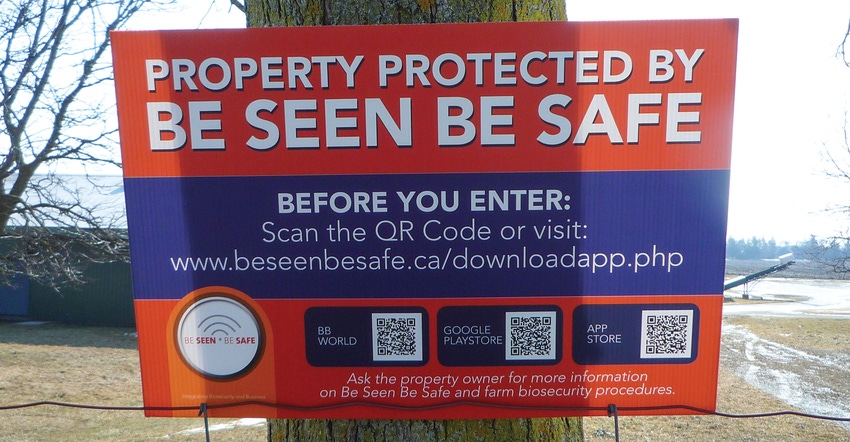 The Be Seen, Be Safe system is currently installed in Ohio on 170 farms owned by multiple companies. Ohio is the only U.S. state thus far where the system is in use.
Courtesy of Be Seen, Be Safe
By Treena Hein
In the pork industry, infectious diseases abound. More than 8 million pigs have died globally from porcine epidemic diarrhea virus over the last five years. Just north of the U.S.-Canada border, several swine farms have been identified this year as PEDV-positive. Other infectious diseases include swine dysentery, foot-and-mouth disease, porcine reproductive and respiratory syndrome, classical swine fever, coccidiosis, pleuropneumonia and porcine parvovirus.
While it's thankfully not present in North America at this time, outbreaks of the highly contagious African swine fever persist around the world. Recently, more than 150 officials from various countries met in Ottawa, Ontario, Canada, to further hone prevention and containment plans at a forum co-chaired by the U.S. and Canada.
To better manage outbreaks and prevent them from turning into industry disasters, one agricultural entrepreneur envisioned a system that could track all visitors to a farm and analyze the data in an emergency. Several years ago, Tim Nelson, along with his co-founder Joel Sotomayor, launched a company and a patented system to halt disease outbreaks, both called Be Seen, Be Safe. They also debuted another system that enables better herd and flock health — Farm Health Monitor.
The systems were tested in the poultry sector first, but entry into the swine sector followed closely. While both systems are currently being updated now, the technology has the potential to not only keep disease breaks contained, but also improve production practices.
Nelson has a long history in agriculture in Australia and Canada and he will leave his position as CEO at the Livestock Research Innovation Corp. in Ontario in September to promote the systems full time. Sotomayor is a tech entrepreneur.
System evolution
Since the many pilot projects and installations of BSBS and FHM began several years ago, Nelson and Sotomayor have learned a great deal about how to make both systems much more useful.
"BSBS was designed as a way to contain outbreaks, and FHM as an early warning system for identifying possible disease issues," Nelson explains. "Now, we have changed the design of both so that they do much more than that, and also work together."
FHM originally was an app wherein farmers and veterinarians could report on observed symptoms of possible disease through words as well as by uploading pictures or even short videos of animals. The system detects if similar information is being reported from two or more farms within a given area. Then, it sends out a blanket warning across the region, alerting farmers and vets to check their animals carefully and report as needed.
"Once we talked to many farmers, we understood that they wanted not just to report on symptoms and be alerted if the same things are being seen on another nearby farm, but they wanted a comprehensive tool to better manage the health of their herds," Nelson explains. "They said, 'We want to be able to do a barn check on a daily basis and record any symptoms of disease, any changes in feed consumption, water consumption, daily weight gain, keep track of what samples we take and send to the lab for analysis, test results and so on.' "
Nelson adds, "Of course, a lot of farmers keep excellent production records, but they don't tend to keep health records — especially records of anomalies that might make a big difference in figuring out what's happening with their animals, and how to fix it quickly. It's not efficient to have to call up the vet and ask for the details of what happened a few months ago."
Using a grant from Eureka, an intergovernmental network of 40-plus countries which aims to enhance European competitiveness, FHM has just finished a major upgrade, and the new versions of both it and BSBS will be ready in October. "With FHM, you can now keep a record of all your mitigation efforts — what worked and what didn't, antimicrobial use and so on," Nelson says. "Was there a rodent spotted in the barn by anyone? That kind of information could be very useful in pinpointing how disease is spreading within the farm. And you can do barn-to-barn comparisons as well, or group comparisons over time."
Integration of systems
This fall, BSBS and FHM will be available to the ag sector as separate packages or as an integrated package. (BSBS requires that there be a "network administration team" to identify any farms where an outbreak has occurred, but FHM does not. This team could be made up of producer association leaders, or be within a private company responsible for disease management.)
What will this integration mean? "It means that by October's launch, if the systems are integrated, BSBS will access FHM reporting on symptoms — for example coughing or sneezing — and look back at other reports to start to build a story, and help farmers and veterinarians understand what is going on," Nelson says.
"Was there, days ago, a drop in feed intake or water intake, and were there any visitors to the farm in the days just before that? That sort of thing. And the BSBS analysis now also includes wind direction and speed data, as well as things like reported sightings of sick or dead wild birds for those in the poultry sector.
"I would say that overall, with these major advances, we have recognized the importance of managing production-limiting diseases, and not just outbreak prevention or management. Over time, production-limiting diseases cost producers and industry a lot more than outbreaks," Nelson says.
Current use
Although the cellphone app visitor entry and exit tracking system in BSBS works perfectly on all three major cell platforms in Canada, there have been some issues in Spain and the U.S. Whether it's a cellular coverage issue, a smartphone issue or otherwise, BSBS is focusing on a cost-effective new method of entry and exit collection data that involves  hardware on the farm property and a simple dedicated device.
Right now, the original Be Seen, Be Safe system is not used in Canada for pigs, but it will be installed on about 150 farms in Quebec this fall (it is already in use in Canada for poultry). Nelson will also present the system to the pork industry in Denmark by the end of the year; ASF is a huge concern in that country due to the huge pig population there, as well as its proximity to Belgium, the only Western European country so far to have identified ASF within its boundaries. In the U.S., BSBS is currently installed in Ohio on 170 farms owned by multiple companies.
"We are also working very closely with a large Canadian pork producer to install the system for them," says Nelson. "After working with many commodity associations, we've determined that working with companies is the best way for BSBS to work as effectively as it should.
"The companies can completely enforce that anyone entering their properties must be part of the system. We've encountered a reluctance to enrolling where that kind of authority doesn't exist. The system needs to have the data — or like any system, it won't work efficiently."
Movement tracking key
Tracking movement is an important part of any biosecurity plan, for animals, vehicles and people, notes Abbey Canon, American Association of Swine Veterinarians director of communications. "Every biosecurity plan is site-specific, and many operations still keep track of visitors through a paper logbook. State animal health officials might use that information and do an investigation in case of a foreign animal disease outbreak."
Canon says many larger farms have biosecurity plans in place, but she believes it's the biggest current opportunity for all farms, regardless of size, to prevent the introduction and spread of foreign animal diseases.
"All sites should be putting a written plan in place or enhancing their plan, and also assigning a site biosecurity manager," Canon says. "The use of new technologies in swine production and herd health — and agriculture in general — is exciting. We need to learn as much as we can, use the tools we have and develop new tools as well."
How Be Seen, Be Safe works
For an outbreak to be contained, farms with outbreaks must be quickly quarantined. That requires the immediate gathering and analysis of the traffic to and from infected or potentially infected farms. Individuals and vehicles that visited infected farms must be traced to identify where they went afterward. Using farm visitor logbooks for this purpose is much too slow — it also may not even be accurate.
With BSBS, traffic data is automatically gathered on an ongoing basis, making immediate analysis and action possible.
The first step in setting up the system is to map the geographical boundaries of swine farms with a GPS technology called "geo-fencing." At the same time, Nelson explains, anyone who regularly visits swine farms — veterinarians, feed delivery drivers, salespeople and so on — downloads the encrypted BSBS smartphone app.
Once the system is live, anytime a system-ready vehicle, smartphone or tablet crosses the boundary of a system-ready farm property, the BSBS software platform logs the entry, "greets" the visitor with a message and notifies the farmer. Where there is no cellular coverage, the GPS function still works; the entry and exit information is stored by the app until the phone is back in cell range, when it is uploaded.
Information on all visits to a particular farm is stored for one year before being expunged. Each farmer can access his or her farm's online visitor logbook at any time using a secure personal login.
Each farm and visitor is given system IDs, and their actual identities are only accessed by authorized system administrators in an emergency outbreak situation.
When an outbreak hits, the software instantly analyzes the entire database of visitor and vehicle entries to the specific flagged farm or farms. Potential disease spread is mapped and extrapolated in real time, taking account of ongoing property entries and overlying factors like wind speed and direction. The system sends out quarantine notices, along with ongoing updates and biosecurity guidance to all participants.
"The farming community understands that this system is no more intrusive than physically signing a farm visitor logbook, and that it's a secure and effective way to protect the entire industry to the full extent it can be protected," Nelson says.
Hein is an award-winning Canadian writer specializing in ag science, technology and business trends. Find her online at TreenaHein.wordpress.com.
Source: Treena Hein, who is solely responsible for the information provided, and wholly owns the information. Informa Business Media and all its subsidiaries are not responsible for any of the content contained in this information asset.
Subscribe to Our Newsletters
National Hog Farmer is the source for hog production, management and market news
You May Also Like
---