Moving from cows to sows
Moving from cows to sows
Swine's Promising Next Generation: Nebraska veterinarian inspired to improve herd health, eliminate disease.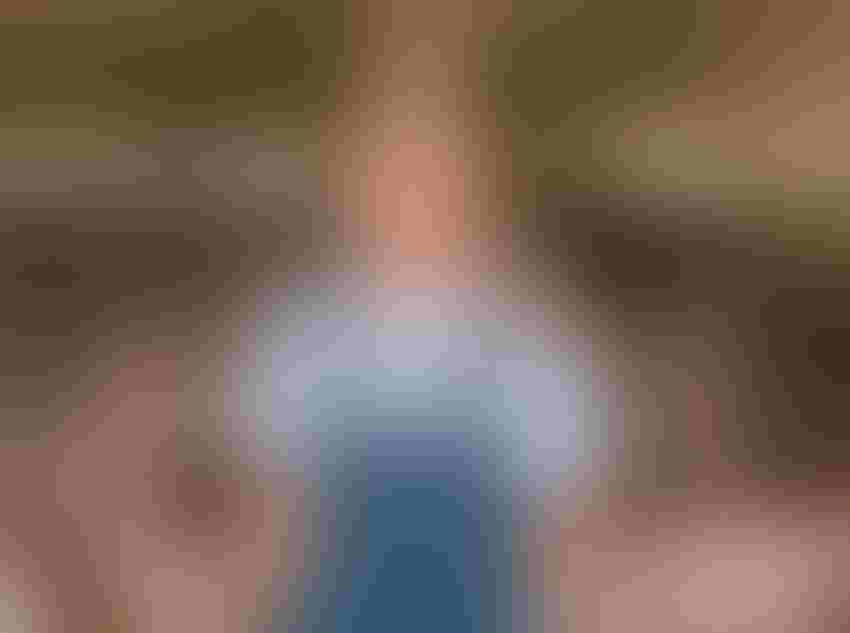 Christine Mainquist-Whigham says there are never two weeks the same at Pillen Family Farms. She divides her time among the 18 commercial sow units and downstream nursery finish spaces, and oversees the farm's disease elimination program.
Courtesy of Christine Mainquist-Whigham
Growing up on her family's farm near Stanton, Iowa, Christine Mainquist-Whigham would follow her father almost every evening to check on the livestock. The livestock in this case were cows, but the experience made her realize at a young age that she wanted to practice medicine.
However, it wasn't until after her sophomore undergraduate year at Nebraska Wesleyan University that Mainquist-Whigham decided to pursue veterinary medicine.
"I spent time at our local clinic in Red Oak, Southern Hills Veterinary Services, and at that point wanted to do mixed-animal, large-animal. I spent a lot of my summer with then-veterinarians Pat and Kate Hoffmann," says Mainquist-Whigham. "Pat was the swine vet, and I kind of got a little bit of interest there."
Mainquist-Whigham was soon accepted to Iowa State University's College of Veterinary Medicine and interned for AMVC Management Services though the ISU Swine Medicine Education Center program.
It was her former mentors Pat and Kate who encouraged her to check it out, and Mainquist-Whigham admits, "I wanted to dip my toes in it and see what it was all about."
"It was eye-opening," she says. "I realized I wanted to work with pigs and really start to learn about the swine industry and swine medicine, but it was fantastic mentorship and a fantastic experience, and so I was hooked from that point."
SMEC staff veterinarian Josh Ellingson then urged Mainquist-Whigham to also get a master's degree in veterinary preventive medicine. Under the leadership of SMEC director Locke Karriker, the young student says she was exposed to the latest in swine research and made several important industry connections.
"For someone who didn't grow up with pigs or have any experience with pigs, it was a good way to learn a lot fast, and meet a lot of people who knew a lot about pigs to get some good training quickly before entering the real world," Mainquist-Whigham says.
That training proved to be fruitful, as Mainquist-Whigham immediately took a job with Pillen Family Farms after graduating in 2016. The job was to oversee the health of that 55,000 sow-herd operation.
Push to battle disease
Since then, the Nebraska-based, family-owned farming operation has expanded to 70,000 sows, and the now 30-year-old veterinarian says there are never two weeks the same. Mainquist-Whigham divides her time among the 18 commercial sow units and downstream nursery finish spaces, as well as oversees the farm's disease elimination program.
For the last two to three years, the Pillen team has made a major push to get all the farms negative for mycoplasma and porcine reproductive and respiratory syndrome.
"We're down to one sow farm now positive for PRRS, so obviously there's other challenges keeping PRRS out; but there's a great network of veterinarians in Nebraska, and we all try and communicate and do our best to be respectful of other people's farms, too," says Mainquist-Whigham.
It was mentor Pat who nudged Mainquist-Whigham to take the job with Pillen Family Farms, and it's a job she says she hopes she holds for years to come.
"I feel inspired to do the best I can for this company and these pigs," Mainquist-Whigham says. "We are really lucky to be growing. We have built a new mill. We are partners in WholeStone Farms. We continue to grow our genetics business, so really being part of the whole, fully integrated from genetics to packing, it's a good outlook for the company. Hopefully, I continue to grow my role here and continue to improve the health of our pigs and keep foreign animal diseases out."
Swine's Promising Next Generation is independently produced by National Hog Farmer and brought to you through the support of Boehringer Ingelheim.
Subscribe to Our Newsletters
National Hog Farmer is the source for hog production, management and market news
You May Also Like
---