Disease Surveillance Is Vital to Swine Herd Security
Disease Surveillance Is Vital to Swine Herd Security
Currently, routine disease surveillance is being tracked for diseases like pseudorabies (PRV) and brucellosis, as well as for foreign animal diseases such as classical swine fever (CSF or hog cholera). Routine surveillance is done at slaughter for market hogs and cull animals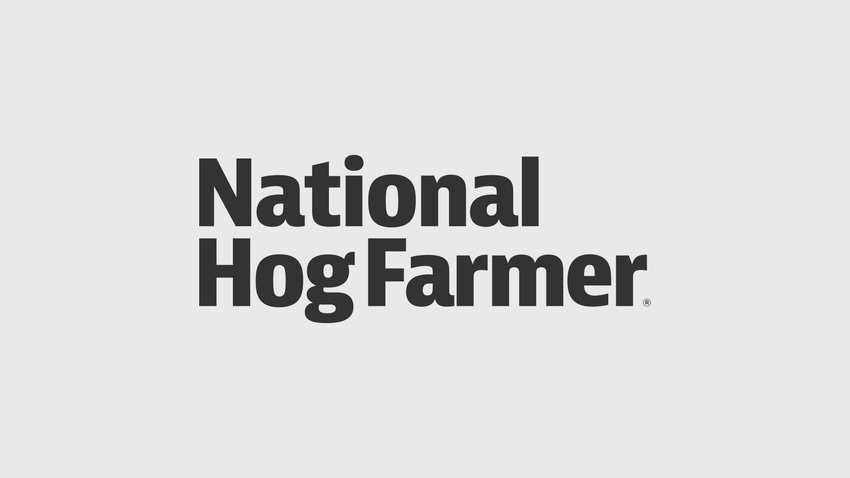 Swine disease surveillance is critical for maintaining the health and security of our swine herds, because without surveillance, we are essentially running blind," says Lisa Becton, DVM, director of Swine Health Information and Research for the National Pork Board.
Currently, routine disease surveillance is being tracked for diseases like pseudorabies (PRV) and brucellosis, as well as for foreign animal diseases such as classical swine fever (CSF or hog cholera). Routine surveillance is done at slaughter for market hogs and cull animals.
Becton says the pork industry is also looking at moving toward more active disease surveillance, expanding efforts through state diagnostic laboratories. Active surveillance occurs through samples submitted through diagnostic laboratory submissions.
"We do active surveillance for any influenza right now. We are asking that if people have cases that involve a respiratory problem, they submit them to their diagnostic lab," she says.
Still in theory, the goal of active surveillance is to create a more streamlined system of surveillance that could satisfy multiple testing for diseases of interest with one sample.
"We are very excited that the U.S. Department of Agriculture (USDA) has recently secured a database system to manage the different data points for multiple diseases that can streamline this surveillance system," Becton comments. The hope is that it can be applied to other domestic diseases, such as tracking prevalence for porcine reproductive and respiratory syndrome (PRRS).
Granted, the outbreak of H1N1 Flu Virus in April 2009 expedited this surveillance process, but efforts were actually underway prior to that event.
"The influenza experience has shown us that we do need to have a more national surveillance capability that is transparent for pork producers and our international partners to avoid market shutdown and maintain market access," Becton says.
Surveillance or proof of negative status for certain diseases like PRV, which is sometimes considered a foreign animal disease (FAD) in other countries, is essential for some U.S. trading partners. Tests exist for CSF, and a pilot test is being developed for foot-and-mouth disease. No test exists for African swine fever.
The 2012 National Animal Health Monitoring System (NAHMS) swine survey, still under development, will look at critical issues in pork production. One example is to determine the national prevalence of PRRS and another is to survey other current issues, including types of sow gestation housing.
Routine on-farm disease testing and surveillance have been realized via the use of cotton ropes for oral fluid collection. "Right now, a lot of producers are using this sample collection method just in their routine testing; labs are still in the process of validating oral fluid samples for some of the diseases that we test for. It is a nice method because you don't have to snare pigs and it is not very expensive to get a cotton rope, stick it in a bag and wring out the fluids," Becton says.
If producers detect suspicious lesions on their hogs, they should contact their state veterinarian immediately for questions on foreign animal diseases.
For disease prevention, Becton encourages producers to have some kind of biosecurity policy for both domestic and foreign visitors. Some producers simply prohibit them, while others limit farm visits to driving by production sites.
Foreign Animal Disease Exercises
With an estimated 625,000 pigs crisscrossing the roads every day across the United States, disease awareness and monitoring for foreign animal diseases (FADs) are extremely important, says Patrick Webb, DVM, director of Swine Health Programs at the Pork Board.
Since November 2005, when Webb joined the Pork Board, more than 25 tabletop training sessions have been conducted to provide assurances that the pork chain in general and pork producers in particular are educated on FADs.
Webb stresses that the United States remains free of FADs, but many countries across the world are dealing with these diseases. Various countries in Asia have recently or are currently undergoing foot-and-mouth disease outbreaks, and African swine fever has spread across the Caucases into western Russia and threatens eastern Europe. Pork groups communicate the safety of U.S. pork, he says.
Swine ID Update
USDA is poised to publish a new proposed rule on animal disease traceability, which will outline how animals need to be officially identified when moving across state lines. Nothing is expected to change for the pork industry, which has had regulations governing the identification of swine moving across state lines since 1988, Webb relates.
More than 95% of swine sites have registered for the nationally standardized premises ID, which is being integrated into normal production practices, Pork Quality Assurance-Plus program site assessments and national disease surveillance programs.
More producers are using official premises ID numbered tags to track cull sows and boars to improve preharvest traceability, Webb says. Go to www.pork.org/programs for more information on swine ID.
Subscribe to Our Newsletters
National Hog Farmer is the source for hog production, management and market news
You May Also Like
---