Battling Antibiotic Residues
Battling Antibiotic Residues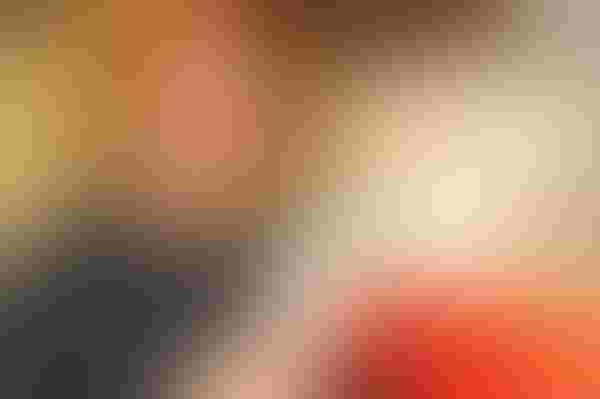 <p class="14Basic"> <b>Dyneah Classen, DVM, explains the importance of reading drug labels for withdrawal times.<o:p></o:p></b></p>
Pressure from trading partners resulting in increasing federal scrutiny of antibiotic use in the swine industry has swine veterinarians quickly adapting to the changing regulatory climate.
Though antibiotics such as the tetracyclines carry a zero withdrawal requirement and pose no human health risk, the compounds can still be detected in the animals. This has prompted Russia and other countries to request longer withdrawal times, resulting in maintenance of voluntary 14-day withdrawals for many tetracycline feed and water medications with a zero withdrawal, says Dyneah Classen, DVM, Carthage (IL) Veterinary Service.
To increase the level of testing sensitivity for food production animals, the USDA's Food Safety and Inspection Service (FSIS) switched its testing protocol from the Fast Antimicrobial Screen Test (FAST) to the Kidney Inhibition Swab (KIS) test. At carcass side, inspectors at the packing plant core out a section of the kidney, then swab the inside of the kidney for antibiotic residues. Kidneys are not consumed in the United States, but are still considered an edible tissue.
An animal may be selected for testing one of two ways.
One way is on examination of the carcass that yields pathology such as injection-site lesions, inflammation, pneumonia pleuritis, peritonitis, mastitis and metritis, among others. These are often referred to as "–itis and –emia" conditions.
An animal may also be selected for a Direct Antibiotic Testing — where the animal will be selected antemortem, KIS-tested at the plant, and samples collected to submit to the USDA lab regardless of the KIS test results. FSIS inspectors are given the number of animals that must be tested for direct screening by the USDA lab.
Problems With Penicillin
The USDA FSIS move to the more sensitive KIS test has changed the ground rules. Recent research suggests the KIS test can still detect penicillin residues in the swine kidney at 52 days post-treatment, Classen says.
To decrease the risk of sending an animal to market that might test positive for antibiotic residues, Carthage Veterinary Service has switched to a 60-day withdrawal.
Injectable penicillin is frequently used to treat sows and finisher pigs for inflammatory diseases, which result in pneumonia. "It is cost-effective, but it has typically been used in an extra-label fashion, which is permitted with a prescription from a veterinarian," she says. The labeled dose is 1 cc per 100 lb., with a seven-day withdrawal.
"We typically prescripted penicillin at 1 cc per 20 lb. previously, with a 17-day withdrawal. We now recommend that clients extend the withdrawal to 60 days [sows] to decrease the likelihood of its use resulting in a KIS test-positive animal," Classen says.
Some finishing clients of Classen's have decided to stop use of any antibiotics, especially injectable, at least 30 days prior to slaughter. They may still use Tylan in the feed because of its zero-day withdrawal, she says.
Instead of using penicillin, producers focus on improving management and sanitation practices, making sure animals are housed correctly and have adequate ventilation.
Using antibiotics with shorter withdrawal times is another option.
Shipping Cull Sows
If USDA veterinary inspectors at the plant suspect something abnormal, they are likely to take a kidney swab. If the KIS test is positive, the inspector will then collect further samples from the carcass and submit those to the USDA lab for further testing. If the sample is confirmed positive, then the producer will be cited for a residue violation.
In the case of cull-sow plants that Classen is most familiar with, a first-time violation will result in a 30-day suspension of shipments.
"At the end of the 30 days, a corrective action letter must be submitted that outlines what actions have been taken, or processes put in place, to decrease the possibility of the producer sending an animal to harvest that will test positive for residues again," Classen remarks.
That letter might include things such as better sow identification and creation of a cull-sow list to track each individual sow and her treatment records. Written withdrawal protocols can clarify proper times for shipment to avoid drug residue issues.
Grouping cull sows together but segregating those treated with antibiotics from those left untreated, if housed in stalls, simplifies proper identification and marketing.
On the day of marketing, color-coding cull sows with a pink hog marker eliminates confusion and indicates which cull sows are ready to be shipped. If cull sows are not marked, it means they have not met their drug withdrawal dates or are otherwise not ready to be shipped, Classen says.
"We have also gone to using blue marking paint for treatment because it stays on the animal longer. A blue dot on a sow's back indicates an antibiotic treatment. So if her records get misplaced, we wait until the longest withdrawal possible of anything she could have been treated with before sending her to market," she points out.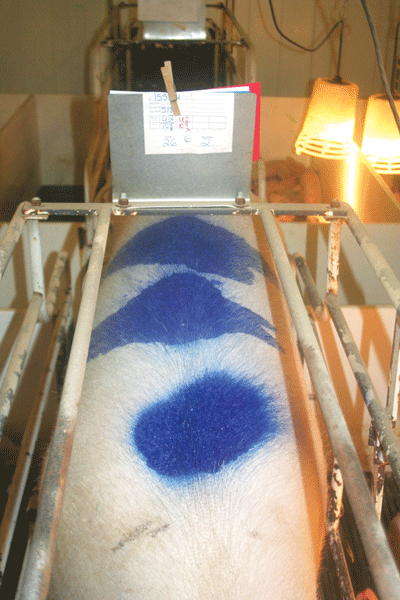 Drug Residue Violations
If a producer is identified with a violative drug residue, shipments can resume following the 30-day suspension, provided the packing plant concurs with the producer's corrective action plan.
Should the producer incur a second confirmed drug residue violation within 12 months of the first infraction, the plant will impose a one-year marketing suspension, Classen says. (Check with your plant to find out what actions it takes toward residue violations). 
"Because it is a second violation, the producer's name will appear on the USDA Food Safety and Inspection Service's website as a repeat violator [www.fsis.gov]," she notes. USDA encourages other packing plants to routinely review this list to identify individuals who may be considered a risk for violative antibiotic residues.
Speaking from experience, Classen says producers who've been suspended from shipping may need to submit corrective action plans to alternative markets that will take their products. "The plan would be similar to that submitted to the producer's original packer, stating what the producer has done to prevent this violation from happening again. Working with a veterinarian can assist the producer in this process."
When a violation occurs, the USDA turns that information over to the Food and Drug Administration (FDA), the agency responsible for enforcement action.
"The producer will receive a letter from the USDA stating that this action has been turned over to the FDA, and that an audit of the farm should be expected," Classen says.
This may prompt an unscheduled visit by an FDA inspector, where farm documentation of recordkeeping practices will be reviewed, and vaccine and medication supplies will be inventoried. Standard operating procedures to prevent animals with drug residues from entering the food chain will also be scrutinized.
The depth of the audit is dependent on the FDA inspector. "We had one instance where there was a first violation and the officials just went to the buying station that the animals were routed through, and they didn't go all the way back to the farm," she observes.
Once the inspection is completed, FDA officials will present a document with a list of observations that they feel are out of compliance with federal regulations. The producer then has 15 days to submit a corrective action plan to the FDA.
Recommendations
"The biggest thing I've learned in dealing with the government is that you really just want to answer their questions directly," Classen advises.
"Inspectors want to see your treatment records, and they want an inventory of the medications that you have on farm. There should be enough detail in your treatment records to identify the animals that have been treated, and what medications, antibiotics and/or anti-inflammatories they received. The treatment records can then be used to compare product usage to inventory lists of product disappearance, to ensure there aren't gaps in product disappearance and treatment records," she says. A discrepancy could indicate more medication being administered than prescribed or on the label, animals being treated that aren't recorded, or theft.
"Part of the reason to keep the inventory is to make sure that you are rotating products and you know what you are using on a weekly or monthly basis when you are placing orders, so you are not overordering to the point that products will become expired," Classen comments. Expired product found by an FDA inspector will result in an observation being noted. 
Properly dispose of expired products according to the manufacturer's instructions on the label or package insert. Many products are best kept in their original packaging and disposed of in a landfill.
Check treatment totes to ensure current products are used up before grabbing a new bottle of medication.
Feed Checks
Make sure feed bins are properly marked and feed receipts are checked to ensure the feedmill delivered the right feed to the right bin.
"I actually had a producer who recently received feed that was supposed to go to his neighbor's farm," Classen says. "When that happens, work with that feedmill to get that feed out of the bin and disposed of. If the feed contained an antibiotic, identify the product and the withdrawal time as you prepare animals for market."
Consider placing an iron oxide dye in your feed containing an antibiotic. "In a grind-and-mix ration, this dye will turn feed an orangish-red color. We currently add iron oxide to feed containing chlortetracycline [CTC]. When we no longer see any reddish feed in the feeders, then we know we can start the 14-day voluntary withdrawal," she says.
If a producer notes reddish feed anywhere else in the barn, it's a flag that these animals received CTC, and follow withdrawal times.
Records
"The Pork Quality Assurance [PQA] Plus booklet contains reporting sheets that we leave with producers after a PQA session is done," Classen says. These sheets can be used to record dates of treatment, animal or pen treatments, route of administration (IM, oral), what was given, amount given, who administered the product and the withdrawal period.
These PQA medication records should be retained for one year after the animal has been marketed, and for two years if a veterinary feed directive product was used.
The Carthage Veterinary Service just started a records system that allows farm treatment records to be entered electronically, Classen says.
Check with your packer to determine if additional medication records are required.  
See Related Story:
Subscribe to Our Newsletters
National Hog Farmer is the source for hog production, management and market news
You May Also Like
---