Claxton: War in Ukraine could impact feed costs through 2024
Claxton: War in Ukraine could impact feed costs through 2024
Global meat consumption expected to decline, especially in developing markets, as feed cost hikes will limit production.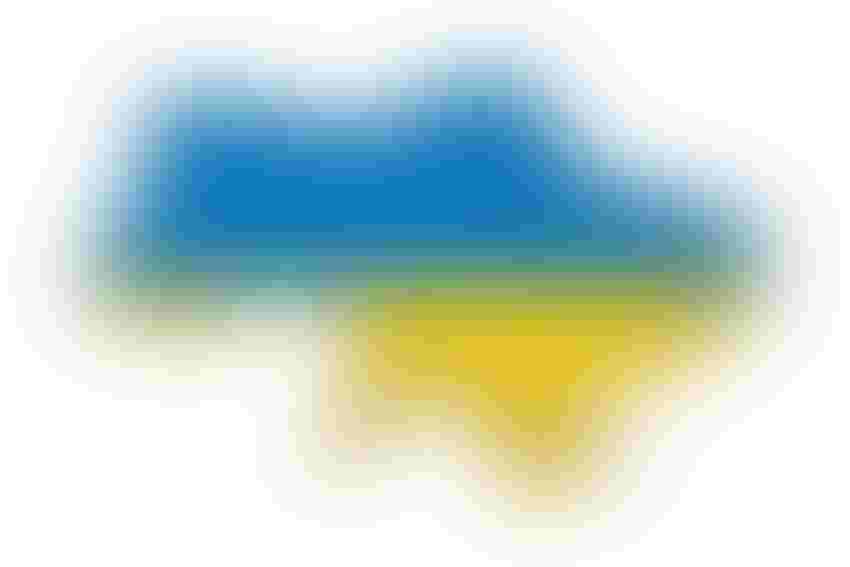 The immediate impact of the Ukraine-Russia war on the global meat and livestock industries centers on two points — higher feed costs and far higher energy costs, says Rupert Claxton, livestock and meat director at Gira. While neither country is a major meat exporter, both are important grain exporters, putting pressure on commodity prices that were already escalating before the conflict.
"The world was already concerned about what the feed outlook would be in 2022. We know it's very dry in North America. China's reporting that they've got some concerns about the conditions there as well," says Claxton. "Feed prices were already pushing up. Clearly the outbreak of war pushed speculation prices to go higher and now we are really concerned about supplying the world market. Our transfer buyers are inevitable."
The keynote speaker for National Pork Board's webinar Wednesday on "The Ukraine-Russia War and the Meat and Livestock Value Chain," Claxton told audience members Russian exports to the world market will not disappear entirely, but they're going to flow to different places.

"There are some countries that just can't afford not to buy from Russia. If I talk to a trader in Egypt, they have to buy affordable grain to keep people fed. It's not about geopolitics. It's just about food," Claxton says. "The other thing is some countries are putting export bans in. Hungary is already discussing not exporting to the rest of Europe. Ireland is encouraging domestic planting to increase domestic grain production. The world is suddenly acutely aware of food security."
A major supplier of wheat, corn, rapeseed and sunflower oil to the world market, Ukraine banned exports of wheat, oats, millet, buckwheat, sugar, salt, meat, cattle and by-products on March 8, forcing countries in the Middle East/North Africa that are dependent on the Ukraine supply to look for alternatives.
In addition to transfer of trade and export bans, Claxton says the outlook for Ukraine cereal and oilseed production remains grim. Planting will be difficult during wartime, input costs are skyrocketing, supply chains are being disrupted and men are being called to serve on the front lines.
While winter wheat is already in the ground, everything else is yet to be planted.
"They're struggling to get tractors into fields. They can't drill at night when they normally would plant at night because they're worried about drone attacks," Claxton says. "They haven't got diesel because either side, the military is taking the diesel because they need it for tanks. They are having products stolen off farm. Their workers have gone to fight; the workers that haven't gone to fight have fled."
Claxton says production will not be zero this year but could be down between 20 and 80%.
"The longer the war drags on, the more inclined I am to go towards 80%, not a 20%, decline in production," Claxton says. "That's significant and this has a further impact on fuel and commodity price speculation."
With harvest outlook already looking poor this summer, this raises concerns about the feed situation for the near future.
"Clear that the war in Ukraine is turbocharging the situation and the expectation of feed prices to stay high into 2023, 2024 possibly," Claxton says.
What impact will this have on meat markets?
In Ukraine, chicken is the main meat follow by pork. As the broiler industry developed over recent years, the country experienced a surge in exports, up over 500,000 tons. Those exports will now disappear, says Claxton.
"If we just look at where those poultry exports go … Middle East and North Africa, the major markets Sub-Saharan Africa, European capped at about 70,000 tons by quota," Claxton says. "These markets will be backfilled by Brazil, so the Brazilian chicken can go into those markets. They'll enjoy less restrictions and certainly in terms of the European market, there's a problem there with high levels of HPAI this winter so imports that are needed. But again, we are going to miss the exports from Ukraine I think for the next five years."
Disruptions in the supply chain have limited restocking in the Ukrainian poultry sector. Energy and power cuts are taking a toll on freezers and incubators, and slaughterhouses have also been impacted.
As for Ukraine's pork production, Claxton says production has stalled and dropped. Pigs were killed early by both sides to feed armies. There has been little restocking as cash flow falters. There has been no effective pork export market due to African swine fever and imports from Europe and Russia have decreased.
"It's possible that they'll continue to buy from Europe in terms of aid, so we might see Europe pushing some pork into the market to try and make sure that people are fed," Claxton says.
He also points to key issues such as staff, infrastructure, inputs, cash flow, markets and theft as indications that Ukraine's meat industry will not be able to significantly export in the near future.
Russia is not a massive exporter of meat, but Claxton predicts consumption in the country will fall due to less disposable income and higher energy costs.
While Russian livestock producers currently have lower feed costs and a labor supply as an advantage, inputs such as additives, veterinary, genetics and spare parts will continue to be a challenge. Claxton says those rising costs will be hard to pass along to the consumers.
As inflation squeezes consumer spending worldwide, Claxton expects to see a drop in global meat consumption.
"Global meat consumption declines, inflation squeezes consumer spending — this is a serious problem everywhere," Claxton says. "It doesn't matter where we look high oil prices are making consumers think about where they spend their money and this is most apparent in developing markets where feed cost hikes will limit production, pricing some consumers out."
Subscribe to Our Newsletters
National Hog Farmer is the source for hog production, management and market news
You May Also Like
---