Take closer look at umbilical cords, color of piglets during farrowing
Take closer look at umbilical cords, color of piglets during farrowing
Meconium staining, umbilical hematomas can be helpful in helping farrowing barn employees decide which sows need frequent observations and assistance.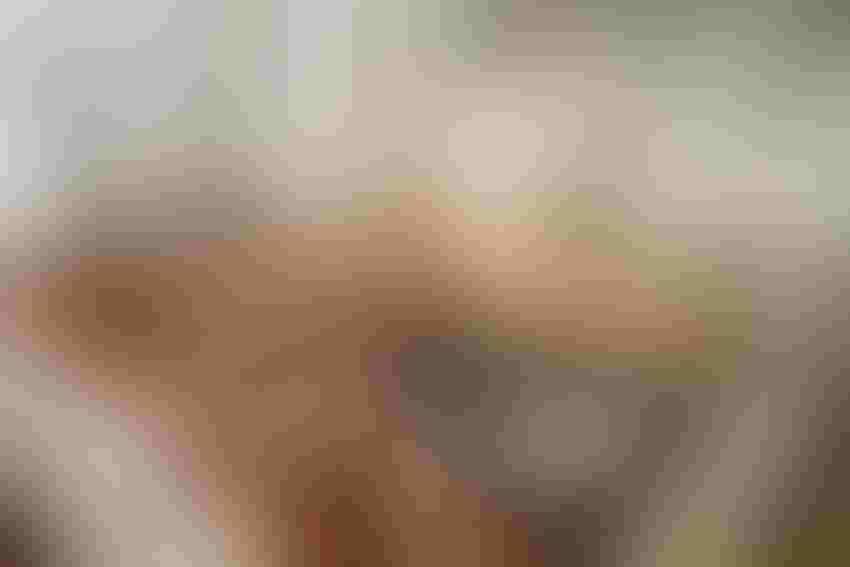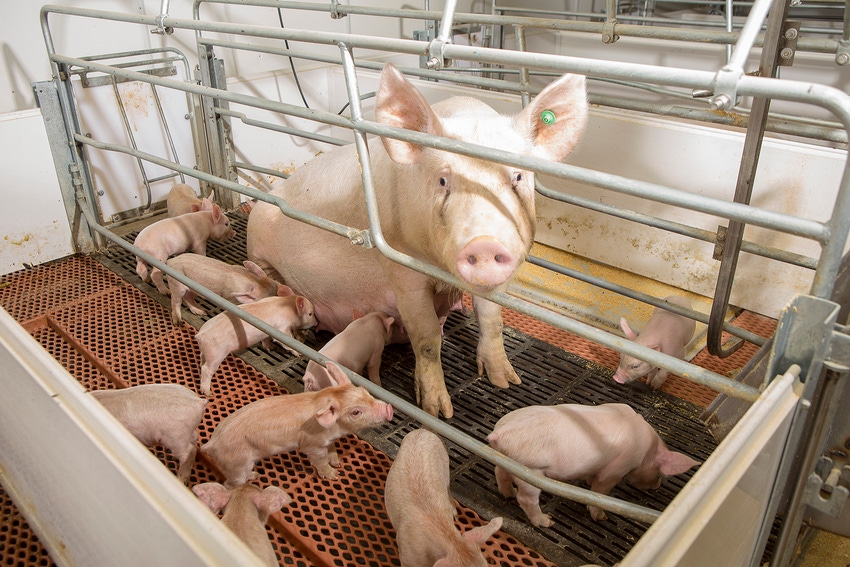 Sometimes, farrowing management tends to be more of an art than a science. However, there are subtle clues that piglets provide farrowing barn workers that can be used to help them focus on which sows may need more assistance than others during parturition. Two of these are the degree to which piglets are stained with meconium and whether their umbilical cords have bulges or bruises, called umbilical hematomas.
Meconium is the brownish color that some piglets have covering their skin at birth. It really is fetal waste material voided by the fetus into the placental sac during gestation. If things progress normally during farrowing, then the uterus will use small contractions to move the next piglet to be born just below its junction with the cervix. A powerful contraction will then occur and the piglet should be pushed out of its allantoic (placental) sac; through the cervix and vagina; and eventually out the vulva. If this happens without any interruptions, piglets should be born without any discoloration. In contrast, if the piglet's path from the uterus into the cervix is delayed, then the piglet is resting in the allantoic fluid and its skin gets stained.
Piglets are fortunate that their umbilical cord anatomically is longer than they are. This is because the umbilical cord often stays attached to the maternal portion of the placenta and remains inside the sow during farrowing. This is why it is quite common to see newborn piglets with very long umbilical cords nursing sows. It is also the reason why when workers pick up newly born piglets to clean them off, they usually have to give the umbilical cord a "tug" to detach it from the uterus. This also happens when piglets require manual assistance during pregnancy. Umbilical veins are like any other blood vessel in that if they encounter any physical trauma then they bruise.
If the piglet gets stuck in the cervix then the umbilical cord gets trapped between the piglet and the cervical ridges and hematomas form. This is because, as long as the umbilical cord is still attached to the uterine portion of the placenta, blood is still moving through it to the piglet. If its blood flow is restricted, then it collects at that spot in the vein and a hematoma forms.
Pigs with meconium indicate that sows had trouble pushing pigs out of the uterus into the cervix and umbilical hematomas indicate that piglets were stuck or had trouble moving through the cervix. When one or both of these are present on small piglets then this should be a sign that the sow is getting tired or, for whatever reason, her uterine contractions are losing strength.
As a result, meconium staining and umbilical hematomas can be helpful in helping farrowing barn employees decide which sows need frequent observations and assistance.
Source: William Flowers, who is solely responsible for the information provided, and wholly own the information. Informa Business Media and all its subsidiaries are not responsible for any of the content contained in this information asset.
Subscribe to Our Newsletters
National Hog Farmer is the source for hog production, management and market news
You May Also Like
---