Wide Open Spaces: Jeff Mencke and Bill Barnes are 2012 Pork Industry Environmental Stewards
Wide Open Spaces: Jeff Mencke and Bill Barnes are 2012 Pork Industry Environmental Stewards
Trail's End Sow Farm #2 really does sit at the end of the trail. It's located at the very end of a farm road that heads south out of tiny Ames, OK. Beyond the farm is nothing but sandy farmland and a wilderness full of scrub trees, bordered by the Cimarron River.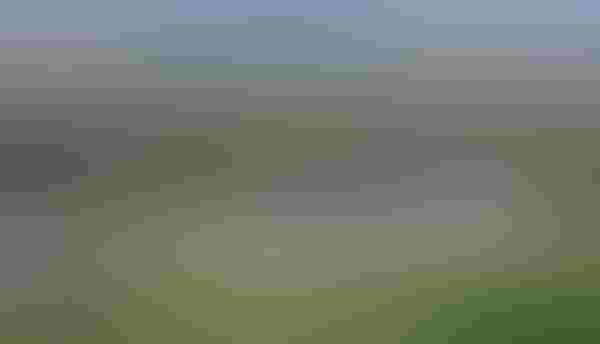 <p> Trails End Sow Farm #2 is recognized for outstanding environmental stewardship practices and has been named a 2012 Pork Industry Environmental Steward Award winner.</p>
Trail's End Sow Farm #2 really does sit at the end of the trail. It's located at the very end of a farm road that heads south out of tiny Ames, OK. Beyond the farm is nothing but sandy farmland and a wilderness full of scrub trees, bordered by the Cimarron River.
"Nobody knows we're here," says Jeff Mencke, who is production manager for the Ames sow farms run by Roberts Ranch of Oklahoma, a Hanor company. Mencke is the farm's the nearest neighbor, just a half-mile away. The next closest neighbor is at least a mile beyond that. "We're really isolated," he says.
Of course, isolation is one of the big reasons why this 560-acre piece of ground is now home to 10,500 sows. Isolation helps to protect the health of the pigs in this large, modern operation, and it helps avoid any impact on neighbors.
But, in one sense, it's a shame that this operation is so far from the public eye. It would be quite a learning experience for most folks to see a large-scale sow farm that is surrounded by lush forages and provides habitat for a variety of wildlife. Visitors use words such as "scenic" and "tranquil" to describe Trail's End #2. With its manicured lawns and rustic wooden fences, the place can be downright pretty.
Forage first
Located in the remote northwestern corner of Kingfisher County, Trail's End #2 sends about 4,800 weaned pigs each week to Hanor/Roberts Ranch nurseries and finishers. Construction was completed in 1998, providing eight, 80x300-ft. gestation buildings, one, 60x100-ft. gestation building and four, 80x388-ft. farrowing buildings. All buildings are tunnel-ventilated and equipped with evaporative coolers for summer use.
Many swine operations use their manure nutrients to grow corn, but Trail's End #2 puts its emphasis on forages. "Our fields are green throughout the year," says Bill Barnes, who is responsible for implementation and recordkeeping for environmental operations at the sow farm.
The farm actually triple-crops its forage species; the crop season begins in early fall when cereal rye, winter wheat or triticale is no-tilled into the 278 acres that are under center-pivot irrigation. As part of the nutrient management program, cattle graze the pasture crops periodically under the pivots.
As these cereal crops begin to mature in late spring, they are harvested for hay. Soon, crabgrass is germinating and actively growing, and in early summer, the crabgrass is overseeded with pearl millet. This combination of crabgrass and millet will provide haying opportunities through the summer months until it is again time for the fall seeding.
"The cutting and baling of the forage allows for complete nutrient removal for potential sale of the product or use in sister operations," Barnes says. "What was once considered animal waste is transformed into valuable crop nutrients, which negates the need for the use of commercial fertilizer."
The three-crop rotation system also protects the soil by supplying active plant roots and vegetative cover throughout the year. This soil cover prevents water and wind erosion. Plant residues help build organic matter in the soil.
Powered by pivots
Pig manure drops through slots into shallow, 18-in.-deep pits, which are charged with about 6 in. of fresh water. The water acts as an odor barrier and allows for some initial breakdown of the manure. Pulling a plug empties the pits by gravity through a 6-in. PVC pipe system.
There are two lagoons, one on each side of the facility, that receive effluent from the buildings. The effluent is pumped to two fields at the south edge of the sow farm, distributed through center-pivot irrigation systems. The pivots have been engineered to apply a specific amount of material on each pass over the adjacent fields.
Since this area is made up of sandy soils, extra effort went into the design of the lagoons to prevent any impact on the environment. A 30-ml, high-density polyethylene liner installed in the lagoons prevents leaching of effluent through soil into groundwater sources. Employees walk the lagoons frequently to check for breaches in liner integrity. Weekly lagoon levels and precipitation are recorded into the Pollution Prevention Plan recording system.
Nutrients are closely monitored. At the beginning of the calendar year, a professional contractor takes soil tests of fields receiving manure applications. GPS technology guides the capture of samples to help obtain consistent and accurate readings of soil nutrient levels.
 Effluent from each lagoon also is sampled at the first of each year to determine the nutrient levels. Soil and lagoon samples are sent to a certified laboratory to determine the level of nutrients present in both.
"A contracted professional agricultural engineer determines specific application goals based on those tests," Mencke says. "At appropriate times throughout the year, effluent is pumped at agronomic rates on the fields to ensure maximum utilization of the nutrients."
Watching water
Trail's End #2 is served by three metered water wells. Employees read the meters each month and record water use. The farm contracts with an agricultural engineer to determine water use estimates based on factors such as animal population, animal size and cleaning needs. He then figures an average monthly target for water usage. If water use exceeds that target, it sets off an investigation to find and correct the problem.
Careful management of gestating sows also minimizes water waste. "To conserve water, we fill troughs four times a day," Mencke points out. "We feed sows twice a day and provide water after each feeding. Then we fill troughs with water again twice each day. This not only keeps water fresh, but it keeps us from overfilling troughs and wasting water."
 There's also a major effort to protect groundwater at the sow site. Each of the two lagoons has three adjacent monitoring wells. Two of the wells are used to monitor the downstream groundwater; the other well is used to monitor the upstream groundwater. State-approved hydrologists determined the direction in which groundwater moves across the site.
Annual tests for organic, inorganic and biological contamination ensure that the lagoons are performing
properly.
Wild about wildlife
"When the site was developed, we tried to disturb as little of the property as possible," Mencke explains. "We left a lot of the trees and natural flora intact."
Their approach allows the land to provide habitat to a variety of wildlife, ranging from whitetail deer to porcupines, pheasants to blackbirds. In the winter months, migratory birds, such as ducks and geese, can be seen in the early morning and late evening hours foraging in the fields. The native grasses and timber provide excellent cover for pheasant and quail. The nature of the soft, sandy soil provides burrowing opportunities for skunk, badger and coyote.
Roberts Ranch is an active sponsor of the Grand National Quail Hunt, headquartered in Enid, OK. "Each year, the company hosts a team of hunters that seek their limit of birds from our population of coveys," Mencke says. Sponsored hunts also are donated to the Oklahoma Pork Council for a benefit auction during the state's annual pork congress.
Hunters and other visitors experience a visual treat upon arrival. The farm site has been constructed on an elevated pad, with sloping berms surrounding the site. The leveled area around the barns is covered in bermudagrass sod, which serves to prevent wind and water erosion.
It also helps utilize a large amount of stormwater runoff. The elevated pad slopes to drains that collect storm water, which is drained through a PVC pipe to the base of the pad, onto the sod. In areas of the berm where water erosion is a concern, a polyethylene liner covered with rock has been installed to prevent wind and water erosion and impede runoff water velocity. During the growing season, the entire farm site is mowed and trimmed to enhance the aesthetic appearance. Extra attention to housekeeping in and around the buildings also helps reduce any odor and enhances the appearance of the site.
That extra effort is a part of the corporate culture at Trail's End Sow Farm #2. "Many of our employees and people on the management team are native Oklahomans," says Barnes. "As such, we believe in the phrase taken from our state song, Oklahoma — 'We know we belong to the land and the land we belong to is grand!'"
 That statement is more than just lyrical, he says. "It describes our feelings for the land that provides us the opportunity to conduct our daily operations. We want to protect and conserve the land for which we care, and natural resources it provides. It is important to us that we not only leave, but also enhance these resources inherited from previous generations, so that future generations can enjoy the benefits of the land, just as we do."
Taking care of those natural resources at Trail's End #2 means returning water and air back to the environment ready to be recycled as nature intended, while helping provide the hungry world with a source of high-quality protein in an efficient, economical and sustainable manner.
"Roberts Ranch is proud to be involved in agriculture; specifically, we are proud to be involved in the pork industry," Mencke concludes. "We have a constant circle that allows us to produce protein for the world."  
Subscribe to Our Newsletters
National Hog Farmer is the source for hog production, management and market news
You May Also Like
---