Under the bun with Arby's Chef Craw
Under the bun with Arby's Chef Craw
Developing a new product is not something that happens overnight and depending on the product the entire process can take six months to a year.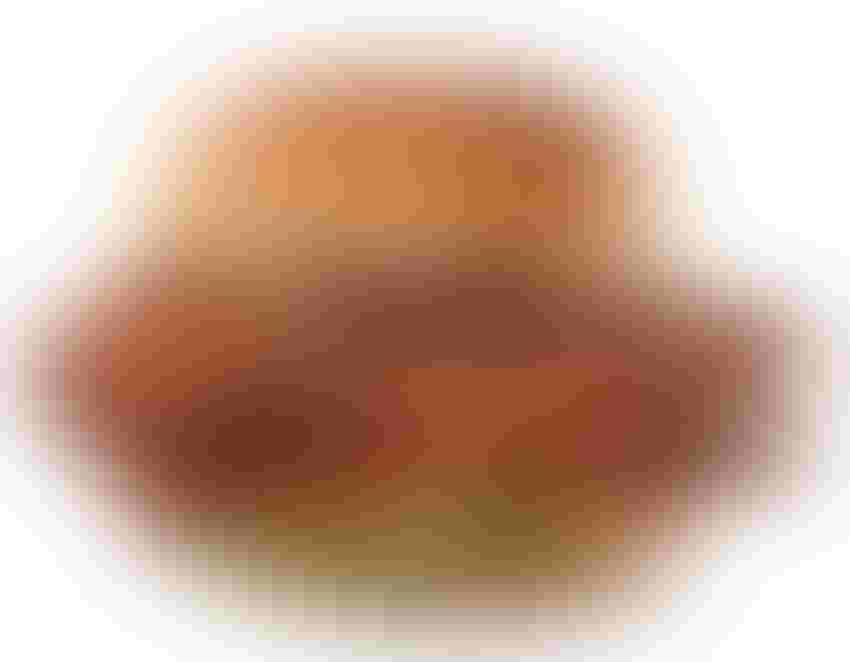 New pork sandwiches on the horizon for Arby's.
Courtesy of Arby's
Arby's has the meats, and they know how to craft, present and sell them. Last year, the food establishment sold 100 million pork items including 55 million bacon menu items across its 3,300 restaurants.
While the Beef n' Cheddar sandwich, curly fries and Jamocha shake are the orthodox choices of the loyal Arby's customer, new sandwiches featuring thickly cut pork bellies or brown sugar bacon is bringing new customers through the doors.
Arby's has always taken a bold stand on meat. After all, a fast food chain with the slogan of "We Have The Meats" is not going to fill the entire menu board with leafy greens. Meat is their business, and executive chef Neville Craw and his team plan to continue to introduce new mouthwatering sandwiches
Chef Craw is no stranger to product development with education in marketing and culinary, getting his feet wet at Grecian Delight Foods in Chicago and later Pilgrim's Pride Gold Kist Inc. before starting his 13-year career with Arby's. Although at a young age he thought his career path was strictly marketing, his success behind the knife led to culinary wizardry today.
Obviously, a brand with a 53-year history has an established customer base that expects the regular food items always to be present on the menu. However, growing sales is about bringing in a new crowd, and that is exactly what Craw and his teams try to do.
Through product research and development, the team focuses on two sectors of customers. First is the fast foodie who is the younger generation that is interested in trying new things and more tuned into new trends. Basically, they are interested in exploring new taste with the latest and greatest new things. The other group, eating machines, wants more meat for the buck. They are interested in the bigger, meatier sandwich.
Looking at the big picture, his team's internal motto is to sell fine dining food at an affordable price. "Our focus outside the core menu is trying to bring to life an experience that people can get at a white tablecloth environment for a competitive price. Our motto is to bring that same kind of experience through the drive-thru window," says Craw.
Still, "Inspiring Smiles Through Delicious Experiences" is not a process that happens overnight. For new products, the magic occurs in the research and development kitchen as Craw's team handcrafts roughly 10 to 20 sandwiches from over 1,000 potential candidates a year.
Keeping customers returning for more begins with quality. Craw notes, "We are established in high-quality protein offerings. We can do abundant sandwiches, also. And when you get into the breads, sauces and cheeses those are also high-quality as well. If you don't start there, you probably won't get people to return."
Introducing new products is about broadening the taste horizons of the fast food consumers — an Arby's tradition for many years. "We are dipping into things that people may have heard of but may not have tried," explains Craw.
One good example is the pork belly sandwich that debuted on Arby's menus in 2016 and returned in May 2017. It is an attractive sandwich, but not necessarily something a consumer would try or consider preparing at home. The pork belly was offered at many different restaurants from fine dining to fast food chains last year. As Craw says, the average consumer may not associate the pork belly with bacon. Yet, once they try it, they come back for more. This food trend has continued into 2017, and currently, the demand for the pork belly has sent prices skyrocketing, nearly doubling the price of wholesale pork carcasses in July.
Insight to the creative process
Developing a new product is not something that happens overnight and depending on the product the entire process can take six months to a year. For Arby's, the research and development process starts with a conversation with their guests. The team mulls over thousands of concepts and turn their ideas into prototypes. From there, the team will perform gold standard recipe development. All steps are screened by consumers including a taste panel after the recipe development step.
Be that as it may, any new sandwich not only has to taste good but also be easy to replicate to the highest quality on the franchise level. It also needs to be crafted at a certain price point and have a great story to market. "If it hits all of that, we put it through operations testing and then through some form of marketing testing. If the sales and operation parameters are reached then it is rolled out nationally for a limited time," Craw explains.
While not all new products are rock stars, if a sandwich sells well as a limited time offer, it could then land on Arby's menu permanently.
The real challenge through the creative process is developing a product that can make it through distribution and be prepared by different restaurant teams in five countries. Craw's team cannot prepare the delicious sandwiches daily, but they can formulate a product for success.
"It is not easy. We are wired to create things that can do that," says Craw. "When the idea is finished, the real work just begins. Once we get through gold standards and taste panels the real hard part is to make sure the product we identified and created is the same when it gets to 3,300 restaurants."
Arby's track record speaks for itself. Remaining in the highly competitive food business for 50 years is not by accident, and its recent financial quarterly results illustrate the hard work by outperforming the industry. The brand remains on track to achieve $4 billion in system sales by the end of 2018 — a goal that the company set in 2014.
Getting back to the meats
No sandwich is complete without the quality meat under the bun. Craw confirms a strong relationship with vendors is the key to quality. Arby's needs vendors that can deliver consistency to the exact specifications and quality required by the gold standard recipe.
On the pork side, Arby's works with ham and pork bellies. Ham is pretty straightforward, says Craw. However, pork bellies required close attention to specifications. Triple thick bacon is a current fan favorite on Arby's menu, but it is essential that the bacon is three times as thick, cured to perfection and sprinkled with brown sugar.
"For us, it is about getting the right lean-to-fat ratio and honing in on center cuts of the belly," he explains. "On the triple thick bacon, it is about finding that right balance and be able to get the smoke and slicing right. We have to get almost ¼ inch on every slice and be able to maintain that."
For the thick pork bellies, Arby's wanted it as lean as possible, says Craw. Fat will cook off, leaving a much smarter piece. Also, eating only fat is not a pleasant eating experience for customers.
After an open dialogue on specifications about the pork, the sourcing of the pork is left up to the vendor, as is the smoking technique. The pork bellies are smoked in an old-fashion smokehouse, using the same method for more than 65 years.
He further explains it is important to address the priority of the customer at a time when so much is being communicated to them at once. Selling a product is about storytelling. For now, the story is about meaty sandwiches and quality. "We always want to tell a quality story. If that involves sources, then we will tell it. It has to be authentic," Craw says.
Still, crafting a skyrocketing item is about finding the sweet spot.
"It is about finding the right product with an interesting story we can tell. It is about something that can resonate but may be more forward-thinking," he states. "There is 'x' amount of proteins we can explore. For me, it is about what is a great story we can tell from a cooking platform."
What is pork's future?
Craw says to be on the lookout for an inspiring new pork product in the near future and into 2018.
"We have something coming out in August that is a pretty breakthrough for pork that I am pretty excited about," he says with a smile on his face. "We are testing new items coming up."
There is a lot of white space left open for pork. There are many pork items in the research pipeline, giving America's pig farmers something to celebrate.
Subscribe to Our Newsletters
National Hog Farmer is the source for hog production, management and market news
You May Also Like
---