Triaging emergencies: Be the calm after the 'storm'
Triaging emergencies: Be the calm after the 'storm'
Throughout your interactions with people during these high-stress events, it is important to remember to keep a level head and a positive attitude.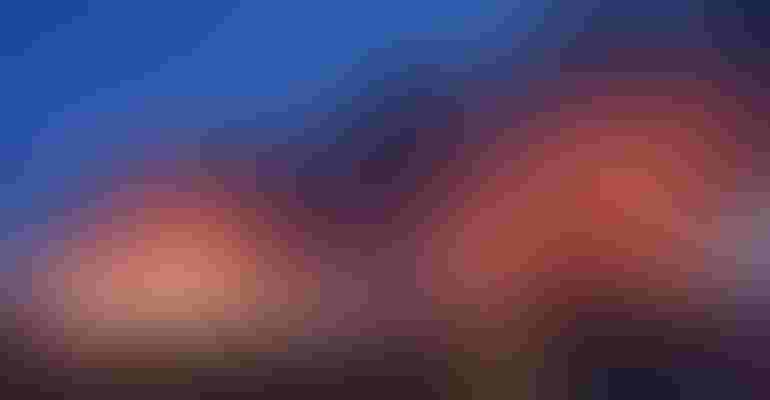 One of the worst phone calls that a swine veterinarian can receive is the late-night emergency following a catastrophic event at a farm. From fires, to pit collapses, to severe weather damage — we as members of the swine industry need to be prepared to take that phone call and be a steady and reliable source of helpful information to our clients or neighbors.
Personally, I have been unfortunate to be involved with all three of the catastrophic events noted above. We always tell ourselves that it won't be one of our barns, or one of our clients, however we all need to be ready just in case. Being able to provide quick and decisive ideas or recommendations can go a long way to speed up decisions and potentially save animal lives.
Immediate goals
Although most emergency events in swine barns are different in causes and presentations, most or all of them involve the same immediate goals.
Make sure employees are safe

Evaluate structural integrity of the barn: fire, storm damage or pit collapses can prevent people and first responders from immediately entering the barn

Evaluate animal well-being: feed, air and water availability
Once the above areas have been evaluated it is important for the site to develop a core set of individuals or decision makers for the event. This team will be the center point for all decisions and also serve as a point of contact for first responders as they try to contain the situation. If possible, it is valuable that this team wear a common bright colored shirt or hat and are equipped with radios for communication between each other. It will also be important to delegate one individual to be the point of contact for the media as there will most likely be a strong presence at the site once news travels throughout the area. This individual can be someone off-site with this being their sole purpose during this event.
Some of the first communications need to be to area officials that will be able to help speed up the clean-up process. Some of these individuals include:
Road commissioner — It is very important to bring the road commissioner to the site to show them the current situation. The commissioner has the ability to shut down the road for up to 24 hours which makes it advantageous for the amount of road traffic that the site needs for fire trucks, heavy equipment and livestock trailers in and out of the site.

Fire marshal — If needed.

Heavy equipment operators

If a high mortality event, is important to contact local landfills or rendering plants.
Site clean-up
The speed of clean-up for the affected barn will depend on a few details, but most importantly will be if there are live animals still in the building. Most of the time in these situations part or all of the building has collapsed and animals could be underneath. It is very important to remove the building material as fast as possible to get animals safely removed.
It will be important that the site owners or management company has a relationship with a heavy equipment firm that is able to mobilize equipment as quickly as possible. The most important piece of equipment is typically an excavator with a long hoe attachment that is able to reach across these large barns. It is also important that these excavators have a grapple attachment to the bucket so that they can grab and drag large pieces of metal away from the barn. Other valuable pieces of heavy equipment to mobilize would be:
Affected animal removal
Once the building is safe enough for human entry, it will be important to evaluate the condition of the animals still in the building. Animal welfare is the most important principle to evaluate and the decision needs to be made to remove animals safely or to humanely euthanize. This is an area where a veterinarian is helpful to make the best possible decision for the animals.
In the unfortunate event that animal mortality is involved, it is important to understand your options. Depending on the number of affected animals, off-site disposal may be warranted. It will be important to contact the local rendering plants or landfills to understand availability of mortality removal. Heavy equipment is very helpful in these situations to minimize the need for people to enter the affected barns.
Unaffected animal removal
With most of these events, there are usually parts of the site which are unaffected, i.e. detached barns or rooms. Usually these barns will lose power so it is important to delegate a team of individuals to those animals and make sure we provide the highest possible care to those animals until we can get them safely removed from the site. Depending on the outside weather and ventilation setup, these unaffected barns can sometimes be left alone for a few hours, however if water availability is lost, then we need to get the animals removed as soon as possible.
When moving these unaffected animals from the site it is important to have a few ideas in mind:
Is there a trucking firm available to move pigs out ASAP?

What is the loading chute set-up? Are there multiple chutes or one common chute that is accessible? Don't forget about hydraulic hog carts. These don't have a lot of use today; however, they are extremely valuable in these situations. They are able to be backed up to a walk-out door and pigs can be loaded onto them and then onto a semi-trailer.

Biosecurity — Are these sows, replacement gilts or commercial pigs? Depending on your answer, you may be swayed to spend a little time thinking through ways to minimize potential disease introduction.
First responder training
It is important for us to remember that the vast majority of first responders to the site will be uneducated to swine production, most have never been around swine production systems. In these emergency events, it is extremely valuable for the first responder crews to have a basic understanding of swine barns in order for crews to stay safe and try to save as many animals as possible. I recommend hosting your local fire, police and paramedic crews to your farms so that they have basic understanding of the following:
Utilities — gas lines, electrical lines, generators, fuel tanks

Manure pit — depth, safety of methane and hydrogen sulfide. Ensure understanding that they may not enter the pit.

Animal safety — most responders are surprised by sheer animal size and the headcount of our buildings
Positive attitude
Throughout your interactions with people during these high-stress events, it is important to remember to keep a level head and a positive attitude. Things will be happening very quickly, and the team will be looking to someone for answers and direction. We need to be those people who are approachable, confident and ready to make decisions.
Source: Will Fombelle, who is solely responsible for the information provided, and wholly owns the information. Informa Business Media and all its subsidiaries are not responsible for any of the content contained in this information asset. The opinions of this writer are not necessarily those of Farm Progress/Informa.
Subscribe to Our Newsletters
National Hog Farmer is the source for hog production, management and market news
You May Also Like
---