Still waiting on president to be decided
Still waiting on president to be decided
Legislative Watch: Who's president? ag leadership changing; survey shows divided nation; House-Senate up in the air; Thailand preferences suspended; risk management webinar ahead.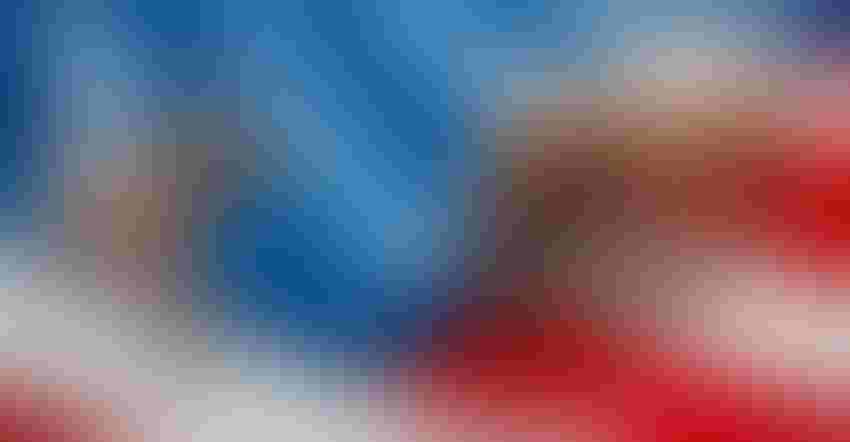 Votes are still being counted in a number of states where the election is too close to call. Former Vice President Joe Biden is winning the popular vote and is close to achieving the necessary 270 electoral votes to win. President Donald Trump still has a pathway, but it is closing fast. The states that will determine the winner are Arizona, Georgia, Nevada and Pennsylvania. Legal challenges are being filed and this could take some time for the courts to decide.
President Trump's strong showing offset any potential "blue wave" the Democrats were counting on. In many rural areas he outperformed his 2016 results. Democrats continued to increase their strength in urban and suburban areas of the country.
Republicans performed much better in Senate and House races than had been predicted. The Jan. 5 Georgia runoff election will determine who controls the Senate. The Democrats are expected to maintain control of the House. A number of incumbent Republican House members who were targeted and outspent survived, much of it to do with the continued strong support in rural areas for Trump.
Changes in leadership coming to ag committees
The House and Senate agriculture committees are going to see huge changes in leadership next year with the retirement of Sen. Pat Roberts (R-KS), chairman of the Senate Agriculture Committee; the defeat of Congressman Collin Peterson (D-MN), chairman of the House Agriculture Committee; and the retirement of Congressman Mike Conaway (R-TX), ranking member. Sen. Debbie Stabenow (D-MI), ranking member of the Senate Agriculture Committee, will be the only one in leadership returning. This will be the biggest change in leadership in decades.
Senate Ag Committee: The Senators on the committee who were up for election won except for Sen. Kelly Loeffler who faces a runoff with Raphael Wornock in January. Sen. Joni Ernst (R-IA), who was considered vulnerable, won her race in large part due to the rural vote.
Sen. John Boozman (R-AR) will become the new chairman of the committee with the retirement of Roberts. Stabenow will remain as the ranking member.
House AG Committee: The biggest loss on Tuesday was the defeat of Chairman Collin Peterson (D-MN) by former Minnesota Lt. Gov. Michelle Fischbach. Peterson's district was the most Republican district in the nation represented by a Democrat. Peterson has served as chairman or ranking member of the committee since 2007 and is known for his detailed knowledge of farm programs and his ability to work with urban and rural members to pass farm bills. He will be greatly missed by the agricultural community.
The biggest question is who will chair the committee with the defeat of Peterson. Reps. David Scott (D-GA) and Jim Costa (D-CA) have announced they are running. Another possibility is Marcia Fudge (D-OH).
Three Republicans are vying to be the ranking member. They are Reps. Glenn Thompson (R-PA), Austin Scott (R-GA) and Rick Crawford (R-AR).
The party caucuses will determine the leadership races later this year.
Election results shows a divided nation
Tuesday's election shows how divided we are as a nation. A national voter survey conducted by the Wall Street Journal found that the nation's voters are divided between men and women, white and nonwhite voters, urban and rural voters, college graduates and those who did not attend college.
According to the survey of approximately 140,000 registered voters:
• Women: 58% voted for Biden and 40% for Trump
• Men: 49% Biden vs. 48% Trump
• White: 46% Biden vs. 52% Trump
• Black: 91% Biden vs. 7% Trump
• Hispanic: 67% Biden vs. 31% Trump
• Asian: 72% Biden vs. 26% Trump
• Urban: 68% Biden vs. 29% Trump
• Suburban: 57% Biden vs. 41% Trump
• Small town or rural: 46% Biden vs. 52% Trump
Georgia will determine the Senate
The two Senate seats in Georgia are headed to a Jan. 5 runoff election which will determine who controls the Senate though the Republicans are favored. Georgia requires that a candidate must win at least 50% of the votes cast. If a candidate fails to win 50%, then a runoff election between the top two candidates is held to determine the winner.
Sen. Kelly Loffler (R-GA) will face Raphael Warnock and Sen. David Perdue (R-GA) will have to face Joe Ossoff in the runoff.
At this time, the Democrats have gained one seat. The Democrats flipped Arizona with Mark Kelly beating Sen. Martha McSally and in Colorado with Gov. John Hickenlooper beating Sen. Cory Gardner. Republicans picked up a seat in Alabama where Tommy Tuberville defeated Sen. Doug Jones.
So far there have been seven new Senators elected: Tuberville (R-AL), Kelly (D-AZ), Hickenlooper (D-CO), Roger Marshall (R-KS), Ben Ray Lujan (D-NM), Bill Hagerty (R-TN) and Cynthia Lummis (R-WY).
Democrats expected to keep the House
Democrats are expected to have a small majority in the House of Representatives. There are 36 races still to be decided. So far the Republicans have gained five seats. A number of Democratic members from rural areas were defeated, especially those who were first elected in 2018 during the "blue wave."
USTR suspends trade preferences for Thailand
The U.S. Trade Representative announced last week that the Trump administration was suspending $817 million in trade preferences for Thailand from the Generalized System of Preferences program because of Thailand's lack of progress in providing the U.S. market access for pork exports.
The National Pork Producers Council says in a press release, "For years, Thailand has taken full advantage of special U.S. trade benefits, while imposing a completely unjustified de facto ban on U.S. pork." The NPPC petitioned the USTR in 2018 to review Thailand's eligibility for GSP.
According to the NPPC, the United States is Thailand's No. 1 export market with almost $4 billion of products annually sent to America under the GSP. At the same time, Thailand maintains a "de facto ban on U.S. pork imports through high tariffs and several non-tariff barriers."
The GSP was established in 1974 and allows for duty-free treatment of certain goods entering the United States. It promotes economic development by eliminating duties on thousands of products from 119 designated beneficiary countries.
Livestock risk management webinar
The USDA will host a livestock risk management webinar for producers and professionals. It will provide information on livestock markets, price risk and risk management options available through USDA.
The webinar will be held 2-3 p.m. (Eastern) on Nov. 12, and it is free, and producers can find more information and register by clicking here.
Source: P. Scott Shearer, who is solely responsible for the information provided, and wholly owns the information. Informa Business Media and all its subsidiaries are not responsible for any of the content contained in this information asset. The opinions of this writer are not necessarily those of Farm Progress/Informa.
Subscribe to Our Newsletters
National Hog Farmer is the source for hog production, management and market news
You May Also Like
---