NPPC requests federal intervention to increase pork exports
NPPC requests federal intervention to increase pork exports
Legislative Watch: Trade vital to America's pork producers; USDA working with states to battle unfair competition; Checkoffs find support in new resolution.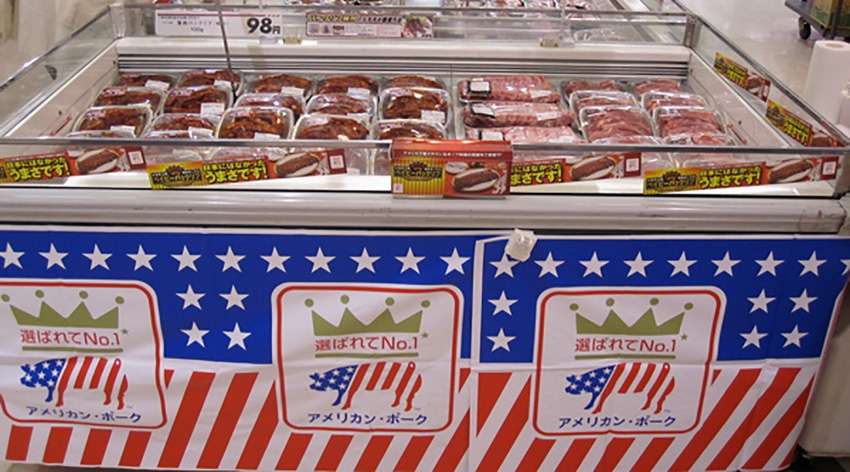 Amid one of the worst pork market downturns in recent memory, the National Pork Producers Council is requesting the federal government's help to increase export opportunities. NPPC and the Minnesota Pork Producers Association submitted a joint statement to Congresswoman Michelle Fishbach (R-Minn.) outlining the challenges in the pork industry and requesting assistance.
 
"Trade is vital to America's pork producers, who annually export about a quarter of their total production to more than 100 countries," the groups said. "[P]olicies that foster the free flow of goods and expand export markets – mostly through trade agreements – are critical to the continued success of America's pork producers, U.S. agriculture and the overall American economy. … To benefit America's farmers and grow U.S. exports, such trade deals must address market access and must eliminate tariffs on and non-tariff trade barriers to U.S. pork and other U.S. agricultural products."
The letter was submitted in conjunction with a recent House Ways and Means Committee field hearing in Fishbach's district. The committee holds jurisdiction over international trade policy and hosted a farm visit to take testimony on the importance of trade and robust supply chains to the agriculture industry.
USDA working with states to battle unfair competition
This week, the USDA announced a new initiative to partner with a bipartisan group of 31 attorneys general from across the nation "to enhance competition and protect consumers in food and agricultural markets, including in grocery, meat and poultry processing, and other markets." The partnership will provide USDA resources to the state attorneys general to tackle "anticompetitive market structures in agriculture and related industries that are raising prices and limiting choices for consumers and producers."
 
The USDA resources will include assistance with on-the-ground assessments of competition and consumer issues, conducting research, and coordinating between federal and state authorities. The department is working with the American Antitrust Institute to serve as a resource to states wishing to conduct investigations. USDA also will dedicate $15 million in funding for competition-related partnerships, mostly to the State Center for the Agricultural Competition Partnership.
 
In a press release accompanying the announcement, Secretary of Agriculture Tom Vilsack said, "The Biden-Harris Administration is committed to addressing corporate consolidation and its negative effects on the U.S. economy, such as unfair competition and increased prices. By placing necessary resources where they are needed most and helping states identify and address anticompetitive and anti-consumer behavior, in partnership with federal authorities, through these cooperative agreements we can ensure a more robust and competitive agricultural sector. I'm pleased to see that a bipartisan group of states have committed to joining USDA in better protecting the fair and competitive markets that are a critical cornerstone of the American economy."
 
Checkoffs find support in new Congressional resolution 
A new resolution introduced in Congress by House Agriculture Committee member Barry Moore (R-AL) aims to support the 22 authorized agricultural research and promotion boards, commonly known as checkoffs. Moore introduced H. Res. 588 along with 25 colleagues as cosponsors, including two Democrats.
 
Checkoffs have come under fire in recent years by opponents of commercial agriculture. Members of Congress including Sen. Cory Booker (D-N.J.), Elizabeth Warren (D-Mass.), Mike Lee (R-UT) and Rand Paul (R-Ky.) are supporting legislation to severely curtail activities of checkoff programs. To counter these positions, Moore's resolution recites numerous wins for farmers made possible by checkoff boards, from disease-fighting efforts by the National Pork Board to health and wellness research supported by the National Watermelon Promotion Board. It also points out huge returns on investment for checkoff funds, with ratios as high as $85.71 in returns for every dollar invested in the Softwood Lumber Board.
 
When introducing the legislation, Moore said, "Checkoff programs have made significant, measurable strides in raising the level of demand and awareness for our farmers, ranchers and foresters' products. This resolution expresses Congressional support for checkoffs due to the research, education and promotion efforts they have provided to our producers."
 
National Cattlemen's Beef Association President Todd Wilkinson, a South Dakota cattle producer, said, "As a cattle producer who invests in the Beef Checkoff, I know how important this program is to the continued success of America's cattlemen and cattlewomen. The Beef Checkoff was created by cattle producers, is run by cattle producers, and provides immense benefit to cattle producers."
 
The resolution expresses the sense of Congress that checkoffs "support efforts to develop new markets and strengthen existing markets via research, education, and promotion, including by returning value to producers through comprehensive, industrywide strategies to expand the commodity's market share and promoting a commodity as a whole to create industrywide benefit through increased sales, consumer awareness, and higher overall demand."
Subscribe to Our Newsletters
National Hog Farmer is the source for hog production, management and market news
You May Also Like
---