Doing work that matters will live on
Doing work that matters will live on
Legacies of Bob Morrison, Deb Spronk and Pam Wetzell will live on in family members and friends who will continue to carry on the good works that each had done.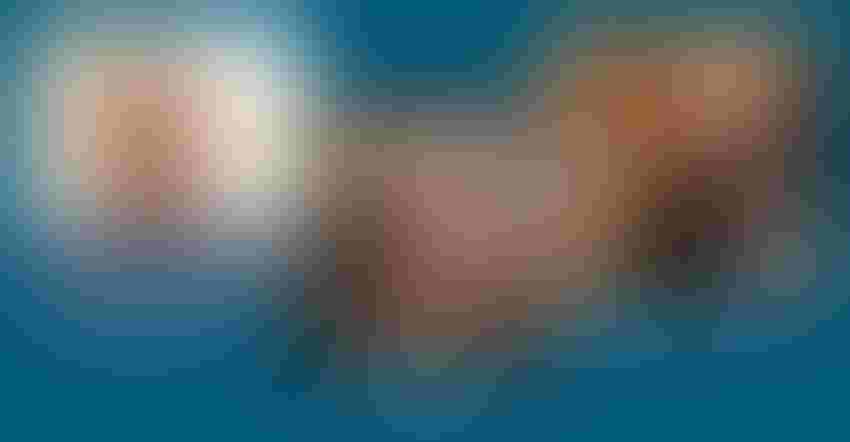 A two-vehicle accident in the Czech Republic on May 2 claimed the lives of (left to right) Bob Morrison, Deb Spronk and Pam Wetzell.
Some stories are harder to write than others, and not many are harder than the one I wrote May 3.
My wife had been scanning social media the evening of May 2, and she came to me asking if I knew of Bob Morrison from the University of Minnesota. Of course, I did. Who doesn't in the swine world?
I have discovered that usually nothing good follows a question like that out of the blue: Do you know of …?
As the swine world has learned, the news that followed was not good. Bob Morrison was one of three fatalities in a two-vehicle accident in the Czech Republic as those three, and three others were touring in advance of the European College of Porcine Health Management conference in Prague.
Also killed in the accident were Pam Wetzell and Deb Spronk. Wetzell is the wife of Tom Wetzell, Boehringer Ingelheim Vetmedica Inc. regional manager of professional services veterinarian. Spronk is the wife of Gordon Spronk, veterinarian and chairman at the Pipestone System in Pipestone, Minn. Tom Wetzell and Gordon Spronk were treated and released. Morrison's wife, Jeanie, is in critical condition.
With the significance of the names of Morrison, Spronk and Wetzell in the swine world, National Hog Farmer could not ignore this story.
I was fortunate to be able to spend time with Bob Morrison last year as I interviewed him for our "Masters" issue last May. I found a Bob Morrison who was excited about the work that he was doing, and the work that he was urging his veterinary students and colleagues at the University of Minnesota also to pursue.
Throughout our interview Morrison repeatedly stressed doing "work that matters." Though he is now gone, work that matters that he initiated will continue. One project that Morrison did that mattered was when he came up with the idea for a mechanism to report and disseminate the prevalence and incidence of cases of porcine reproductive and respiratory syndrome virus. That first Swine Health Monitoring Project weekly report was issued in 2011, growing from three participating swine systems to 26 systems willing to voluntarily share health data with the industry. Those 26 systems represent about 40% of the nation's sow population.
Taking the lead from a mentor and adviser, Morrison had been the program chairman for the annual Allen D. Leman Swine Conference, named in memory of the University of Minnesota Extension veterinarian who was a cofounder of a swine conference in 1974. Leman died unexpectedly in 1992, and the swine conference was renamed in his honor.
Under Morrison's guidance, the Leman Conference continues to be relevant as about 900 swine veterinarians and other professionals from more than 20 countries attend the conference each fall in St. Paul. Seeing the international interest in the conference, Morrison and his "team" began Leman China five years ago.
Sharing his knowledge was always important for Morrison, and for the past 20-plus years he, Gordon Spronk and Tom Wetzell have produced audio programs covering various swine health topics. "When we started this, we had three main objectives: a chance to learn, a chance to teach and a chance to have some fun together," Morrison had said. "… at the meeting with the Morrison Group," as these programs are called, had launched a website earlier this year where episodes are archived.
Doing work that matters.
An article in the Albert Lea (Minn.) Tribune of told of how Pam Wetzell "was just always extremely joyful," according to the receptionist at the Crossroads Church in Albert where the Wetzells were members. "Everything she did, she just completely lived for the Lord. She was a joy to be around."
Doing work that matters.
A post on the church's Facebook page paid homage to Pam Wetzell: "Pam's contagious love for Jesus has no doubt impacted our church family greatly, and the way she loved those around her was such a sweet reflection of her heart and depth of love for the Lord. Pam is one-of-a-kind, and there was no one like her. Her obedience to the Lord's calling on her life was met with great passion, attention to detail and care, and because of that, she is leaving behind an incredible legacy. Our lives are forever changed having known Pam, and though she is no longer with us, our joy is in knowing she is now in the arms of the King!"
Doing work that matters.
Deb Spronk was on staff at ATLAS for Life, a non-profit organization which provides a way for Christians to intentionally connect with non-Christians (or Christians with other Christians) in an informal, Christ-centered mentoring relationship. ATLAS is an acronym for Attaining Truth, Love, And Self-control.
Doing work that matters.
A posting on the ATLAS for Life Facebook page announced that due to Spronk's death, the office would be closed until further notice.
Each of these three touched more individuals than they or their surviving loved ones will ever know. I have a feeling that the seeds that each of them have planted will continue to grow in those who worked side-by-side or who were mentored.
Thoughts and prayers go out to the families and friends left to carry on the legacies that have been forged.
Subscribe to Our Newsletters
National Hog Farmer is the source for hog production, management and market news
You May Also Like
---